Atlassia is an upcoming mixed development that is located in D15 East Region, Joo Chiat (near to Paya Lebar area). This development will be of low-rise at 5 storey high that comprises of commercial units on its first level. The address of Atlassia will be 30-46 Joo Chiat Place. It previously comprises of 9 conversed shophouses. It was put up for collective sale in February 2021 and was successfully acquired by local real estate developer K16 Development Pte Ltd. The developer's first maiden residential development was Olloii that is located in 50 Lorong 101 Changi. Other developments in its vicinity include M Suites, Royal Hallmark, Rymden 77 and Amber Sea.
Future residents of Atlassia will be enthralled by the allure of the Joo Chiat district and every time they come home, they will be able to enjoy the exclusive space that is specially designed for them to relax and unwind in a charming estate that will promise each time a different experience when they are home.
Atlassia is just a short distance away from the iconic hotspots that are of rich in culture of the Joo Chiat neighbourhood. This home is designed not only to be a resting place but also a social place where home owners will be able to capture memorable moments with their friends and families.
Project Update: Pending Approval for Sale

---
---
---
Atlassia Facilities And Site Plan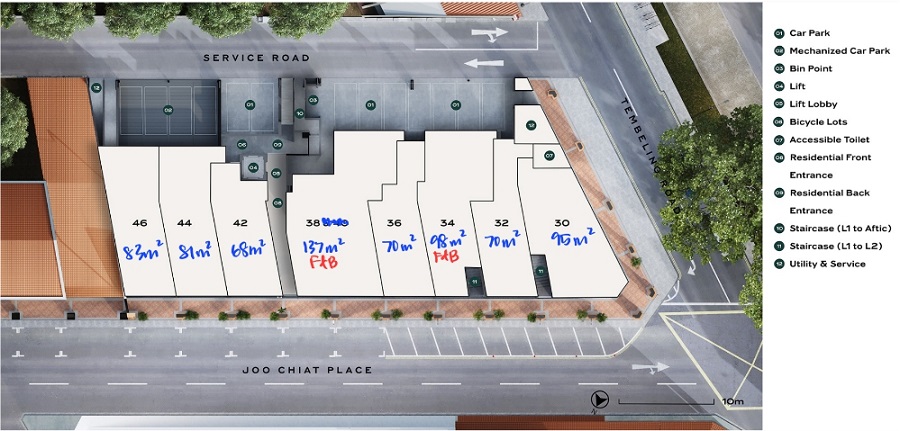 ---
Amenities Near and Their Approximate Distances



Train Station
Eunos (EW7) – 0.8km
Bus Stops
Bef Joo Chiat Pl (Bus: 33) – 0.1km
Aft Tembeling Rd (Bus: 33) – 0.1km
Supermarket
Fairprice (Joo Chiat Complex) – 0.4km
Giant (Joo Chiat) – 0.4km
Cold Storage (I12 Katong) – 1.0km
Sheng Siong (118 Aljunied Ave 2) – 1.6km
Shopping Mall
Joo Chiat Complex – 0.4km
Kinex – 0.7km
Tanjong Katong Complex – 0.8km
City Plaza – 0.9km
Singapore Post Centre – 0.9km
PLQ Mall – 1.0km
I12 Katong – 1.0km
Katong Shopping Centre – 1.1km
Paya Lebar Square – 1.1km
Kindergarten
Children's Vineyard Kindergarten – 0.2km
The Kid's Inn Joo Chiat – 0.3km
My First Skool (1 Haig Rd) – 0.4km
Zee Juniors – 0.5km
Blue House Childcare – 0.6km
My First Skool (1 Engku Aman Turn) – 0.6km
PCF Sparkletots Preschool @ Geylang Serai Blk 412 – 0.6km
St Hilda's Kindergarten – 0.6km
Star Leaners – 0.7km
MindChamps Preschool @ East Coast – 0.7km
Primary School
Haig Girls' School – 0.3km
Tanjong Katong Primary School – 0.9km
CHIJ (Katong) Primary School – 1.3km
Kong Hwa School – 1.4km
Tao Nan School – 1.5km
Maha Bodhi School – 1.6km
Geylang Methodist School (Primary) – 2.0km
St. Stephen's School – 2.0km
Ngee Ann Primary School – 2.0km
Secondary School
Tanjong Katong Secondary School – 0.7km
Tanjong Katong Girls' School – 0.9km
Chung Cheng High School (Main) – 1.5km
Manjusri Secondary School – 1.6km
Broadrick Secondary School – 1.8km
St. Patrick's School – 1.9km
Geylang Methodist School (Secondary) – 2.0km
Junior College
Victoria Junior College – 2.2km
Tertiary
James Cook University – 2.8km
International School
Chatsworth International School East Campus – 1.1km
Canadian International School (Tanjong Katong Campus) – 1.2km
Food Centre
Dunman Food Centre – 0.4km
Geylang Serai Market – 0.5km
Haig Road Market & Food Centre – 0.7km
Eunos Crescent Market and Food Centre – 0.8km
84 Marine Parade Central Market and Food Centre – 1.4km
Geylang East Market & Food Centre – 1.7km
51 Old Airport Road Food Hawker Centre & Shopping Mall – 1.8km
50A Marine Terrace Market and Food Centre – 1.9km
Kallang Estate Market – 2.0km
Lifestyle
The Eurasian Association of Singapore – 0.4km
Chinese Swimming Club – 1.5km
---
Highlights 
Transport Network
Atlassia is approximately 800 m away the Eunos MRT Station. This MRT station is above the ground and is also next to the bus interchange. The MRT Station's design has a unique architecture style that is different from the rest of other MRT station that is on the east region of Singapore. It has a unique roof structure that is of traditional Malay culture. It offers an identity that is deeply connected to this estate. The Eunos MRT Station operates the MRT East West Line.
The MRT East West Line is of high capacity. It is the 2nd MRT service line to be added to Singapore's MRT network. This is currently the longest MRT services line in Singapore and is approximately 57.2 kilometres in length. The MRT service line currently serves 35 MRT Station.
---
Factsheet
Want to be a proud owner of a unit in Atlassia?
Simply fill up the form below and we will get in touch with you shortly.
Things to Note When Buying a Property:
1. Stamp Duty
2. Loan to Value Limit
3. Total Debt Servicing Ratio
4. Comparison on Mortgage Rate
Thank you for your interest in Atlassia!