Tembusu Grand is an up and coming residential development that is location in District 15, East Region of Singapore. This city fringe development's land parcel was introduced in December 2020 as one of the 9 private residential sites on Urban Redevelopment Authority's reserved list for the 1st half of 2020 Government's Land Sale  (GLS) programme.
The site is located along Jalan Tembusu. For those who are familiar with Jalan Tembusu, the land parcel of the development is in between the Tanjong Katong Campus of the Canadian International School and a row of shophouses. The site has previously housed the Katong Student Hostewhich is just next to Haig Court.
Tembusu Grand has a total site area of approximately 1.95 hectares and with a gross plot ratio of 2.8. Upon completion, this development will be able to house up to 640 dwelling units.  The side of the land parcel which is fronting the Goodman Road landed residential enclave will be able to enjoy much of the serenity as well as unobstructed view of the city.
---
---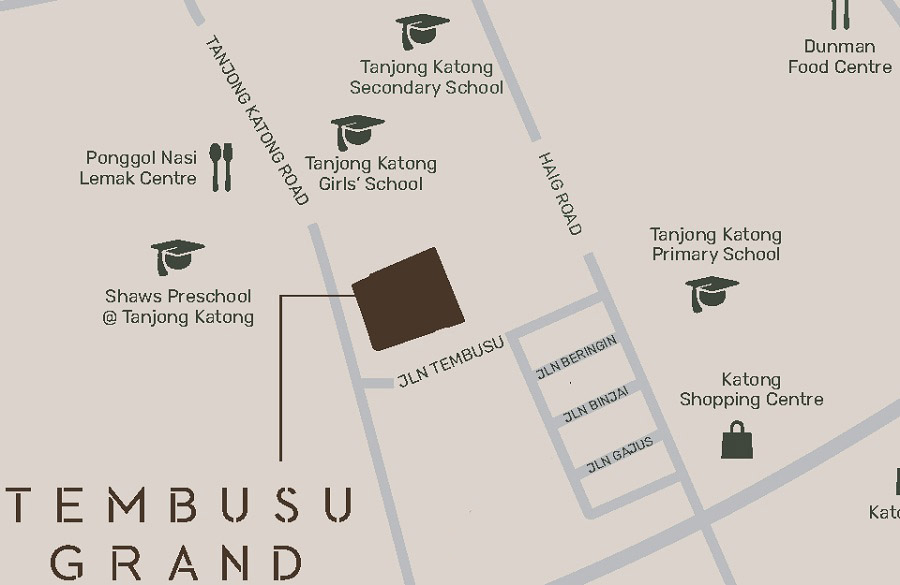 ---
Tembusu Grand Site Plan and Facilities

---
Amenities Near Tembusu Grand and Their Approximate Distances
Train Station
Tanjong Katong (TE25) – 0.7km
Bus Stop
Opp Tg Katong Girls' School (Bus: 134, 10, 31, 32, 40, 43, 135, 197) – 0.2km
Aft Katong Rd (Bus: 134, 10, 31, 32, 40, 43, 135, 197) -0.2km
Supermarket
Giant (JK Centre) – 0.7km
Fairprice (Katong V) – 0.7km
Cold Storage (Parkway Parade) – 0.9km
Sheng Siong (Aljunied Ave 2 BLK 118) – 1.9km
Shopping Centre
The Odeon Katong – 0.5km
Katong V – 0.7km
Roxy Square – 0.8km
I12 Katong – 0.9km
Katong Shopping Centre – 0.9km
Parkway Parade – 1.0km
Kinex – 1.1km
Joo Chiat Complex – 1.1km
PLQ Mall – 1.4km
Singapore Post Centre – 1.5km
Paya Lebar Square – 1.5km
Kindergarten
St. Hilda's Church Kindergarten – 0.5km
Dreamkids Kindergarten @ East Gate – 0.7km
Seeds D' Learning House – 0.9km
Pink Tower Montessori – 0.9km
Etonhouse International Research Preschool – 1.0km
Children's Vineyard Kindergarten – 1.0km
MFC Kindergarten (Broadrick Road) – 1.0km
Little Shepherds' Schoolhouse @ Church of the Holy Family – 1.1km
Little Skittles International Preschool – 1.2km
PCF Sparkletots Preschool @ Mountbatten Blk 51 – 1.2km
Primary School
Tanjong Katong Primary School – 0.4km
Haig Girls' Primary School – 1.0km
Kong Hwa Primary School – 1.2km
CHIJ (Katong) Primary School – 1.5km
Tao Nan Primary School – 1.6km
Geylang Methodist Primary School – 2.0km
Secondary School
Tanjong Katong Girls' School – 0.2km
Tanjong Katong Secondary School – 0.3km
Chung Cheng High School (Main) – 0.6km
Broadrick Secondary School – 1.1km
Dunman High School – 1.8km
Geylang Methodist Secondary School – 2.0km
Junior College
Dunman High School – 1.8km
Tertiary
James Cook University Singapore – 2.6km
International School
Canadian International School (Tanjong Katong Campus) – 0.1km
Chatsworth International School (East Campus) – 0.3km
Food Centre
Dunman Food Centre – 0.7km
Haig Road Market & Food Centre – 1.1km
Blk 84 Marine Parade Central Market and Food Centre – 1.1km
Geylang Serai Market and Food Centre – 1.2km
51 Old Airport Road Food Centre and Shopping Mall – 1.3km
Kallang Estate Fresh Market and Food Centre – 1.4km
Blk 4A Jalan Batu Market and Food Centre – 1.5km
Blk 4A Eunos Crescent Market and Food Centre – 1.8km
Blk 117 Aljunied Avenue 2 Market and Food Centre – 2.0km
Lifestyle
The Eurasian Association of Singapore – 0.4km
Chinese Swimming Club – 0.8km
Marine Parade Boy Club – 1.6km
---
Highlights of Tembusu Grand
Transport Network
Tembusu Grand is approximately 700 m or 8 minutes' walk away from the upcoming Tanjong Katong MRT Station which is slated to start its operations in 2023. This new MRT Station will be operating the MRT Thomson East Coast Line which will be the latest addition to Singapore's MRT network.
This MRT service line will be adding much convenience to the future residents of Tembusu Grand as they will be able to commute directly to the Shenton Way MRT Station which is located in Singapore's core business hub as well as the Orchard Road MRT Interchange Station which is located in Singapore's largest shopping district, the Orchard Shopping Belt.
---
Tembusu Grand Factsheet
Want to be a proud owner of a unit in Tembusu Grand?
Simply fill up the form below and we will get in touch with you shortly.
Things to Note When Buying a Property:
1. Stamp Duty
2. Loan to Value Limit
3. Total Debt Servicing Ratio
4. Comparison on Mortgage Rate
Thank you for your interest in Tembusu Grand!