Olloi is an upcoming residential development that is located in Joo Chiat Estate, district 15, Central Region of the island. Joo Chiat estate is also Singapore's first heritage town. The site is very near to the upcoming Paya Lebar Central, a major buslting commercial area which comprises of a shopping mall, grade A offices and private residential units. Olloi is along Lorong 101 Changi and is opposite of a HDB flat and next to Spring @ Langsat. This city fringe development is highly accessible to the city area and Orchard Shopping Belt. The site of Olloi has previously belonged to Pomex Court, a 3 storey walk up apartment that was built in 1986. It was successfully acquired by local developer K16 Development during a collective sale exercise in June 2018. The plot of land has a total site area of approximately 2459.3 square metres with a gross plot ratio of 1.4. Upon completion, it will be a low rise development with freehold status. The development comprises of 34 units with 4 ground floor units. What is unique about this development from the rest is that it has an underground carpark which is different from other developments with apartment status. This development will be home for generations for those looking for some unique in Katong and Joo Chiat areas. Other developments that are within Olloi's vicinity include Park Place Residences, 33 Residences, Carpmael Thirty Eight, Sixteen 35 Residences, Sandy Eight, Katong Regency and Legenda @ Joo Chiat.
---
---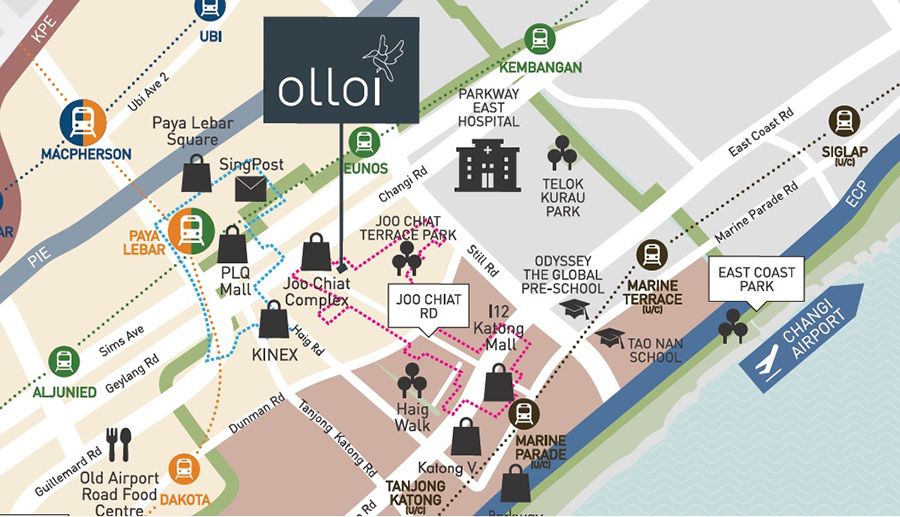 ---
Olloi Site Plan and Facilities

Residents can pamper themselves with amenities in abundance. Get ready to experience a comprehensive suite of condominium facilities spanning 80% coverage of the lush landscape located at the ground floor.
Enjoy a suntan at the sun lounge while the kids have a splash-tacular time at the children's splash pool. After a day's end, soak your worries away in the Jacuzzi or take a relaxing dip in the pool lounge. The sheltered Garden of Serenity also provides a respite to recharge and rejuvenate your body and mind.
If they are in the mood for a serious workout, take a plunge into the 25 m Infinity Pool or work out to a spectacular view in the Active Gym.
For occasions that call for a celebration, simply invite their loved ones and friends over for a barbecue party at The Glasshouse, a pavilion inspired by the modern greenhouse with generous seating.
There is also a side gate at the development which will take residents only 2 minutes' walk to the supermarket.
---
Amenities Near Olloi and Their Approximate Distances
Train Stations
Eunos (EW7) – 0.7km
Bus Stop
Joo Chiat Cplx (Bus: 51, 21, 24, 76, 26, 28, 30, 67, 2, 7, 13, 155, 154) – 0.2km
Aft Tembeling Rd (Bus: 33, 33B) – 0.2km
Supermarket
Fairprice (Joo Chiat Complex) – 0.2km
Giant (Tanjong Katong Complex) – 0.6km
Cold Storage (One KM Mall) – 0.6km
Shopping Mall
Joo Chiat Complex – 0.2km
One KM Mall – 0.6km
Tanjong Katong Complex – 0.6km
Paya Lebar Quarter – 0.7km
Singapore Post Centre – 0.7km
Paya Lebar Square – 0.9km
The Odeon Katong – 1.2km
Katong Shopping Centre – 1.2km
I12 Katong – 1.2km
Katong V – 1.3km
Kindergarten
Great Beginnings Montessori Pre-school – 0.1km
Pu Hui Kindergarten – 0.1km
PCF SPARKLETOTS PRESCHOOL @ GEYLANG SERAI Blk 9 – 0.4km
Children's Vineyard Kindergarten – 0.6km
St. Hilda's Church Kindergarten – 0.8km
PCF SPARKLETOTS PRESCHOOL @ JOO CHIAT Blk 15 – 0.9km
PCF SPARKLETOTS PRESCHOOL @ GEYLANG SERAI Blk 11 – 0.9km
Raffles Montessori Kindergarten (Still Road) – 1.1km
Seeds D' Learning House – 1.1km
Pink Tower Montessori – 1.1km
Primary School
Haig Girls' Primary School – 0.5km
Tanjong Katong Primary School – 1.1km
Eunos Primary School – 1.2km
Kong Hwa Primary School – 1.4km
Maha Bodhi Primary School – 1.5km
CHIJ (Katong) Primary School – 1.6km
Tao Nan Primary School – 1.7km
Geylang Methodist Primary School – 1.8km
Secondary School
Tanjong Katong Secondary School – 0.8km
Tanjong Katong Girls' Secondary School – 0.9km
Manjusri Secondary School – 1.4km
Chung Cheng High School (Main) – 1.5km
Broadrick Secondary School – 1.7km
Geylang Methodist Secondary School – 2.0km
Junior College
Victoria Junior College – 2.4km
Tertiary
James Cook University Singapore (Sims Drive Campus) 2.6km
International School
Chatsworth International School (East Campus) – 1.3km
Canadian International School (Tanjong Katong Campus) – 1.3km
Etonhouse International School (Broadrick) – 1.5km
Food Centre
Geylang Serai Market and Food Centre – 0.3km
Blk 13 Haig Road Market Centre – 0.5km
Dunman Food Centre – 0.7km
Blk 4A Eunos Crescent Market and Food Centre – 0.8km
Blk 117 Aljunied Avenue 2 Market and Food Centre – 1.6km
Blk 84 Marine Parade Central Market and Food Centre – 1.6km
Blk 51 Old Airport Road Market and Food Centre – 1.7km
Blk 89 Circuit Road Market and Food Centre – 1.9km
Kallang Estate Market – 1.9km
The Eurasian Association of Singapore – 0.5km
Chinese Swimming Club – 1.7km
---
Highlights of Olloi
A Neighbourhood to Truly Call Home.
Each day is a new adventure waiting to happen at the development. Be spoilt for choice with all the interesting activities you can undertake or be inspired by the wonderful people you will chance upon. Create unforgettable memories with your loved ones at a locality that thrives on its creative and cultural flair for aesthetics.
---
Olloi Factsheet
Want to be a proud owner of a unit in Olloi?
Simply fill up the form below and we will get in touch with you shortly.
Things to Note When Buying a Property:
1. Stamp Duty
2. Loan to Value Limit
3. Total Debt Servicing Ratio
4. Comparison on Mortgage Rate
Thank you for your interest in Olloi!