White House Residences is a residential project that is located at Stevens Road, Central Region of the Island. It is surrounded by colonial bungalows and stately mansions. The neighbourhood is one of the most exclusive and distinctive in Singapore. This landed private residential enclave house the established homes of Singapore's best i.e. ambassadors, senior politicians and elites of various industries. This high end project is developed by Asia Garden Development Pte Ltd which is a subsidiary of Novelty Group. Novelty Group is one of most established developer in Singapore which is famous for developing high end boutique project.
---
---
---
White House Residences Facilities & Site Plan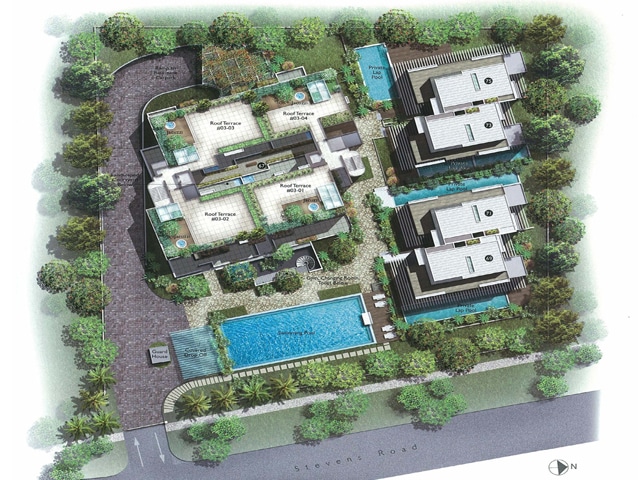 ---
Amenities Near White House Residences and Their Approximate Distances

Train Stations
Stevens (DT10/TS11) Thomson Line Due 2021 – 0.3km
Bus Stop
Opp Stevens Ct (Bus: 190, NR3, 972, NR2, 132, 105) – 0.1km
Bef Met YMCA (Bus: 105, 132, 190, 190A, 972, 972A) – 0.1km
Supermarkets
Cold Storage (Chancery Court ) – 1.2km
Jasons, The Gourmet Grocer – 1.3km
Tanglin Market Place – 1.5km
Fairprice (Scotts Square) – 1.6km
Shopping Malls
BALMORAL PLAZA – 1.1km
CLAYMORE CONNECT – 1.2km
ORCHARD HOTEL GALLERIA – 1.2km
ORCHARD HOTEL SHOPPING ARCADE – 1.2km
DELFI ORCHARD – 1.3km
TANGLIN SHOPPING CENTRE – 1.3km
ORCHARD TOWERS – 1.3km
PALAIS RENAISSANCE – 1.3km
FORUM THE SHOPPING MALL – 1.4km
SERENE CENTRE – 1.4km
Preschool
Barker Road Methodist Church Kindergarten – 1.0km
Etonhouse International Pre-School – 1.2km
Pibos Garden Preschool – 1.4km
Wee Care Kindergarten – 1.4km
Far Eastern Kindergarten – 1.4km
Little Woods Montessori Kindergarten – 1.5km
Little Oaks Montessori Kindergarten – 1.5km
Etohhouse Pre-School (Newton) – 1.7km
Bibinogs Preschool – 1.7km
MFC Kindergarten – 1.8km
Primary School
Singapore Chinese Girls' Primary School – 0.5km
Anglo Chinese Primary School – 1.1km
Nanyang Primary School – 2.0km
Secondary School
Singapore Chinese Girls' Secondary School – 0.5km
Anglo Chinese School (Barker Road) – 1.2km
Saint Margaret's Secondary School – 1.8km
Junior College
Catholic Junior College – 1.4km
Tertiary
National University of Singapore (Bukit Timah Campus) – 0.9km
International School
Chinese International School – 0.6km
ISS International School – 1.9km
Norwegian Supplementary School – 2.0km
Food Centre
Adam Food Centre – 1.4km
Newton Food Centre – 1.7km
Lifestyle
Raffles Town Club – 0.5km
The Pines Club – 0.6km
Tanglin Club – 1.2km
The American Club – 1.4km
Singapore Polo Club – 1.4km
The French Chamber of Commerce in Singapore – 1.6km
Hollandse Club – 1.6km
Tanglin Golf Course Country Club – 1.7km
Japanese Association of Singapore – 1.8km
---
Highlights of White House Residences
Transport Network
White House Residences is approximately 300 m away from Stevens MRT Station. The station, which comes into operation recently, operates the new Downtown Line which links the future residences of White House Residences directly to the Chinatown and the Marine Bay Financial Centre directly. Stevens MRT station will also operate the Thomson East Coast Line which is estimated to come into operation in year 2021. This line will be able to connect its residents to the eastern region of the island and also the northern part of the island seamlessly. It will bring utmost convenience to the future residents of White House Residences when it comes to commuting round the island.
---
White House Residences Factsheet
Want to be a proud owner of a unit in White House Residences?
Simply fill up the form below and we will get in touch with you shortly.
Things to Note When Buying a Property:
1. Stamp Duty
2. Loan to Value Limit
3. Total Debt Servicing Ratio
4. Comparison on Mortgage Rate
Thank you for your interest in White House Residences!