Watten House is an upcoming residential development that is located in the prime district 11, Core Central Region of the island. It is located along Shelford Road and near to the intersection of Shelford Road and Watten Estate Road. To the southwest frontage of the development will be the Shelford Road Playground, the southeast frontage will be the Shelford Mansions, while its northwest direction will be 28 Shelford, Point Loma and The Park Value.
The site of Watten House has previously belonged to Watten Estate Condominium, a private residential development that was constructed in 1983. The elevated ground was home to 104 residential units and townhouses. The development was first appeared in the collective sale market in 2007 with a price tag of $480 million. It was put up for sale for the 2nd time in 2019 during the enbloc frenzy with the reserved price of $536 million.
Project Update: Pending Approval for Sale

---
---
---
Watten House Facilities And Site Plan
---
Amenities Near Watten House and Their Approximate Distances



MRT Station
Tan Kah Kee (DT8) – 0.6km
Bus Stop
Opp The Japanese Assn (Bus: 74, 93, 157, 165, 852, 855) – 0.4km
Aft The Japanese Assn (Bus: 74, 93, 157, 165, 852, 855) – 0.4km
Supermarket
Fairprice (Coronation Plaza) – 0.6km
Cold Storage (Cluny Court) – 0.8km
Shopping Mall
Coronation Shopping Plaza – 0.7km
King's Arcade – 0.7km
Serene Centre – 0.8km
Kindergarten
Pre-School By The Park – 0.3km
Carpe Diem Kids Academy @ Watten – 0.5km
Bibnogs Preschool – 0.7km
Pibos Garden Playhouse – 0.7km
Green Pastures Child Centre – 0.8km
Etonhouse Pre-School – 1.0km
Nanyang Kindergarten – 1.1km
Little Oaks Montessori Kindergarten – 1.1km
Dicovery Kidz Empire – 1.1km
White Lodge Bukit Timah – 1.1km
Primary School
Raffles Girls' Primary School – 0.5km
Nanyang Primary School – 1.0km
Singapore Chinese Girls' Primary School – 2.0km
Secondary School
Hwa Chong Institution – 0.8km
Singapore Chinese Girls' Secondary School – 2.0km
Junior College
Hwa Chong Institution – 0.8km
National Junior College – 0.8km
Tertiary
National University of Singapore (Bukit Timah Campus) – 1.2km
International School
Hwa Chong International School – 0.8km
Food Centre
Adam Food Centre – 0.7km
Empress Road Blk 7 Market and Food Centre – 1.7km
Lifestyle
Japanese Association of Singapore – 0.6km
Hollandse Club – 0.6km
Sime Golf Course – 1.4km
Singapore Island Country Club (Bukit Location) – 1.5km
Raffles Town Club – 1.7km
Bukit Golf Course – 1.9km
Archery Club – 1.9km
---
Highlights
Transport Network
Watten House is approximately 500 m or 6 to 7 minutes' walk away from the Tan Kah Kee MRT Station. This MRT station started its operations in 2015 and has been operating the MRT Downtown Line. The MRT Downtown Line is of running medium capacity and has been serving commuters since its inception in 2013. This is the fifth service line to be added the MRT network of Singapore. This fully underground MRT service line is currently approximately 32 kilometres in length and serving 34 MRT stations. It is still undergoing extension and upon the completion of the extension, which is scheduled in 2025, this MRT service line will be approximately 44 kilometres of length and serves a total of 37 MRT station.
---
Factsheet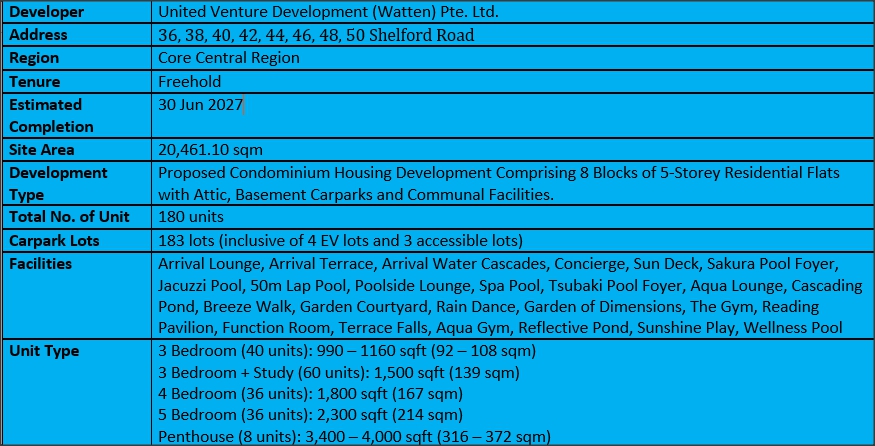 Want to be a proud owner of a unit in Watten House?
Simply fill up the form below and we will get in touch with you shortly.
Things to Note When Buying a Property:
1. Stamp Duty
2. Loan to Value Limit
3. Total Debt Servicing Ratio
4. Comparison on Mortgage Rate
Thank you for your interest in Watten House!