Trilinq is an upcoming project in the West Region. It is located near the junction of Commonwealth West Avenue and Clementi Avenue. This West Region residential development has a total site area of approximately 262,831 square feet. Trilinq is estimated to be completed in 2017. This 99 years leasehold high rise development will comprise of 3 blocks of residential blocks with 1 at 33 storeys high and the other 2 at 36 storeys high. Upon completion Trilinq will have 755 residential units. These units make up of 1 bedroom units, 2 bedroom units, 3 bedroom units, 3 bedroom + study units and 4 bedroom units. The sizes for these units range from 538 square feet for 1 bedroom unit up to 1765 square feet for a 4 bedroom unit.
Trilinq is about 550 m away from the Clementi Bus Interchange and the Clementi (EW23) Train Station which operates the East West Line. This comprehensive public transport network will provide pleasant commuting experiences for Trilinq's future residents. It will take about 20 minutes to get the city by train. Trilinq is just next to the Ayer Rajah Expressway (AYE) which connects from the East to the West of the island.
A lot of fun filled activities awaits as Trilinq is close to Clementi Sports Hall, West Coast Recreation Centre and West Coast Park. Those living there can also access to plenty of amenities in Clementi Central. There are supermarkets, banks, shopping malls, wet market, food centre, retail and eating outlets. The Clementi Mall, that is located just opposite of the Clementi Train Station, offers many shopping and dining facilities such as supermarket, food court, numerous retail shops and eating establishments to Trilinq's future residents.
There are also many schools nearby, especially Tertiary institutions. Some of the schools nearby include Nan Hua Primary School, Clementi Primary School, Pei Tong Primary School, Clementi Town Secondary School and the School of Science & Technology. Tertiary education facilities such as Singapore Polytechnic, Ngee Ann Polytechnic, INSEAD, National University of Singapore and SIM University are short drives away from Trilinq.
The rental demand for Trilinq will come from those working in the nearby One-North Fusionpolis and also Internationl Business Park in Jurong. Although Holland area is nearer to One-North and Fusionpolis, the rental market from those places are moving to projects around Trilinq. This is because Holland, being in a prime area, are asking for very high rents. The asking rent are more affordable in Clementi area which makes it more attractive for tenants. The shift of Japanese Schools to the west is also another factor for higher rental demand. There is a grow in demand from the Japanese communities in this area. Projects situated near the East West Line Train Station are much more preferred. Unlike non-matured estate, it is unlikely that many new projects will sprung up nearby. This means Trilinq is unlikely to have many new competitors in the future. Generally, the demand in resale market is much higher for matured estates. The future value gain will be higher due to lesser competitions and higher demand.
---
---
---
Trilinq Site Plan and Facilities
---
Amenities Near Trilinq and Their Approximate Distances
Train Stations
Clementi (EW23) – 0.5km
Bus Stop
Nan Hua Primary School 20101 (Bus: 5N, 52, 99, 105, 106, 173, 183, 188, 963, 963R, NR5, NR8) – 0.2km
Regent Park 17059 (Bus: 154, 188, 196, 963, 963R) – 0.2km
Clementi Ave 6 Blk 436 17051 (Bus: 154, 188, 196, 963, 963R) – 0.2km
Clementi Temp Int 17009 (Bus: 7, 14, 96, 99, 147, 156, 165, 166, 173, 175, 196, 282, 284, 285) – 0.2km
Supermarkets
NTUC Fair Price – 0.5km
Shop N Save – 1.0km
Sheng Siong – 1.6km
Shopping Malls
Clementi Mall – 0.5km
Preschool
My First Skool – 0.8km
PCF Little Wings – 1.1km
Elias Kindergarten – 2.6km
Japanese Kindergarten – 3.2km
Primary School
Nan Hua Primary School – 0.1km
Clementi Primary School – 0.7km
Pei Tong Primary School – 1.4km
Secondary School
Clementi Town Secondary School – 0.7km
School of Science & Technology – 1.8km
Junior College
Anglo Chinese JC – 3.6km
Tertiary
Singapore Polytechnic – 2.6km
International School
The Japanese Secondary School – 2.8km
United World College of South East Asia – 3.4km
Food Centre
Clementi Food Centre – 0.8km
Ayer Rajah Food Centre – 2.7km
Lifestyle
Clementi Sports Hall – 1.1km
Clementi Park – 1.8km
Clementi Woods – 1.9km
---
Highlights of Trilinq
1. Easy Access to Amenities – Trilinq is very near to Clementi Mall which has many retail and dining outlets. Trilinq is also next Clementi Central which hosts wet market, food centre, post office, banks, etc provide holistic of services.

2. Near to Schools – Trilinq is not only near to good preschools to junior college but it is also near to a number of Tertiary Institutes.

3. Total Living – Trilinq is near to various parks and Clementi Sports Hall which provide plenty of activities.

4. Strong Rental Demand – The rental demand is likely to come from those who working in One-North, Fusionpolis and also the nearby Tertiary Institutes. Comparing to Holland area where rents are higher, Trilinq will be more attractive.

5. Potential High Return – There are 2 major Japanese schools nearby. This will attract more Japanese families to stay in West area. This will cause a high demand for those projects and translate into higher return.

---
Trilinq Factsheet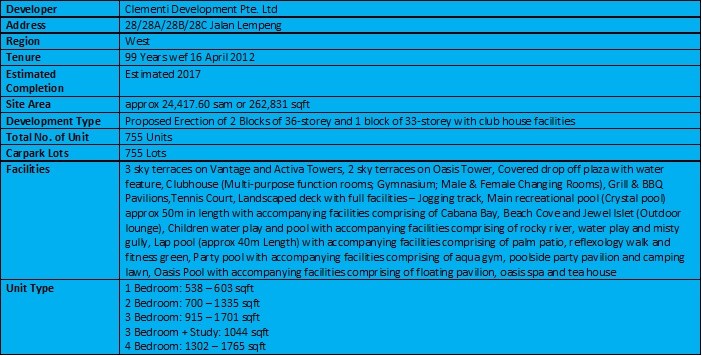 Want to be a proud owner of a unit in Trilinq?
Simply fill up the form below and we will get in touch with you shortly.
Things to Note When Buying a Property:
1. Stamp Duty
2. Loan to Value Limit
3. Total Debt Servicing Ratio
4. Comparison on Mortgage Rate
Thank you for your interest in Trilinq!