TMW Maxwell is an upcoming mixed-use development that comprises of commercial and residential components that is located in District 2, Core Central Region of the island. Its land parcel is located along Maxwell Road and just next to the intersection of Maxwell Road and Murray Terrace. The plot is of trapezoidal shape and has views coming from all 4 directions. The north bound of the site is facing towards the Maxwell Food Centre which is along Maxwell Road. The west frontage of the development will be facing toward the Murray Terrace. On the east side of the land parcel will be facing toward Air View Building and Nanyang Khek Community Guild while its South frontage will be facing to a row of shophouses.
The site of TMW Maxwell has previously belonged to Maxwell House, a 13 storeys high commercial building that was built in 1971. Maxwell House 99 years lease was started from 1969. It had a total of 145 units that were strata titled.  The land parcel was zoned ad commercial usage for in 2019 Masterpla with a gross plot ratio of 4.3. But it had gotten advice by the URA in 2020 stating its support to redevelop into mixed commercial cum residential project with an increase in its plot ratio to 5.6.
]The site was put up for a second attempt for collective sale in April 2021. The reserved price was at $268 million which was $27 million lower than its reserve price during its first collective sale attempt back in September 2020 which was at $295 million. The land parcel was eventually successfully acquired in May 2021 by a joint bidding between locally renowned construction company, Chip Eng Seng, property developer SingHaiyi Investments as well as Chuan Investments.  The successful winning bid was $276.8 million which is approximately $9 million higher. The joint winners will seek to top up a fresh 99 years lease with the authority.
TMW Maxwell's site is actually on the fringe of planning area of Tanjong Pagar. With the upcoming plan for the development of the Greater Southern Waterfront (GSW) as well as the rejuvenation of the Tanjong Pagar district, this development will be expected to benefit greatly.  Some of the nearby developments include One Pearl Bank, One Bernam, Wallich Residence and Avenue South Residence.
For anyone who desired to be living in the metropolis that is very near to the downtown financial district then this neighbourhood will be one of the top choices. It conveniences offered be it transportation or amenities, makes Tanjong Pagar one of the top venues to live in in Singapore. TMW Maxwell's locality is an excellent district in the city centre core as its future residents will get to have vibrant living as well as easy accessibility to a wide array of amenities.  Living in the heart of the city does have many benefits such as near to many job opportunities as well as quick traveling time to the offices which dramatically cut down on the traveling time needed.
Many amenities are just walking distances away.   This part of the island also has a comprehensive and excellent transport network. Be it commuting via public transportation or driving personal vehicle, it is very easy to access to major commercial and business hubs of the island. TMW Maxwell is conveniently situated close distances to the major roads as well as the public transport facilities.
Ever since the last amendment of the URA Masterplan in 2019, plans have gone underway for the expansion of the core of the city central and the digital infrastructural. The forecast of the GSW will be based on the enabling of extensive hi-technology, a population of tech-savvy as well as automation. Therefore with TMW Maxwell being located close to this upcoming transformation will offer buyers an opportunity that is well timed to own a property in the core of the city area with large room for future potentials.  These redevelopment plans as well as the close proximity to the MRT Station will present TMW Maxwell as a unique investment opportunity. The GSW will be deemed as South East Asia's new gateway which will be equipped with a major transport hub as well as a medical and healthcare hub that is of 43 hectares in size.
The GSW, being near to TMW Maxwell, will be the major entrant of this redevelopment.  It will be the main catalyst of what will be the major transformation of the south coastline region of Singapore. These plans which will be part of this huge transformation include expansions of the central business district, the civic district and the cultural, entertainment and lifestyle regions right from the City Hall area, the Orchard area to the Harbourfront area and ultimately the Sentosa Island. By including the Sentosa Island, it will open up to have more recreational, entertainment as well as commercial amenities to be developed.
The plans will also include the expansions of tourist attractions and huge amount of work will be required under the development and planning stages. With these transformations becoming to realize, lots of anticipations and excitements will be seemed building up. A highlight of the GSW tramsformation will be enabling residents to have a home that offers oceanfront living other than the West Coast and East Coast regions. The areas that used to be designated of one of the world's busiest ports will be cleared to pave way for these.
Many discussions have been made with regards to the commercial opportunities that will come along with this redevelopment. As of now, TMW Maxwell is already residing in a district that host many commercial and residential activities which have already drawn much crowds from shoppers, the working populations, the youth population and the students. With this upcoming redevelopment, it will open up even more opportunities by attracting more businesses to invest in this area. The upcoming plots for more mixed-usage will boost building up of more office spaces, hotels as well as retail spaces here.
As Singapore will remain its reputation as a "Garden City", the district of TMW Maxwell which is located in Tanjong Pagar area, will still able to enable large natural greeneries as it is near to the Mount Faber, Kent Ridge and HortPark. Part of the GSW's plan will be adding more trails that will connect these reserves and parks for easier accessibilities to these greeneries. These trails will be connected continuously via the seafront promenade and will an upcoming linear park in Pasir Panjang to the West Coast Park and Labrador Park as wells connectivity to Mount Faber Park and rest of the nodes of the Southern Ridges.  TMW Maxwell is also close to the old Railway Station at Tanjong Pagar will be the starting point of the highly anticipated Rail Corridor that is of 24km long. The Rail Corridor will from the GSW right up to Northern Region of Woodlands.
With these huge amount of potentials, the GSW transformation will not just bring lots of benefits for the owners of properties here but also for the rest of the residents in Singapore and as well as tourists from all over.  This transformation of such as large-scaled will required time to materialize, however, it  will be a good to take advantage of being the first movers and TMW Maxwell actually offers home buyers and investors a rare opportunity to do so.
About the Developer
Chip Eng Seng is an international conglomerate firm that is publicly listed on the Singapore Stock Exchange's Mainboard. The company was established in the 1960s and was a sub-contraxtor for builindg landed houses. The company had its first major milestone in 1982 when it secured its appointment as a main contractor for a public housing project. Through the years, the company has grown in its strength and went into other segments of the construction industry from building executive condominiums to private condominiums and apartments and also precast fabricating. Other business activities of Chip Eng Seng include education, hospitality, real estate investment and development and civil infrastructure. Some of Chip Eng Seng's projects include Kopar at Newton, Park Colonial and Parc Komo.
SingHaiYi is a well-diversified and fast growing firm with primary businesses in management services, real estate investment and development. The firm has excellent track record in development residential properties and also has a well-diverse portfolio of assets that help the company to generate income in the retail and commercial sectors. The company has also presence in the real estate segments of various countries which also serve as a proof to the company's well-diverse calculated strategy to provide its shareholders with visible and stable earning as well as delivering values.  Some of the company's current projects include Parc Clematis, The Gazania and The Lilium.
For any further details and information Contact Us or Send Email To Us.[/bg_collapse
Pending Approval for Sale
---
---
---
TMW Maxwell Site Plan and Facilities

---
Amenities Near TMW Maxwell and Their Approximate Distances
Train Station
Maxwell (TE18) Thomson East Coast Line Due 2022 – 0.2km
Tanjong Pagar (EW15) – 0.3km
Bus Stop
Opp Fairfield Meth Ch (Bus: 80, 145) – 0.1km
Aft. Craig Road (Bus: 80, 145) – 0.2km
Supermarket
Fairprice (Tanjong Pagar Plaza) – 0.3km
Cold Storga (Altez) – 0.5km
Sheng Siong (52 Chin Swee Rd) – 0.9km
Shopping Mall
Tanjong Pagar Centre – 0.3km
Chinatown Complex – 0.4km
Tanjong Pagar Plaza – 0.4km
International Plaza – 0.4km
Icon Village – 0.5km
Lucky Chinatown – 0.5km
100 AM – 0.5km
People's Park Complex – 0.6km
Chinatown Point – 0.6km
People's Park Centre – 0.7km
Kindergarten
PCF Sparkletots Preschool @ Tanjong Pagar-Tiong Bahru Blk 1E – 0.5km
Chinese Kindergarten – 1.2km
PCF Sparkletots Preschool @ Tanjong Pagar-Tiong Bahru Blk 130 – 1.7km
Camlot at River Valley – 1.7km
Primary School
Cantonment Primary School – 0.7km
River Valley Primary School – 1.9km
CHIJ (Kellock) Primary School – 2.0km
Secondary School
Outram Secondary School – 1.4km
Junior College
Catholic Junior College – 5.2km
Tertiary
Duke-NUS Graduate Medical School Singapore – 1.2km
Singapore Management University – 1.9km
International School
Dimensions International College (City Campus) – 1.9km
Food Centre
Maxwell Food Centre – 0.1km
Amoy Street Food Centre – 0.2km
Blk 6 Tanjong Pagar Plaza Market and Food Centre – 0.4km
Chinatown Complex Market and Food Centre – 0.4km
People's Park Complex Food Centre – 0.6km
Hong Lim Market and Food Centre – 0.7km
Market Street Interim Hawker Centre – 0.8km
Blk 1 Jalan Kukoh Food Centre – 1.1km
Tiong Bahru Market and Food Centre – 1.5km
Havelock Food Centre – 2.0km
Lifestyle
Home TeamNS – Smith Street Club House – 0.4km
Singapore Mariners Club (Maritime House) – 0.6km
SAFRA Town Club – 1.1km
Singapore Cricket Club – 1.4km
Home TeamNS – UE Square Club House – 1.5km
Singapore Recreation Club – 1.8km
Stardus Clubhouse – 1.9km
Legends – 1.9km
---
Highlights of TMW Maxwell
Transport Network
TMW Maxwell is close proximity to 2 MRT Stations i.e. the Maxwell MRT Station and the Tanjong Pagar MRT Station. The Maxwell MRT Station is just approximately 200 m or 3 to 4 minutes' walk away while the Tanjong Pagar MRT Station is just approximately 300 m or 4 to 5 minutes' walk away.
The Maxwell MRT Station will be operating the newly built MRT Thomson East Coast Line. This medium capacity MRT Service Line is approximately 42 kiliometres long and serves 32 MRT Stations. This MRT line serves the commuters along the adjoined east-west and north-south corridor. The MRT Line starts running the Upper East Coast area, then heads westwards to the Bedok South, the Marine Parade, the Kallang, then to Central area of Marina Bay, Orchard Road before it heads north bound to the residential townships of Bishan and Ang Mo Kio, passing through the Upper Thomson before ending its route at the north tip township of Woodlands.
Maxwell MRT Station is conveniently located between 2 major MRT nodes, i.e. the Outram MRT Interchange Station and the Marina Bay MRT Interchange Station. The Outram MRT Interchange Station is just 1 MRT Station away toward the northwards. This MRT Interchange Station also operates the MRT North East Line as well the MRT East West Line. The Marina Bay MRT Interchange Station will be 2 MRT Station away from the Maxwell MRT Station, towards the opposite direction to the Sungei Bedok MRT Interchange Station, At the Marina Bay MRT Interchange Station, future residents will be able to enjoy to easy transition to the MRT Circle Line as well as the MRT North South Line.
For drivers, TMW Maxwell is so conveniently located, that they could get to anywhere in just matter of minutes. The Marina Financial Centre is just approximately 5 minutes 'drive away while the Orchard Shopping District is just approximately 10 minutes' drive away. For regular travelers and frequent flyers, TMW Maxwell is just approximately 30 minutes of driving from the Changi International Airport. The next door Maxwell Road can also easily route drivers easily to major arterial roads such as Robinson Road, Neil Road, New Bridge Road and Eu Tong Sen Street which easily connects them to the Marina Coastal Expressway (MCE), Ayer Rajah Expressway (AYE) and the Central Expressway (CTE).
Amenities
When it comes to dining and shopping amenities, there will be no lack of when living in TMW Maxwell. In fact it is strategically located within walking distances to many of the popular retail malls here. All these are just walking distances away and future residents of TMW Maxwell can be looking forward to having quick and easy accessibility to getting their basic and daily necessities at these malls. Other than the retails spaces, these malls also host a wide variety of exciting dining and entertainment facilities.
Within 500m from the development, there are retail facilities such as the Tanjong Pagar Centre , the Chinatown Complex, the Tanjong Pagar Plaza, the International Plaza, the Icon Village, Lucky Chinatown and the 100 AM Mall. The development is also directly in the neighbourhood of the entertainment and dining venue along the Keong Siak Street, the Duxton Hill and the Tras Street.
Besides those, the development is also close to numerous popular wet market and food centres when future residents can easily access to the delicious but economical local hawker fares as well as fresh market produce. The nearby food centres include the Amoy Street Food Centre, the Blk 6 Tanjong Pagar Plaza Market and Food Centre, the Chinatown Complex Market and Food Centre, the People's Park Complex Food Centre, the Hong Lim Market and Food Centre, the Market Street Interim Hawker Centre, the Blk 1 Jalan Kukoh Food Centre, the Tiong Bahru Market and Food Centre and the Havelock Food Centre.
Schools
Although TMW Maxwell is not close walking distances to many educational facilities, it is still relatively decent for family living as families with school going kids or those who are planning to start their families here can easily find plenty of choices in terms of educational facilities in the nearby neighbourhoods and towns that are just within minutes of driving from the development.
Some of the nearby local schools include the Cantonment Primary School, the River Valley Primary School, the CHIJ (Kellock) Primary School and the Outram Secondary School. The development is also close to the Duke-NUS Graduate Medical School Singapore, the Singapore Management University as well as the Dimensions International College (City Campus).
---
TMW Maxwell Factsheet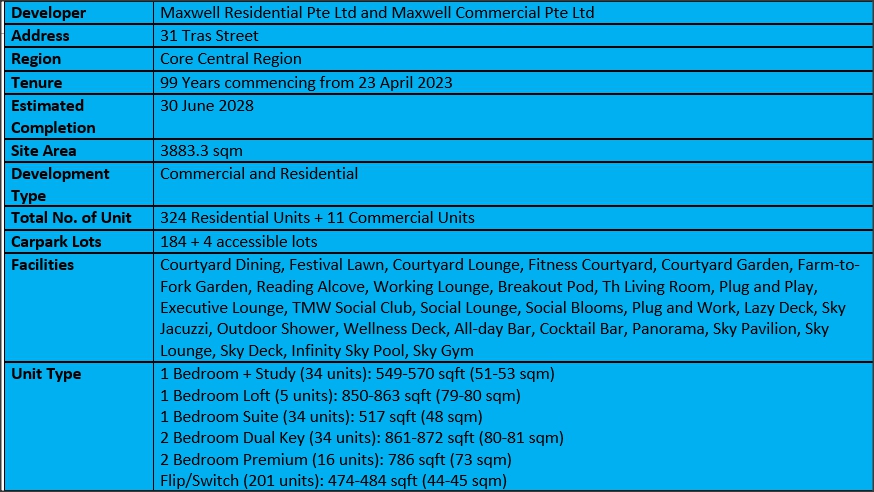 Want to be a proud owner of a unit in TMW Maxwell?
Simply fill up the form below and we will get in touch with you shortly.
Things to Note When Buying a Property:
1. Stamp Duty
2. Loan to Value Limit
3. Total Debt Servicing Ratio
4. Comparison on Mortgage Rate
Thank you for your interest in One BernamBernam!