The Seawind is a residential project that is located at 70 – 86 Lorong M Telok Kurau. This Eastern Region development is in between Lorong M Telok Kurau and Lorong N Telok Kurau. It is surrounded by Le Merritt, The Mayfair Residences, The Sound, The NClave and also Ricchezza. With a plot size of approximately 35,921 square feet, The Seawind is one of the large project that in Telok Kurau which is traditional favourite for boutique size projects. Developed by Far East Organization, The Seawind is bound to be completed in end December 2015. This residential development has a mixed of condominium units and also town houses. The condominium blocks will be 5 storeys high while the townhouses will be 2 storeys high and comes with roof terraces and basement.
The total number of units at The Seawind will be 222 units which is inclusive of 23 townhouses. There will be 199 carparks lot for the condominium units which is 1 lot allocated to each individual unit. As for the town houses, each unit will be allocated 2 lots. The unit configurations for the condominium units available at The Seawind will be 1 bedroom units, 2 bedroom units, 3 bedroom units and 4 bedroom units. These units' sizes will be from 642 square feet up to 2,265 square feet. The townhouses will be 4 bedrooms with size ranging from 3,247 square feet to 3,608 square feet. The common facilities will be swimming pool, BBQ area, the Stateroom, tennis court, playground, gym & steam room, Spa and also outdoor fitness stations. With its location in the deep inside Telok Kurau and also lusciously surrounded by park connectors, The Seawind provides an air of peacefulness and serenity. It is also provides an inviting privacy which will definitely to its future residents' delights.
The Seawind is located approximately 1.2 km away from Kembangan Train Station which runs the East West Line. For drivers, it will take approximately 8 minutes to reach the Central Financial District (CBD) and 9 minutes to reach the Orchard Road from The Seawind. The entire stretch of the Eas Coast Parkway (ECP) will effortlessly link The Seawind to the city and also business hubs such as Marina Financial District, Airport Hub and also the Changi Business Park while the nearby Pan Island Expressway (PIE) also allows easy connectivity to the West region such as International Business Park, Tuas industrial park and also the future Jurong Eest business hub.
With shopping malls such as I12 Katong, Katong Village, Katong Plaza, Roxy Square, Paramount Shopping Centre, Katong Shopping Centre and Parkway Parade just short distances away, The Seawind is easily within reach for all its future residents' entertainment, shopping and dining needs. The nearby Marine Terrace estate also has useful amenities such as supermarket, food centre and wet market that will fulfil all The Seawind's future residents' daily shopping and dining needs. Established schools are also plenty that are within 2 to 3 km radius from The Seawind which makes it ideal for family living.
---
---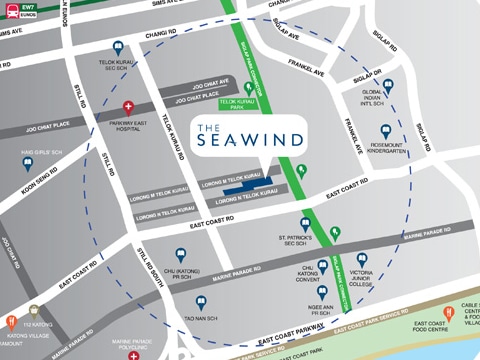 ---
The Seawind Facilities and Site Plan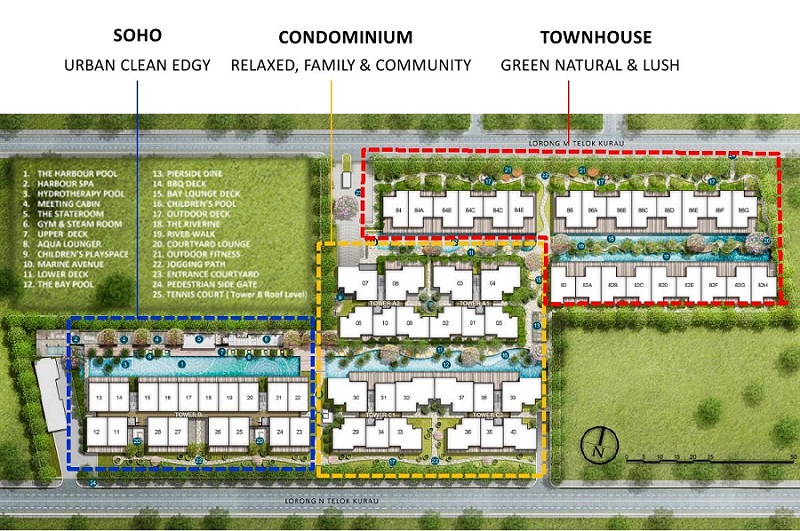 ---
Amenities Near The Seawind and Their Approximate Distances

Train Stations
Kembangan (EW6) – 1.2km
Bus Stop
St. Patrick's Green (Bus: 10, 10e, 12, 14, 14e, 32, 40, 155) – 0.2km
Ocean Apts (Bus: 155, 10, 10e, 12, 14, 14e, 32, 40) – 0.2km
Supermarkets
Giant (56 Marine Terrace) – 0.6km
Fairprice (Esso East Coast) – 0.9km
Cold Storage (Siglap V) – 1.1km
Prime (25A Chai Chee) – 1.8km
Shopping Malls
I12 Katong – 1.2km
Katong Village – 1.2km
Katong Plaza – 1.4km
Roxy Square – 1.4km
Paramount Shopping Centre – 1.5km
Katong Shopping Centre – 1.6km
Parkway Parade – 1.6km
Preschool
Nafa Arts Kindergarten – 0.1km
Kits4Kids Kindergarten – 0.2km
PCF Marine Parade Blk 46-47 – 0.7km
Raffles Montessori – 0.7km
PCF Joo Chiat Blk 15 – 0.8km
LittleSparks Montessori Kindergarten – 0.8km
Bethesda (Katong) Kindergarten – 0.8km
Holy Family Kindergarten – 1.0km
Zoo-Phonics Kindergarten – 1.0km
Sri Sathya Sai Kindergarten – 1.5km
Primary School
CHIJ (Katong) Primary School – 0.6km
Ngee Ann Primary School – 0.7km
Tao Nan School – 0.7km
St. Stephen's School – 1.0km
Haig Girls' School – 1.3km
Opera Estate Primary School – 1.4km
Tanjong Katong Primary School – 1.6km
Eunos Primary School – 1.9km
Secondary School
Saint Patrick's School – 0.4km
CHIJ Katong Convent – 0.5km
Victoria School – 1.5km
Tanjong Katong Secondary School – 1.9km
Ping Yi Secondary School – 2.0km
Tanjong Katong Girls' School – 2.0km
Junior College
Victoria Junior College – 0.7km
Tertiary
Temasek Polytechnic – 4.3km
International School
Global Indian International School (East Coast Campus) – 0.9km
Sekolah Indonesia Singapura – 1.3km
Chatsworth International School (East Campus) – 1.9km
Canadian International School (Tanjong Katong Campus) – 2.0km
Food Centre
Marine Terrace Block 50A Food Centre – 0.6km
84 Marine Parade Central Market & Food Centre – 1.3km
Dunman Food Centre – 1.4km
Eunos Crescent Block 4A Market And Food Centre – 1.5km
Geylang Serai Market & Food Centre – 1.9km
Lifestyle
East Coast Park – 1.0km
Chinese Swimming Club – 2.0km
---
Highlights of The Seawind
1. Good Address – The Seawind is in the prime residential location in the East.
2. Serenity – The Seawind is located in the quiet residential enclave in Telok Kurau.
3. Good Schools – Many reputable schools are within the vicinity of The Seawind.
4. Resort Living – The Seawind is only a short walk to East Coast Park and the beach.
5. Potential Return – The Seawind is set to benefit with the upcoming Paya Lebar Central.
---
The Seawind Factsheet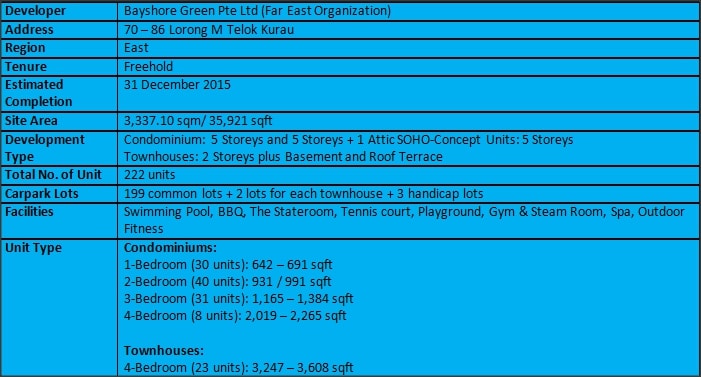 Want to be a proud owner of a unit in The Seawind?
Simply fill up the form below and we will get in touch with you shortly.
Things to Note When Buying a Property:
1. Stamp Duty
2. Loan to Value Limit
3. Total Debt Servicing Ratio
4. Comparison on Mortgage Rate
Thank you for your interest in The Seawind!