The Reserve Residences is an upcoming integrated development that is located in  District 21, West Region of the island. The land parcel of this development close to The Linq at Beauty World, It is in the junction of Jalan Anak Bukit and Jalan Jurong Kechil.  The site of The Reserve Residences belonged to a land parcel from the Government Land Sales Programme. The URA had use a dual enveloped approach for the tender. This is to ensure that the shortlisted candidates for the tender will have redevelopment designs that will be responding well to the context surrounding as well as being attractive. Their concept should also integrate profoundly the connecting amenities via networks of public areas and streets that are well designed and pedestrian friendly. Those interested to tender will have to send in their bidding price and concept proposals separately. URA will evaluate the submitted concepts first and vet it against the criteria set. Only those concepts that are compelling will then be advanced to the next evaluation stage which will be based on the tender pricing.
---
---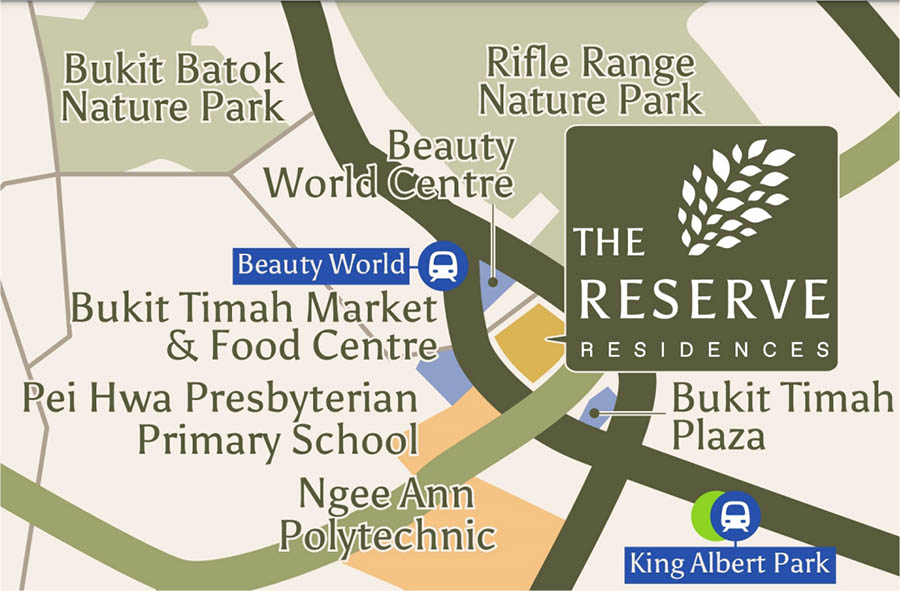 ---
The Reserve Residences Site Plan and Facilities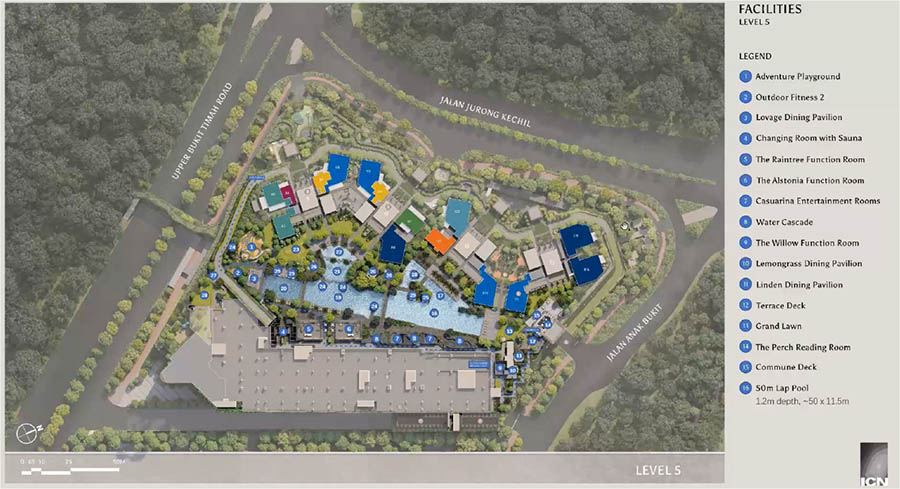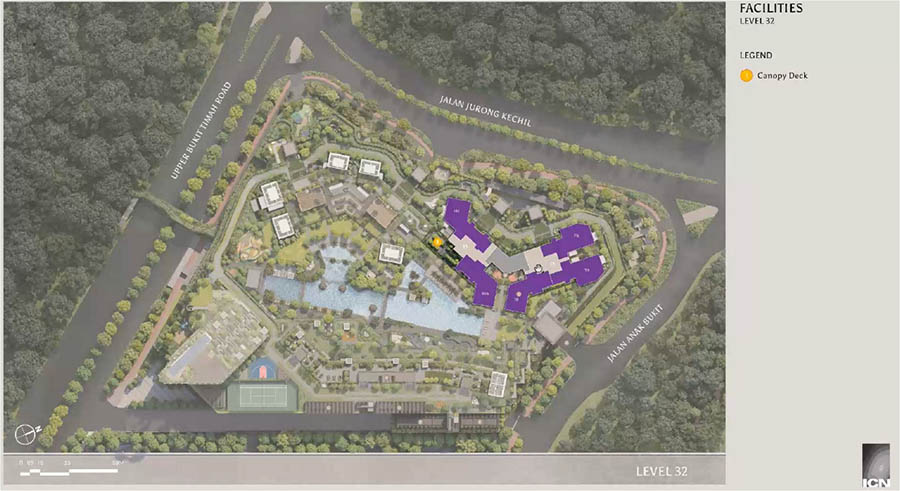 ---
Amenities Near The Reserve Residences and Their Approximate Distances
Train Station
Beauty World (DT5) – 0.2km
Bus Stop
Goh & Goh Bldg (Bus: 157, 174, 970, 985, 77, 66, 66B, 41, 52, 61) – 0.1km
Aft Upp Bukit Timah Rd (Bus: 61, 77, 173, 970, 985, 41, 3N, 66, 157, 174E, 174, 66B) – 0.1km
Beauty World Stn (Bus: 173) – 0.2km
Supermarket
Fairprice (Bukit Timah Plaza) – 0.2km
Giant (Beauty World Centre) – 0.3km
Cold Storage (KAP) – 0.5km
Shopping Mall
Linq at Beauty World – 0.1km
Beauty World Plaza – 0.2km
Bukit Timah Plaza – 0.2km
Beauty World Centre – 0.3km
Bukit Timah Shopping Centre – 0.4km
KAP – 0.5km
WCEGA Plaza – 2.0km
Kindergarten
Glory Kindergarten – 0.2km
Nurturing Roots Montessori Preschool – 0.2km
Arise Kindergarten – 0.5km
Creative Thinkers Kindergarten – 0.6km
Little Ones Kindergarten (Bukit Timah) – 0.6km
Etonhouse Pre-School (Upper Bukit Timah) – 0.8km
The Little House (Montessori) Kindergarten – 1.5km
Canossian Convent Kindergarten – 1.6km
Montessori Children's House Kindergarten – 1.7km
KiZroo Kindergarten – 1.8km
Primary School
Pei Hwa Presbyterian Primary School – 0.3km
Methodist Girls' Primary School – 1.1km
Bukit Timah Primary School – 1.2km
Secondary School
Methodist Girls' Secondary School -1.1km
Yusof Ishak Secondary School – 1.9km
Junior College
National Junior College – 3.2km
Teritary
Dimensions International College (Bukit Timah Campus) – 0.4km
Ngee Ann Polytechnic – 0.8km
Singapore University of Social Sciences – 1.2km
International School
Swiss School – 1.5km
Hollandse School – 1.5km
Singapore Korean International School – 1.6km
Food Centre
Bukit Timah Market and Food Centre – 0.1km
Lifestyle
Singapore Gun Club – 0.6km
Swiss Club – 1.5km
Hollandse Club – 1.5km
The British Club – 1.8km
---
Highlights of The Reserve Residences
Transport Network
The Reserve Residences is enjoys direct link the upcoming Beauty World Integrated Transport Hub. The integrated transport hub will be part of this mixed use development. It will also boost a bus interchange that is fully air-conditioned. Thus, future residents will be able to access to the many bus services that will serve the neighbourhood as well as its nearby estates. With this airconditioned bus interchange, future residents will be able to wait for their bus services while waiting at in a comfortable environment.
The integrated hub will also have an underground pedestrian walkway that will seamlessly link to the current Beauty World MRT Station. This means for future residents, it will be weather proof for them when accessing to the MRT service network. The Beauty MRT Station is fully undergrounded and sit alongside Upper Bukit Timah Road. This MRT station was completed in end of 2015. Its primarily purpose is to serve to commuting needs of the residents that are staying in the Toh Yi Drive and Jalan Jurong Kechil estates. It also serves shoppers who are accessing to the Bukit Timah Shopping Centre, the Beauty World Centre and also the Beauty World Plaza. Students and staffs of Ngee Ann Polytechnic also make use of this MRT station as it is also within walk distances for this tertiary educational institution.
---
The Reserve Residences Factsheet
Want to be a proud owner of a unit in The Reserve Residences?
Simply fill up the form below and we will get in touch with you shortly.
Things to Note When Buying a Property:
1. Stamp Duty
2. Loan to Value Limit
3. Total Debt Servicing Ratio
4. Comparison on Mortgage Rate
Thank you for your interest in The Reserve Residences!