The Nassim is a luxurious residential development that is located in District 10, Core Central Region of Singapore. It is located in the core of the Nassim neighbourhood which comprises of numerous black and white colonial style bungalows. The Nassim features of 8 blocks of 5 storeys high residential flats with attic. It is developed by one of the most established and well known developers in Singapore, Capitaland Residential Singapore Pte Ltd. The Nassim has been completed in 2015. This freehold residential development has a total site area of 122,568 square feet and with a gross plot ratio of 1.4.
---
---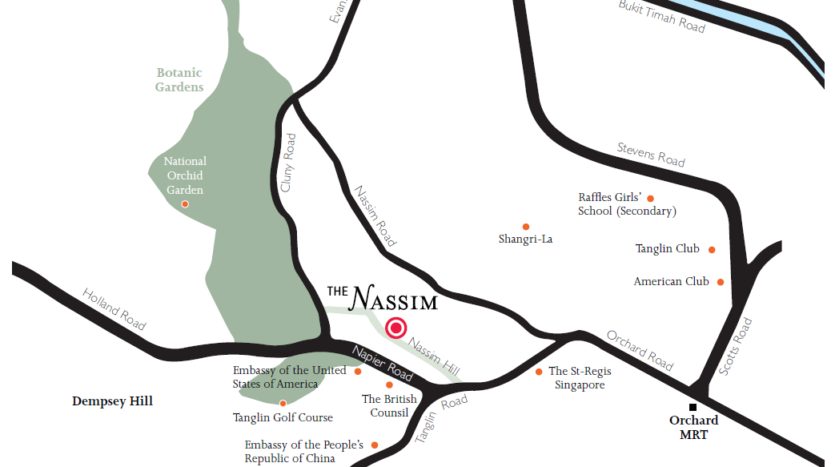 ---
The Nassim Site Plan and Facilities

---
Amenities Near The Nassim and Their Approximate Distances
Train Stations
Orchard Boulevard MRT (TE13) Thomson-East Coast Line Due 2021 – 0.5km
Orchard (NS22/TE14) Thomson-East Coast Line Due 2021 – 1.0km
Bus Stop
Opp British Council (Bus: 7, 77, 105, 106, 174, 123) – 0.2km
British Council (Bus: 123, 105, 106, 174, NR8, 75, 77, 7) – 0.2km
Supermarkets
Tanglin Market Place – 0.3km
Fairprice (Scotts Square) – 1.2km
Giant (Redhill Close 86) – 2.2km
Shopping Malls
Tanglin Mall – 0.2km
Tudor Court Shopping Centre – 0.2km
Tanglin Place – 0.3km
Tanglin Shopping Centre – 0.5km
Claymore Connect – 0.6km
Delfi Orchard – 0.6km
Orchard Hotel Galleria – 0.6km
Forum The Shopping Mall – 0.6km
Orchard Hotel Shopping Arcade – 0.6km
Preschool
Wee Care Kindergarten – 0.1km
Gracefields Kindergarten – 0.7km
Little Raindrops Montessori Pre-School – 0.9km
Little Hands Montessori Kindergarten – 0.9km
St James' Church Kindergarten (Harding) – 1.2km
White Lodge Kindergarten (Phoenix Park) – 1.3km
Kay Poh Road Baptist Kindergarten – 1.3km
JHS Montessori Kindergarten – 1.6km
Maris Stella Kindergarten – 1.7km
PCF SPARKLETOTS PRESCHOOL @ KRETA AYER-KIM SENG Blk 79 – 1.8km
Primary School
Singapore Chinese Girls' Primary School – 1.7km
Alexandra Primary School – 1.7km
Anglo Chinese Primary School – 1.9km
Secondary School
Crescent Girls' School – 1.6km
Singapore Chinese Girls' Secondary School – 1.7km
Queenstown Secondary School – 1.8km
Gan Eng Seng Secondary School – 2.0km
Saint Joseph's Institution – 2.0km
Junior College
Catholic Junior College – 2.4km
Tertiary
National University of Singapore (Bukit Timah Campus) – 1.5km
International School
ISS International School (Elementary and Middle School Campus) – 1.0km
Chinese International School – 1.7km
Swedish Supplementary Education School – 1.7km
Chatsworth International School (Orchard Campus) – 1.8km
Food Centre
Zion Riverside Food Centre – 1.8km
Newton Food Centre – 1.9km
Lifestyle
Tanglin Golf Course Country Club – 0.7km
The French Chamber of Commerce in Singapore – 0.9km
The American Club – 1.0km
The Pines Club – 1.0km
Tanglin Club – 1.1km
Raffles Town Club – 1.8km
---
Highlights of The Nassim
Transport Network
As of now, The Nassim is approximately 1 km or 11 to 12 minutes' walk to the Orchard MRT Station. This station operates the MRT North South Line which is one of the 2 pioneering lines in the building up of the island's mass rapid transit system. The MRT North South line has a wide coverage to many parts of Singapore.
---
The Nassim Factsheet
Want to be a proud owner of a unit in The Nassim?
Simply fill up the form below and we will get in touch with you shortly.
Things to Note When Buying a Property:
1. Stamp Duty
2. Loan to Value Limit
3. Total Debt Servicing Ratio
4. Comparison on Mortgage Rate
Thank you for your interest in The Nassim!