The Interlace, one of the largest and most ambitious residential developments in Singapore, presents a radically new approach to contemporary living in a tropical environment. Designed by Ole Scheeren, partner of OMA, The Interlace adopts a new residential typology which breaks away from the standard isolated, vertical apartment towers of Singapore. The large-scale complex takes a more expansive and interconnected approach to living through communal spaces which are integrated into its lush surrounding greenbelt.
Thirty-one apartment blocks, each standing at six-storeys tall and identical in length, are stacked in a hexagonal arrangement to form eight large open and permeable courtyards. The stacked formations allow light and air to flow through the architecture and surrounding landscape. developed by Capitaland and Hotel Properties Limited, The Interlace covers 170,000 m² of gross floor area and will house 1,040 apartment units of varying size.
The design capitalizes on the generous size of the site which stretches between Singapore's Kent ridge, Telok Blangah Hill and Mount Faber Parks. The site for the complex is situated at the junction of Alexandra Road and Depot Road, bounded by the Ayer Rajah Expressway to the north. Connected with the Gillman Village, residents can enjoy nature trails and restaurants which are within walking distance. Each of the eight courtyards have an individual landscaped identity defined within the heart of the project, forming various focal points and orienting devices for the surrounding residential blocks. The primary route through the project leads residents from the main entrance to the courtyards. The number of paths and pedestrian circulation is a response to the location and density of residents around each courtyard and core residence. Secondary footpaths connect residents to the most direct routes from the building entrances to and from their homes. A continuous loop which surrounds the site provides a 1KM running track and connects the courtyards to the activities around the edge of the site.
The Interlace landscaping takes up eight-hectares, with the arrangement of the buildings maximizing the presence of the surrounding tropical floral by introducing extensive roof gardens, landscaped sky terraces, cascading balconies and lush green areas. The continuous landscape is also projected vertically, from the planting of green areas in open-air basement voids, through balconies and rooftop gardens. The private balconies give apartments large outdoor space and personal planting areas. Cascading gardens spill over the facades of the building drawing a visual connection between the elevated green refuges and expansive tropical landscape on the ground. Complex is also embedded within tropical flora, letting nature expand. Sky gardens provide panoramic views across The Interlace site and throughout the complex. The architectural design also incorporates sustainability features through careful environmental analysis of sun, wind and micro-climate conditions on site and the integration of low-impact passive energy strategies. Water bodies have been strategically placed within wind corridors as a means of allowing evaporative cooling to happen along the wind paths, reducing local air temperatures and improving thermal comfort in outdoor recreation space.
---
---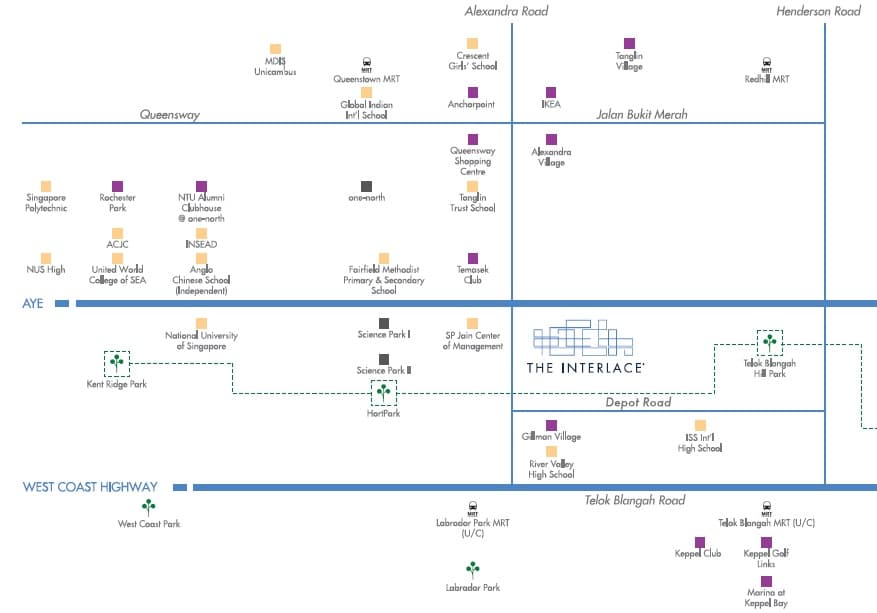 ---
The Interlace Site Plan and Facilities

---
Amenities Near The Interlace and Their Approximate Distances



Train Stations
Labrador Park MRT Station (CC27) – 1.2km
Bus Stop
The Interlace (Bus: 57, 175, 195, 408) – 0.2km
ISS Intl Sch (Bus: 57, 175, 195, 408) – 0.2km
Supermarkets
Cold Storage (Anchorpoint) – 0.7km
Fairprice (Depot) – 0.7km
Giant (Redhill Close) – 1.7km
Shopping Malls
Queensway Shopping Centre – 0.5km
Alexandra Central – 0.5km
IKEA Alexandra – 0.6km
Anchorpoint Shopping Centre – 0.7km
Alexandra Retail Centre – 1.1km
Preschool
Wee Care Kindergarten – 0.7km
Little Hands Montessori Kindergarten – 0.8km
Gracefields Kindergarten – 0.9km
Kay Poh Road Baptist Kindergarten – 1.3km
Far Eastern Kindergarten – 1.4km
Barker Road Methodist Church Kindergarten – 1.4km
Newton Kindergarten – 1.5km
ittle Woods Montessori Pre-School – 1.6km
Montessori For Children (Newton Campus) – 1.8km
Primary School
Blangah Rise Primary School – 0.9km
Gan Eng Seng Primary School – 1.3km
Queenstown Primary School – 1.5km
New Town Primary School – 1.9km
Secondary School
Bukit Merah Secondary School – 1.0km
Queenstown Secondary School – 1.5km
Henderson Secondary School – 1.7km
Crescent Girls' School – 1.9km
Junior College
Anglo-Chinese Junior College – 3.0km
Tertiary
PSB Academy – 2.4km
International School
ISS International School – 0.2km
Global Indian International School (Queenstown Campus) – 1.0km
Shelton College International – 2.0km
Food Centre
ABC Brickworks Food Centre – 0.6km
Alexandra Village Food Centre – 0.7km
Redhill Food Centre – 1.0km
Telok Blangah Drive Block 82 Market – 1.1km
Telok Blangah Drive Block 79 Food Centre – 1.1km
Mei Chin Road Block 159 Market – 1.2km
Bukit Merah Central Block 163 Food Centre – 1.4km
Redhill Lane Block 85 Food Centre – 1.6km
Telok Blangah Crescent Block 11 Market And Food Centre – 1.7km
Bukit Merah View Block 115 Market And Food Centre – 2.0km
Lifestyle
Temasek Club – 1.3km
Queenstown Stadium – 1.5km
SAFRA Mt Faber – 1.6km
The PSA Club – 1.8km
Keppel Club – 1.8km
---
Highlights of The Interlace
Great View – Most of the units in The Interlace enjoy great views.
Closeness to Amenities – Just walking distance to many retails, dining and entertainment options.
Architecture – The Interlace is an iconic building.
Exclusive Living – Every unit in The Interlace is fitted with high fittings and finishing.
Well Connected – Easily connected to any part of the island with links to major roads and Expressways.
---
The Interlace Factsheet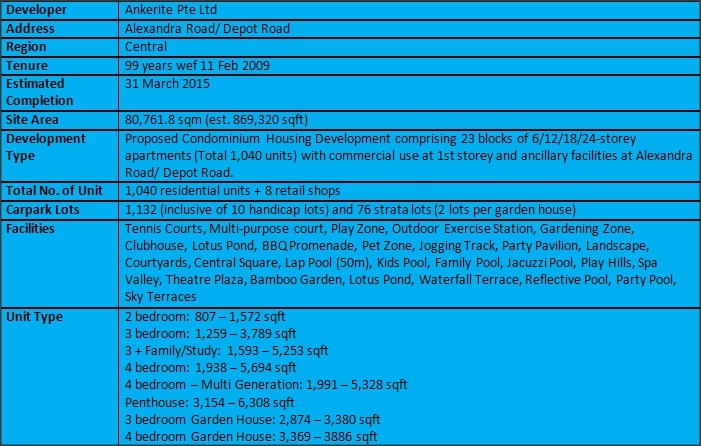 Want to be a proud owner of a unit in The Interlace?
Simply fill up the form below and we will get in touch with you shortly.
Things to Note When Buying a Property:
1. Stamp Duty
2. Loan to Value Limit
3. Total Debt Servicing Ratio
4. Comparison on Mortgage Rate
Thank you for your interest in The Interlace!