Tenet EC is an upcoming executive condominium project that is located District 18, in the Tampines Planning Area, East Region of the country. Its plot of land was released as one of the 8 reserved sites under the Government Lands Sale (GLS) program for the 2nd half of 2019 by the Urban Redevelopment Authority (URA) and was liated as one of the 4 confirmed sites for the GLS Programme for 1st half of 2021.  It was also the only executive condominium sitesin the confirmed list. The site of Tenet EC is bounded by Tampines Street 62 and Tampines Expressway. It is also in between 3 upcoming public housing estates by Housing Development Board which are the Tampines Green Vines, the Tampines Green Foliage and the Tampines Green Dew. The development is also opposite the D'Nest condominium and also The Palette which are along the Tampines Expressway.
The land size of this Executive Condominium is approximately 2.37 hectares with a gross plot ration of 2.5. Upon completion, this development will house 595 Executive Condominium units. Other developments that are within Tenet EC's vicinity include The Elias Green Condominium, NV Residences, Coco Palms, Livia, The Alps Residences, Tapestry and Treasures at Tampines.
---
---
---
Tenet EC Site Plan and Facilities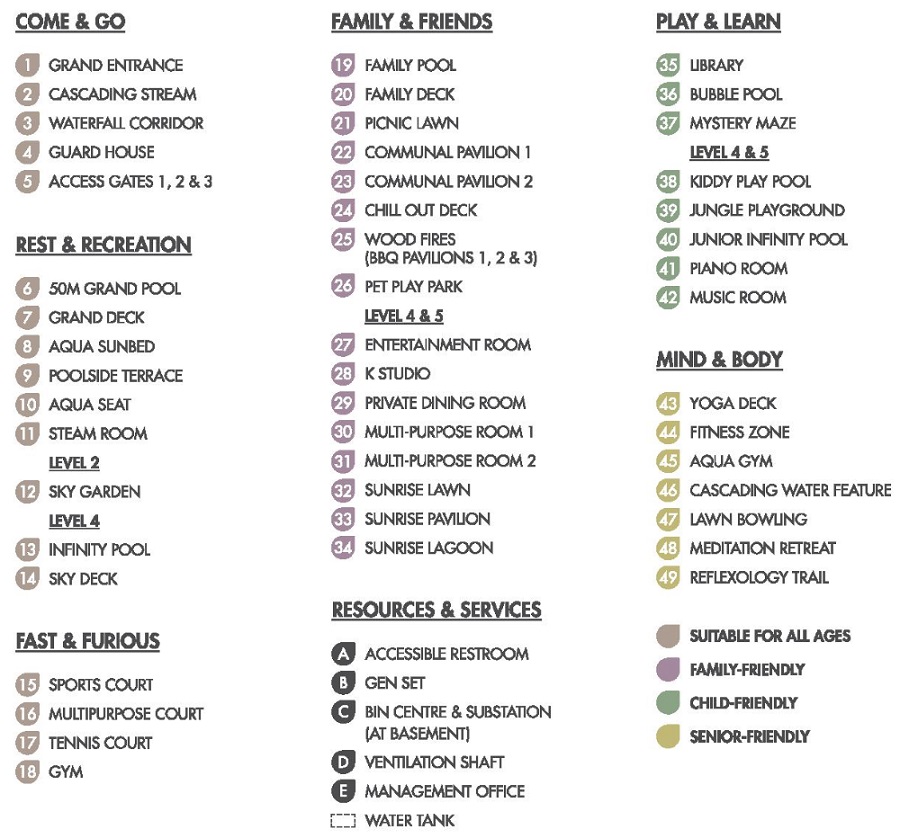 ---
Amenities Near Tenet EC and Their Approximate Distances

Train Stations
Pasir Ris MRT Station (EW1/CR5) – 0.9km
Bus Stop
Opp Blk 609D (Bus: 68) – 0.7km
Blk 609D (Bus: 68) – 0.7km
Supermarkets
Fairprice (White Sands) – 0.9km
Giant (Tampines 776) – 1.0km
Sheng Siong (Elias Mall) – 1.1km
Cold Storage (Tampines One) – 1.5km
Shopping Mall
White Sands Shopping Centre – 0.9km
Elias Mall – 1.1km
Pasir Ris West Plaza – 1.4km
Tampines One Mall – 1.5km
Our Tampines Hub – 1.6km
Downtown East – 1.7km
Century Square – 1.7km
Tampines Mall – 1.8km
Kindergarten
Al – Amin Preschool (Pasir Ris) – 0.6km
PCF Sparkletots Preschool @ Pasir Ris West Blk 517 – 0.7km
Hanis Montessori Kindergarten (Pasir Ris) – 0.9km
Monte Kidz World (Pasir Ris) – 1.2km
Zulfa Kindergarten @ Pasir Ris – 1.3km
Hope Community Kindergarten (Tampines) – 1.3km
PCF Sparkletots Preschool @ Tampines North Blk 483 – 1.3km
PCF Sparkletots Preschool @ Pasir Ris West Blk 738 – 1.4km
Mahad Al – Nasry Kindergarten – 1.4km
PCF Sparkletots Preschool @ Pasir Ris East Blk 426 – 1.5km
Primary School
Elias Park Primary School – 0.8km
Tampines North Primary School – 1.1km
Park View Primary School – 1.2km
Meridian Primary School – 1.2km
Gongshang Primary School – 1.4km
Poi Ching Primary School – 1.4km
Casuarina Primary School – 1.7km
Secondary School
Meridian Secondary School – 0.7km
East View Secondary School – 1.3km
Hai Sing Catholic Secondary School – 1.5km
Loyang Secondary School – 1.6km
Pasir Ris Secondary School – 1.6km
Dunman Secondary School – 1.7km
Pasir Ris Crest Secondary School – 1.9km
Junior College
Tampines Meridian Junior College – 1.1km
Tertiary
Temasek Polytechnic – 2.7km
International School
Overseas Family School Singapore – 1.4km
United World College of South East Asia (East Campus) – 1.9km
Food Centre
Pasir Ris Central Hawker Center – 1.2km
Our Tampines Hub Hawker Centre – 1.6km
Lifestyle
Tampines Eco Green – 0.7km
Sun Plaza Park – 1.0km
Pasir Ris Town Park – 1.2km
Aranda Country Club – 1.5km
Tampines Stadium – 1.7km
The People's Association Water-Venture (Pasir Ris) – 1.9km
Pasir Ris Park – 2.0km
---
Highlights of Tenet EC
Transport network
Tenet EC is approximately 900 m away or approximately 9 to 10 minutes' walk to the Pasir Ris MRT Interchange Station which is served by the MRT East West Line. This MRT line belonged to the pioneering lines of the country's mass rapid transit system. It has large coverage from the established residential enclaves that is sited along the West and East corridors of the island. This MRT line will also bring passengers directly to some of the major commercial and business nodes in Singapore.
From the Pasir Ris MRT Station, it will take approximately 17 minute's train ride to the Paya Lebar MRT Interchange Station, approximately 27 minutes to reach the City Hall MRT Interchange Station and also approximately 29 minutes' train ride to reach the Raffles Place MRT Interchange Station.
---
Tenet EC Factsheet
Want to be a proud owner of a unit in Tenet EC?
Simply fill up the form below and we will get in touch with you shortly.
Things to Note When Buying an Executive Condominium:
1. Eligibility to buy Executive Condominium
2. Executive Condominium Housing Scheme
3. Comparison on Mortgage Rate
Thank you for your interest in Tenet EC!