Stratum Condo is the latest 99 years leasehold residential development in the Eastern Region of Singapore. It is located in the junction of Elias Road and Pasir Ris Drive, bounded by Riverina View. Stratum Condo is just right opposite of Elias Mall. The total plot size is around 251,038 square feet. The estimated completion date for Stratum Condo is end of 2016. Stratum Condo comprises of 14 residential blocks each at 5 storeys high. It will host a total of 380 residential units upon its completion. The unit mix at Stratum Condo range from ensuite to 5 bedroom type and penthouse units. the sizes available at Stratum Condo starts from 432 for a ensuite unit to 2446 square feet for a penthouse unit.
Stratum Condo is about 2 bus stops (1 km) away from Pasir Ris Bus Interchange and Pasir Ris MRT Station (EW 1) which runs the East West Line. This comprehensive public transport network available at the Pasir Ris Town Centre allows convenient and efficient commuting for Stratum Condo's future residents to different locations of the island. It will take approximately 26 minutes' of train ride from the Pasir Ris Train Station to the city area. An 18 minutes' drive will take you from Stratum Condo to the Orchard Shopping Belt and the Central Business District. Stratum Condo is also close to the Tampines Expressway (TPE) and the Kallang Paya Lebar Expressway (KPE) which allows easily accessibility to various parts of the island.
Stratum Condo is close to reputable schools such as Park View Primary School, Elias Park Primary School, Meridian Primary School, Coral Primary & Secondary Schools, Casaurina Primary School, Loyang Primary School, Siglap Secondary School and Hai Sing Catholic School. It is also within walking distance from the Meridian Junior College.
Amenities are plenty as Stratum Condo is just opposite of Elias Mall which host about 60 retail shops. These shops comprises of a supermarket, fast food restaurants, eating outlets and also a wide array of goods and services which will cater to the basic necessities needs of Stratum Condo's future residents. There are also many Shopping Malls that are nearby such as IKEA Tampines, Courts Megastore Tampines and White Sands where many shopping, dining, entertainment and leisure facilities can be found.
Spend a relaxing weekend with your loved ones in the nearby Pasir Ris Park and Pasir Ris Town Park which offers many fun and entertaining activities such as horse-riding, prawning and fishing. These parks also provides a conduit of tranquility and lush greenery to Stratum Condo's future residents which also them to relax and rejuvenate their minds away from the stressful city. The nearby PA Water-Venture also has many water sports activities to choose from. For those who likes extreme sports, the Tampines Bike Park is nearby which you can enjoy a day of adventurous mountain biking on its track.
From investment point of view, there are likely high rental demands coming from the nearby Changi Business Park, Loyang Industrial Park, Water Fabrication Parks at Loyang and Changi and the upcoming Seletar Aerospace Park.
---
---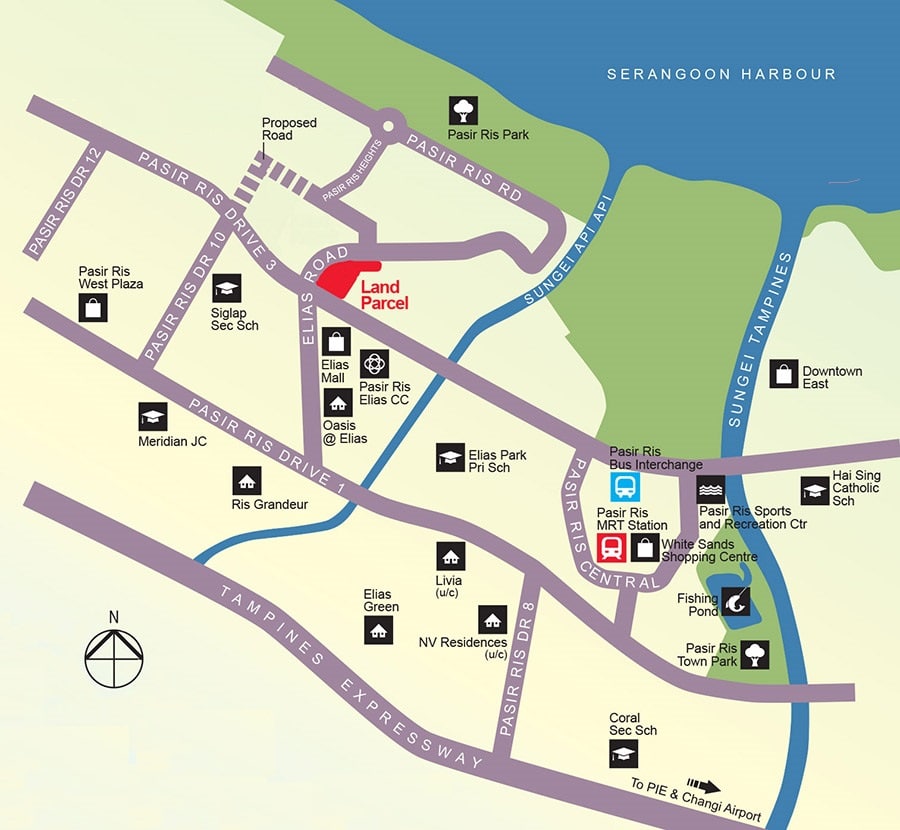 ---
Stratum Condo Plan and Facilities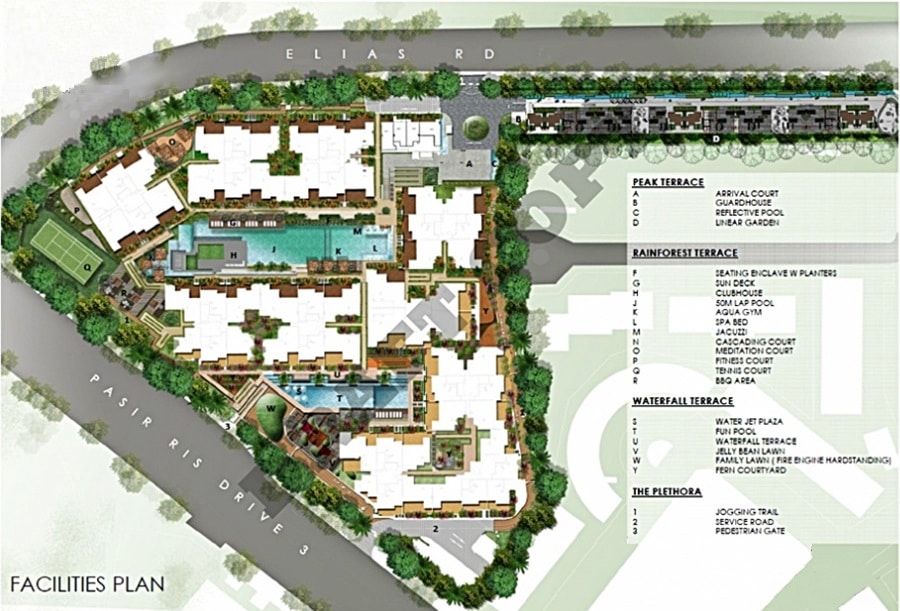 ---
Amenities Near Stratum Condo and Their Approximate Distances



Train Stations
Pasir Ris (EW1) – 1.0km
Bus Stop
Bef Pasir Ris Drive 3 (Bus: 403) – 0.1km
Aft Pasir Ris Drive 3 ( Bus: 403) – 0.1km
Opp Blk 601 (Bus: NR7, 58, 88, 358, 359, 518) – 0.2km
Aft Blk 601 9Bus: 4N, 58, 88, 358, 359, 518, 518A, 538) – 0.2km
Supermarkets
Sheng Siong – 0.2km
NTUC – 1.1km
Giant – 1.5km
Shop N Save – 2.2km
Shopping Malls
Elias Mall – 0.2km
White Sands – 1.1km
Court Tampines – 1.1km
IKEA Tampines – 1.1km
Preschool
Monte Kidz World (Pasir Ris) – 0.2km
Zulfa Kindergarten – 0.2km
PCF Pasir Ris West Blk 517-511 – 0.4km
Kidz Meadow Kindergarten – 0.5km
Al – Amin Preschool (Pasir Ris) – 0.7km
PCF Pasir Ris West Blk 738-737 – 0.7km
Hanis Montessori Kindergarten – 0.8km
Smart Junior Kindergarten – 0.9km
MRC Kindergarten – 1.5km
Pentecost Methodist Church Kindergarten – 1.8km
Primary School
Park View – 0.5km
Elias Park – 0.6km
Meridian – 0.8km
Coral – 1.6km
Casaurina – 1.9km
Loyang – 1.9km
Secondary School
Siglap – 0.3km
Coral – 1.6km
Hai Sing Catholic – 1.6km
Junior College
Meridian JC – 0.6km
Tertiary
Singapore University of Technology & Design (2014) – 4.7km
International School
The Japanese School – 3.8km
Food Centre
Tampines Round Market & Food Centre – 3.6km
Lifestyle
Pasir Ris Park – 0.6km
PA Water-Venture (Pasir Ris) – 0.7km
Elias Park Football Club – 0.9km
Pasir Ris Sports & Recreation Centre – 1.2km
Aranda Country Club – 1.3km
Wild Wild Wet – 1.3km
Pasir Ris Town Park – 1.4km
Downtown East – 1.5km
Tampines Eco Park – 1.8km
Tampines Bike Park – 2.0km
---
Highlights of Stratum Condo
1. Serenity – Situated in the quiet and peaceful surroundings of low rise private residential area.
2. Lush Greenery – Near to Pasir Park and Tampines Eco Park where nature embraces.
3. Near to Reputable Schools – Many good schools are just within 2 km from Stratum Condo.
4. Affordable Quantum – Great for 1st Time investors and home upgraders.
5. Potential Rental Demand – Ready pool of tenants from the nearby Changi Business Park, Loyang Industrial Park and the upcoming Seletar Aerospace Park.
---
Stratum Condo Factsheet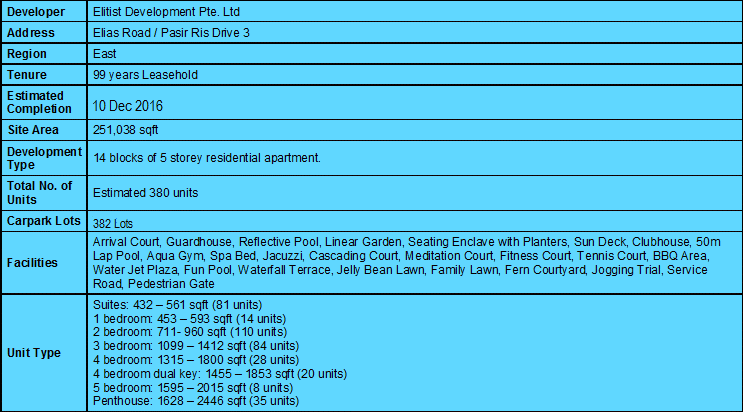 Want to be a proud owner of a unit in Stratum Condo?
Simply fill up the form below and we will get in touch with you shortly.
Things to Note When Buying a Property:
1. Stamp Duty
2. Loan to Value Limit
3. Total Debt Servicing Ratio
4. Comparison on Mortgage Rate
Thank you for your interest in Stratum Condo!