Seaside Residences is an upcoming private residential development that is located along Siglap Link. This 99 years leasehold development has a total plot size of approximately 1.93 hectares and a Gross Plot Ratio (GPR) of 3.5. Seaside Residences is located in Marine Parade District, one of Singapore's prime residential districts that is along the costal line. When it comes to living in Seaside Residences, future residents can look forward resort living lifestyle and enjoying the breath taking sea view of Singapore as it is just next to the East Coast Park.
---
---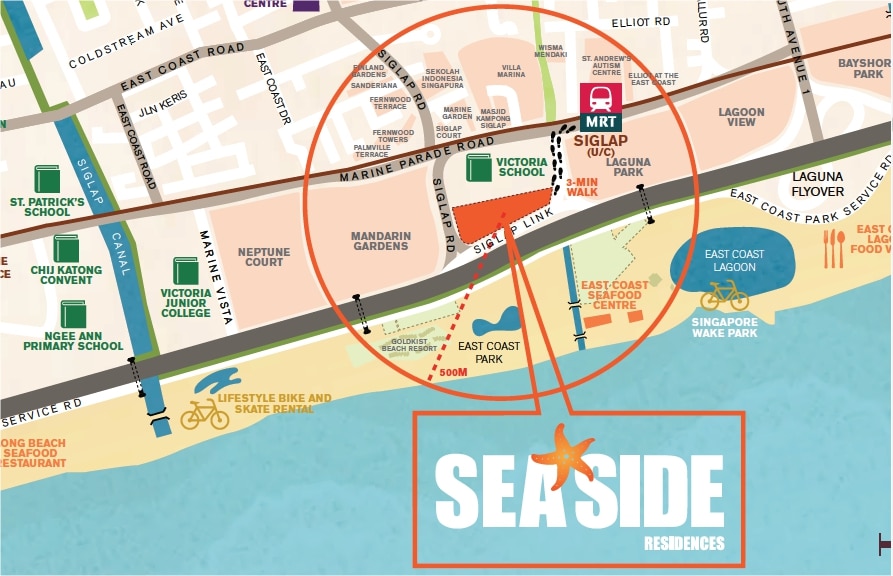 ---
Seaside Residences Site Plan and Facilities

---
Amenities Near Seaside Residences and Their Approximate Distances



Train Stations
Bedok (EW5) – 1.7km
Sigalp (TE28) due 2023 – 0.4km
Bus Stop
Siglap Link (Bus: 36, 401) – 0.1km
Victoria School (Bus: 31, 36, 43, 48, 55, 135, 155, 196, 196E, 197, 401, 853C) – 0.2km
Opp Mandarin Gardens (Bus: 36, 55, 135, 155, 401) – 0.2km
Supermarkets
Fairprice (934 East Coast Road) – 0.6km
Cold Storage (Siglap V) – 0.7km
Prime (18 Bedok South) – 1.7km
Sheng Siong (Bedok Central 209) – 1.9km
Shopping Malls
Siglap Shopping Centre – 0.7km
Bedok Point – 2.0km
Preschool
Kampung Siglap Mosque Kindergarten – 0.2km
Mandarin Gardens Kindergarten – 0.3km
Modern Montessori Kindergarten – 0.5km
Good Shepherd Convent Kindergarten – 0.7km
Zoo-Phonics Kindergarten – 0.8km
LittleSparks Montessori Kindergarten – 1.3km
Holy Grace Kindergarten – 1.5km
Bethesda (Katong) Kindergarten – 1.5km
Nafa Arts Kindergarten – 1.6km
Kits4Kids Kindergarten – 1.7km
Primary School
Ngee Ann Primary School – 1.1km
Opera Estate Primary School – 1.4km
St. Stephen's School – 1.6km
Tao Nan School – 1.8km
CHIJ (Katong) Primary School – 1.9km
Secondary School
Victoria School – 0.1km
CHIJ Katong Convent – 1.2km
Saint Patrick's School – 1.2km
St. Anthony's Canossian Secondary School – 1.7km
Junior College
Victoria Junior College – 0.9km
Temasek Junior College – 1.5km
Tertiary
Temasek Polytechnic – 4.2km
International School
Sekolah Indonesia Singapura – 0.4km
Global Indian International School (East Coast Campus) – 1.2km
Food Centre
East Coast Lagoon Food Village – 0.9km
50A Marine Terrace Food Centre – 1.3km
Bedok South Road Block 16 Market and Food Centre – 1.6km
New Upper Changi Road Block 207 Food Centre – 2.0km
Lifestyle
East Coast Park – 0.4km
Elite Terrace Park – 1.0km
---
Highlights of Seaside Residences
Transport Network
As of current, Seaside Residences is approximately 1.7 km away from the Bedok MRT Station which operates the East West Line. The Bedok Bus Interchange is also just next to the Bedok MRT Station where future residents of Seaside Residences can make use of the many bus services available there to easily commute to the various regions of the island. Come 2023, future residents of Seaside Residences will enjoy greater convenience there when the Siglap MRT Station which will be operating the Thomson East Coast Line comes into operation. This will dramatically come down the time for the future residents of Seaside Residences to travel to the downtown area and also other parts of the island. The Siglap MRT Station is also very accessible for future residents of Seaside Residences as it is just approximately 400 m away.
---
Seaside Residences Factsheet
Want to be a proud owner of a unit in Seaside Residences?
Simply fill up the form below and we will get in touch with you shortly.
Things to Note When Buying a Property:
1. Stamp Duty
2. Loan to Value Limit
3. Total Debt Servicing Ratio
4. Comparison on Mortgage Rate
Thank you for your interest in Seaside Residences!