Scotts Square is an upscale mixed development, comprising of residential and retail components in the prime district 9, Core Central Region of Singapore. The location is no stranger to any home buyer or investor as it is in the popular district of Orchard Road. The development is the art of fine living. Soaring 43 storeys above a stylish boutique retail podium, its modern and contemporary  architecture are decorated with world-renowned art pieces makes it one of the most prominent and distinguished residential development right in the centre of the downtown Orchard Road, Singapore's most famous shopping precinct. These two ultra-luxurious residential towers of 35 and 43-storeys are among the tallest residential buildings in the heart of Orchard Road and boast a retail podium below with 4 floors of refined shopping from designer labels to specialty services and dining selections.
---
---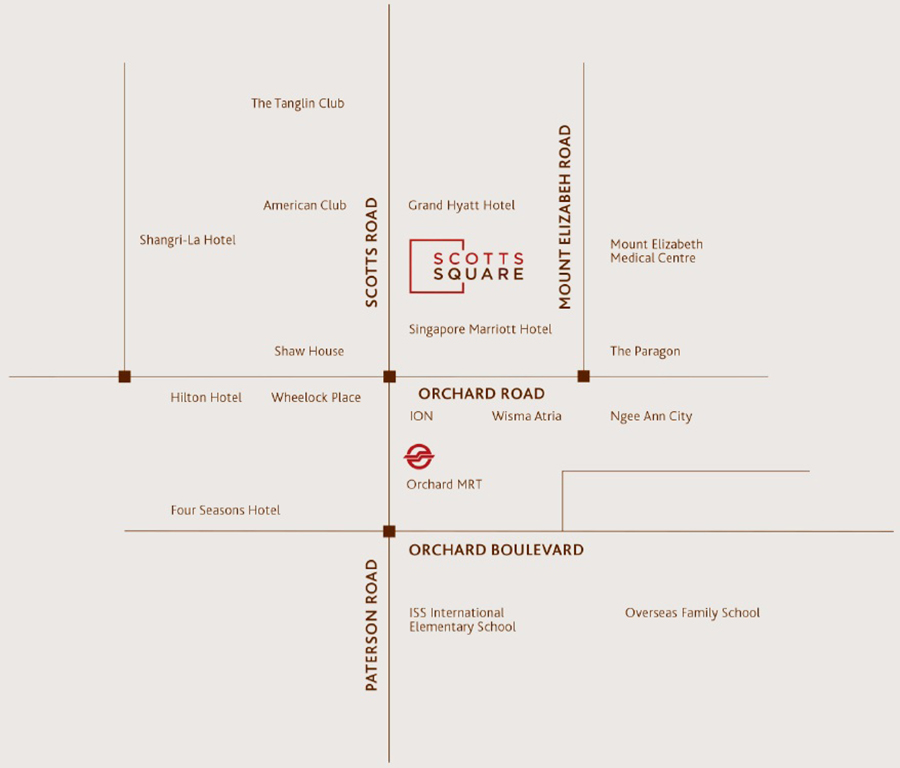 Scotts Square Site Plan and Facilities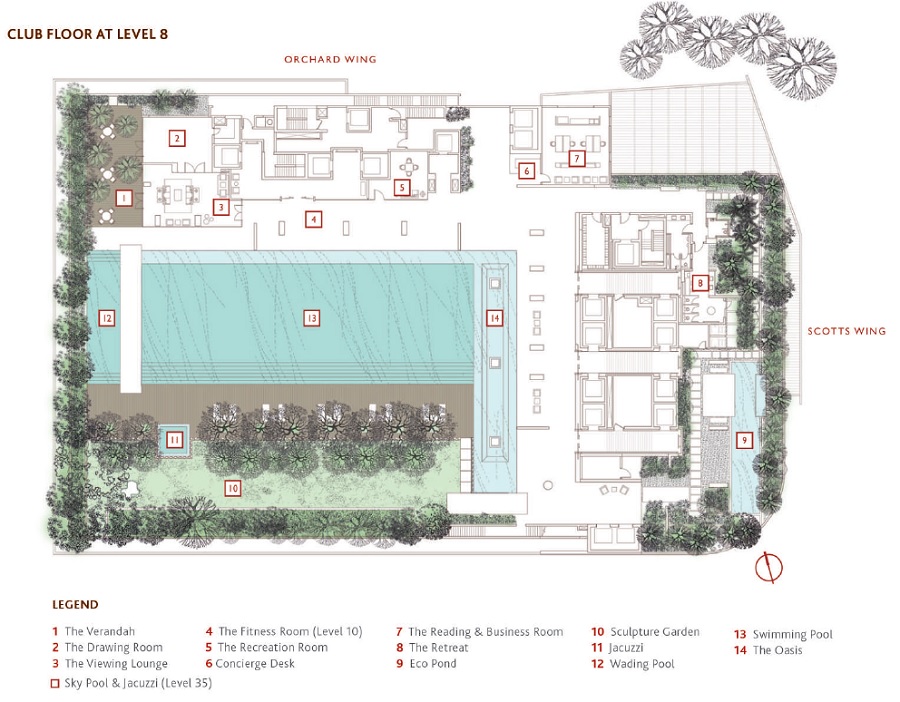 Residents can discover a host of amenities for their recreational and entertainment needs at the calming oasis which beckons with luxury in its purest form. Surrounded by luscious foliage and soothing waters, The Club Floor on Level 8 is a retreat for mind, body and soul and it will pamper the residents with a whole line-up of amenities. Bask in lifestyle comforts such as the 37 metres swimming pool, heated Jacuzzi, viewing lounge, gym, library, business centre and games room and a concierge desk. The services at the concierge desk will cater to the different needs of the residents.
These luxuries are topped off with the ultimate indulgence – a sky pool perched on the 35th floor commanding spectacular views of the city below. The concierge service staffs are always on hand or a phone call away to attend to your needs which boosts the ultimate luxury living experiences.
---
Amenities Near Scotts Square and Their Approximate Distances
Train Stations
Orchard (NS22/TE14) Thomson-East Coast Line Due 2021 – 0.2km
Bus Stop
Tang Plaza (Bus: 124, 128, 143, 162, 162M, 167, 171, 174, 174e, 190, 190A, 36, 36B, 518, 518A, 700, 700A, 77, 971E, 972, 972A, NR6, NR7) – 0.1km
Royal Plaza On Scotts (Bus: 124, 128, 143, 162, 162M, 167, 171, 5, 54, 700, 700A, NR1, NR2, NR3) – 0.2km
Supermarkets
Fairprice (Scotts Square) – 0.0km
Paragon Market Place – 0.4km
Shopping Malls
Scotts Square – 0.0km
Tang Plaza – 0.1km
Shaw Centre – 0.1km
Pacific Plaza – 0.1km
Shaw House – 0.2km
Far East Plaza – 0.2km
Lucky Plaza – 0.2km
T Galleria – 0.2km
Wisma Atria – 0.2km
ION Orchard – 0.2km
Kindergarten
Little Hands Montessori Kindergarten – 0.7km
Little Raindrops Montessori Pre-School – 0.7km
Kay Poh Road Baptist Kindergarten – 1.1km
Gracefields Kindergarten – 1.1km
Wee Care Kindergarten – 1.1km
Far Eastern Kindergarten – 1.3km
Newton Kindergarten – 1.3km
Barker Road Methodist Church Kindergarten – 1.5km
JHS Montessori Kindergarten – 1.6km
Little Woods Montessori Preschool – 1.6km
Primary School
Anglo Chinese Junior School – 1.0km
River Valley Primary School – 1.3km
Anglo Chinese Primary School – 1.5km
Saint Margaret's Primary School – 1.5km
Singapore Chinese Girls' Primary School – 1.8km
Alexandra Primary School – 1.9km
Saint Joseph's Institution Junior School – 1.9km
Secondary School
Anglo Chinese Secondary School (Barker Road) – 1.6km
Singapore Chinese Girls' Secondary School – 1.8km
School of The Arts – 1.9km
Junior College
Catholic Junior College – 2.1km
Tertiary
The University of Chicago Booth School of Business – 1.4km
SHRM College – 1.6km
International School
ISS International School (Elementary and Middle School Campus) – 0.5km
Norwegian Supplementary School – 0.6km
Finnish Supplementary School – 0.6km
Chatsworth International School (Orchard Campus) – 0.7km
Swedish Supplementary Education School – 0.8km
Dimensions International School (City Campus) – 1.4km
Chinese International School – 1.7km
Food Centre
Newton Food Centre – 1.0km
Zion Riverside Food Centre – 1.5km
Tekka Market and Food Centre – 2.0km
Beo Crescent Market and Food Centre – 2.0km
Lifestyle
The French Chamber of Commerce in Singapore – 0.3km
The American Club – 0.3km
The Pines Club – 1.0km
Istana Park – 1.4km
Tanglin Golf Course Country Club – 1.5km
Home TeamNS – UE Square Club House – 1.7km
The Legends – 1.8km
Fort Canning Park – 1.8km
---
Highlights of Scotts Square
Transportation Network
The nearby Orchard MRT Station will bring along luxurious living at the best conveniences.  A short walk will lead to the station which is approximately 200 m or 2 to 3 minutes' stroll away. The station which boasts the already operating MRT North South Line and is also in the midst of construction for the upcoming MRT Thomson East Coast Line.
---
Scotts Square Factsheet
Want to be a proud owner of a unit in Scotts Square?
Simply fill up the form below and we will get in touch with you shortly.
Things to Note When Buying a Property:
1. Stamp Duty
2. Loan to Value Limit
3. Total Debt Servicing Ratio
4. Comparison on Mortgage Rate
Thank you for your interest in Scotts Square!