Rezi 35 is strategically located at Lorong 35 Geylang in Singapore's vibrant East suburb. This 8-storey freehold residential development comprises 44 stylish units of 1 to 4 rooms. With its excellent location at city fringe, whether you drive or commute by public transport, many of Singapore's popular destinations are just minutes' drive from Rezi 35. Paya Lebar and Aljunied MRT stations are within walking distance. Drivers too can easily and quickly get to town and beyond via the Pan Island Expressway (PIE), Kallang-Paya Lebar Expressway (KPE) or Nicoll Highway
At Rezi 35, a multitude of entertainment options – shopping, dining and entertainment hotspots awaits you. Shop to your heart's content at City Plaza, One KM Mall, Kallang Leisure Mall, Katong Shopping Centre and more. Have a gourmet meal at Old Kallang Airport Road Food Centre or Geylang Serai Market and Food Centre or spice up your leisure moments at internationally-renowned locations like Marina Bay Entertainment Centre – all just minutes away from your astounding abode.
There's no shortage of good schools for families with school-going children. Several renowned schools such as Kong Hwa School, Broadrick, Secondary School, Geylang Methodist Primary and Secondary School, Chung Cheng High School, Tanjong Katong Girls' School, and Tanjong Katong Secondary School are short drives away.
Rezi 35 will enjoy good rental potential as it is ideally positioned near to Paya Lebar Quarter, an upcoming bustling commercial hub to be developed outside the city centre (part of URA's larger decentralisation strategy in the Concept Plan to provide alternatives for businesses and jobs closer to homes). Rezi 35 is poised to be the right choice to invest for the astute owner.
Open your heart as a world of experiences awaits at your doorstep. At Rezi 35, poised at the edge of the city yet within touch of nature, discover a unique experience every day. It can be exciting yet tranquil. True modern living that is ever evolving, with you at the heart of it. The one thing that's constant? A smart, modern home that you can live in forever.
Rezi 35 is poised for pure serenity. A rare freehold development with 44 exclusive units, Rezi 35 is located just a stone's throw to Paya Lebar Commerical Hub. Most units are lavishly designed with en-suites bedrooms that not only increases your potential for a higher rental yield but also embodies a luxurious pampering experience. With homes ranging from 1 , 1+ study, 2 , 2+ study to 3 and 4 bedroom units, it is perfect for younger families or even multi-generational living. Selected units are also designed such that they can be lived in and rented out at the same time, with maximum privacy for the owner. Whichever unit you choose, you can enjoy serenity afforded by the quiet solitude of the neighbourhood in which the sleek and modern 8-storey high development stands tall.
At Rezi 35, you can hide away from the city with serenity right at home. Read a book, share a quiet moment with a loved one or simply immerse yourself in the lush tranquility of The Courtyard. Here, natural light and wind filters through as trees rise above a colourful array of leafy plants and ferns – the perfect spot to hide away from the clamour of the city. Units facing this verdant milieu can also enjoy the quiet serenity and naturesque panorama.
Align your body and mind at Rezi 35. More than just its ideal location, the beauty of Rezi 35 also lies with its architecture, which maximises the view both within and outside the development. Breathing spaces and pockets of landscape are set alongside a leisure pool, gym and BBQ facilities. Residents can look forward to chic communal touches which ventilate views and create interaction spaces. So even as the vibrancy of the city throbs at your doorstep, you can always count on home to provide ample respite for your senses. Complete your stylish home with a future home where intimate spaces meet indulgent touches. Retreat from the stresses of modern living with private, intimate spaces that are designed to realign your senses. The indulgence extends into the kitchen with premium appliances and fittings to ensure a holistic sense of enjoyment.
---
---
---
Rezi 35 Site Plan and Facilities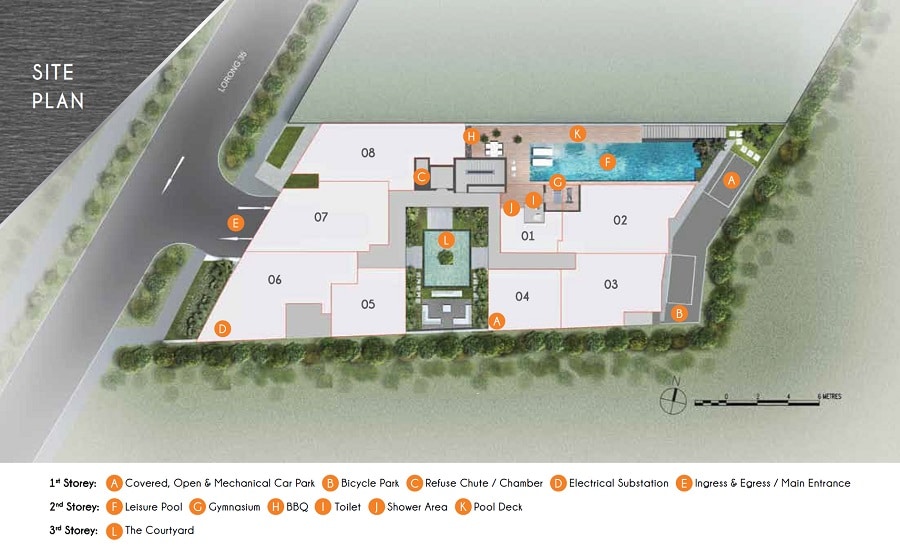 ---
Amenities Near Rezi 35 and Their Approximate Distances
Train Stations
Paya Lebar (CC9/EW8) – 0.6km
Bus Stop
Aft Lor 34 Geylang (Bus: 67, 40, 51, 26, 2, 13, 21, 853C) – 0.2km
Sims Ville (Bus: 853C, NR7, 40, 51, 2, 13, 21, 26, 67) – 0.3km
Supermarkets
Fairprice (Geylang Lorong 38) – 0.2km
Giant (Geylang East 118) – 0.5km
Cold Storage (One KM Mall) – 0.6km
Sheng Siong (301 Geylang) – 1.2km
Shopping Malls
Paya Lebar Square – 0.6km
Paya Lebar Quarter (U/C) – 0.6km
Tanjong Katong Complex – 0.6km
One KM Mall – 0.6km
Singapore Post Centre – 0.7km
Joo Chiat Complex – 1.1km
Katong Shopping Centre – 1.9km
The Odeon Katong – 1.9km
Preschool
PCF SPARKLETOTS PRESCHOOL @ MACPHERSON Blk 108 – 0.6km
Bethel Kinderlites – 0.7km
PCF SPARKLETOTS PRESCHOOL @ GEYLANG SERAI Blk 9 – 0.8km
Raffles Montessori Kindergarten (Aljunied) – 0.8km
PCF SPARKLETOTS PRESCHOOL @ MACPHERSON Blk 54 – 0.9km
PCF SPARKLETOTS PRESCHOOL @ MOUNTBATTEN Blk 51 – 0.9km
White Lodge Kindergarten (East Coast) – 1.0km
Great Beginnings Montessori Pre-school – 1.2km
Chen Li Kindergarten – 1.2km
Iroha Kindergarten – 1.3km
Primary School
Kong Hwa School – 0.5km
Geylang Methodist Primary School – 0.6km
Macpherson Primary School – 1.3km
Canossa Convent Primary School – 1.4km
Haig Girls' Primary School – 1.6km
Tanjong Katong Primary School – 1.7km
Eunos Primary School – 2.0km
Maha Bodhi Primary School – 2.0km
Secondary School
Geylang Methodist Secondary School – 0.8km
Broadrick Secondary School – 1.0km
Chung Cheng High School (Main) – 1.2km
Tanjong Katong Secondary School – 1.2km
Manjusri Secondary School – 1.9km
Dunman High School – 2.0km
Junior College
Dunman High School – 2.0km
Tertiary
James Cook University (Sims Drive Campus) – 1.4km
International School
Etonhouse Preschool – 1.1km
EIS International Preschool – 1.5km
Canadian International School (Tanjong Katong Campus) – 1.7km
Chatsworth International School (East Campus) – 1.8km
Food Centre
Blk 117 Aljunied Avenue 2 Market and Food Centre – 0.6km
Blk 13 Haig Road Market Centre – 0.8km
Blk 51 Old Airport Road Market and Food Centre – 0.9km
Blk 89 Circuit Road Market and Food Centre – 0.9km
Geylang Serai Market – 1.0km
Blk 49 Sims Place Market and Food Centre – 1.1km
Kallang Estate Market – 1.1km
Blk 79/79A Circuit Road Food Centre – 1.3km
Blk 80 Circuit Road Market and Food Centre – 1.4km
Blk 4A Jalan Batu Market and Food Centre – 1.6km
Dunman Food Centre – 1.6km
Blk 4A Eunos Crescent Market and Food Centre – 1.8km
Blk 17 Upper Boon Keng Road Market and Food Centre – 1.9km
Lifestyle
The Eurasian Association of Singapore – 1.4.km
Marina Reservoir – 2.0km
---
Highlights of Rezi 35
Rare – Rezi 35 is freehold at city fringe.
Locality – Rezi 35 is walking distance to Paya Lebar and Aljunied MRT Stations.
Accessibility – Just minutes' drive to the CBD and easily link to PIE and ECP
Rental Return – High potential rental yield with upcoming Paya Lebar Quarter
Family Living – Surrounded by numerous schools.
---
Rezi 35 Factsheet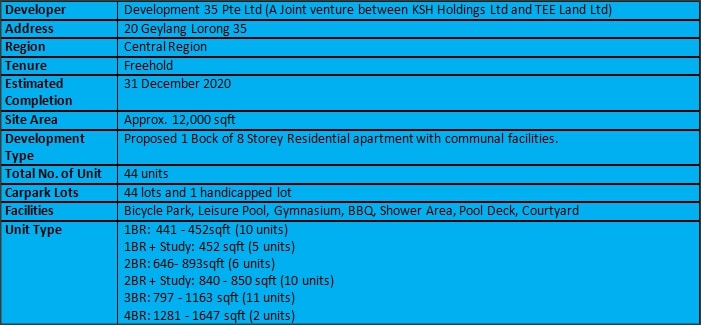 Want to be a proud owner of a unit in Rezi 35?
Simply fill up the form below and we will get in touch with you shortly.
Things to Note When Buying a Property:
1. Stamp Duty
2. Loan to Value Limit
3. Total Debt Servicing Ratio
4. Comparison on Mortgage Rate
Thank you for your interest in Rezi 35!