QBay Residences is located in the East Region. Its plot is just beside the junction of Tampines Avenue 1 and Tampines Avenue 10. It is facing Tampines Quarry Park and next to the upcoming Arc @ Tampines. The total site area of this development is approximately 216,044 square feet. This 99 years leasehold development is scheduled to be completed in May 2017. Upon completion, it will comprise of 630 residential units and also 3 shops units. There will be a total of 8 towers in QBay Residences each at 16 storeys high. The unit configuration available at QBay Residences range from 1 bedroom units to 5 bedroom units with sizes starting from 515 square feet up to 1971 square feet.
Qbay Residences is approximately 1.9 km away from the Tampines Town Centre. There, its future resident can find the nearest train station i.e the Tampines Station (EW2) and the Tampines Bus Interchange. Qbay Residences' future residents can use the multiple bus services provided by the bus interchange and also the East West Line Train service from the Train Station. The Tampines West Downtown Line Station (DT18), which is slated to complete in 2017, will be about 1.3 km away from it. By then, it will be more convenient for those living in QBay Residences when it comes to commuting downtown. For drivers, it is connected to the parts of the island with the Pan Island Expressway (PIE), the Tampines Expressway (TPE) and the Kallang Paya Lebar Expressway (KPE). By utilizing on this public transport infrastructure, it will take driver less than 15 minutes of driving to reach the Orchard Shopping Belt and the Central Business District from Qbay Residences.
For retails and dining, residents of QBay Residences can always head down to the 3 shopping malls situated in Tampines Central i.e. Century Square, Tampines Mall and Tampines 1 where many retails, F&B outlets, cinemas, departmental stores and supermarkets are located. The Tampines Round Market & Food Centre is also 1.9 km away from it where numerous cooked food stalls and market stalls can be found. QBay Residences' future residents can find local delicacies, fresh market produce and groceries over there. There is a reasonable number of schools that are within 2 km range from QBay Residences .
Plenty of recreational activities can be found near to QBay. Water sports enthusiast can always head down to Bedok Reservior and those who like mountain biking also also ride down to the nearby Tampines Bike Park for 1 whole day of fun activities. There is also SAFRA club nearby where many activities are being offered to the individuals and families. QBay is also suitable for those who likes good natural views and enjoys quiet living. It is away from the bustling town areas and close to the quiet settings and tranquility which the surrounding greenery can offer. The surrounding also ensures unblocked natural views for most of its residents. The rental demand can be expected from the nearby Changi and Loyang Industrial area. Rental demand will also come from those who likes a relax and quiet environment.
---
---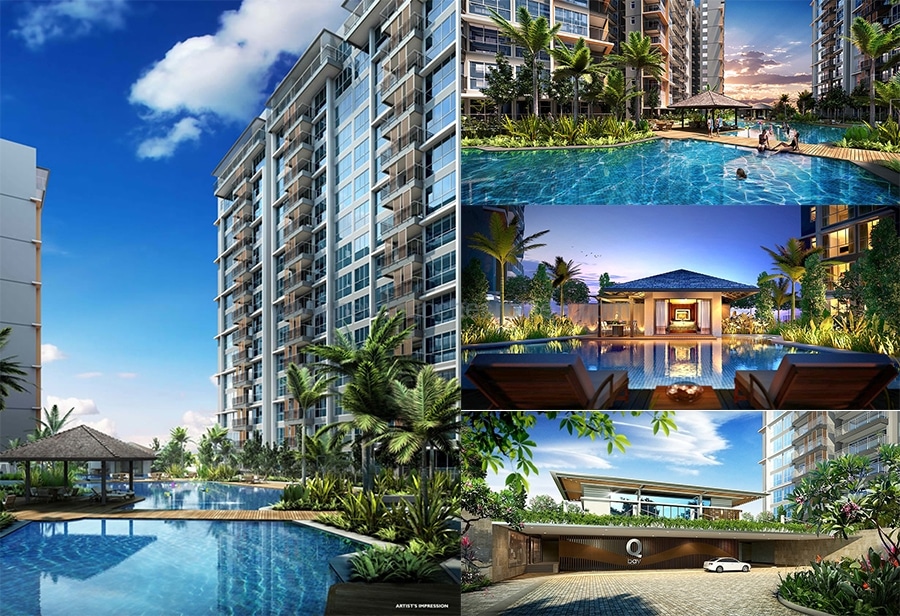 ---
QBay Facilities and Site Plan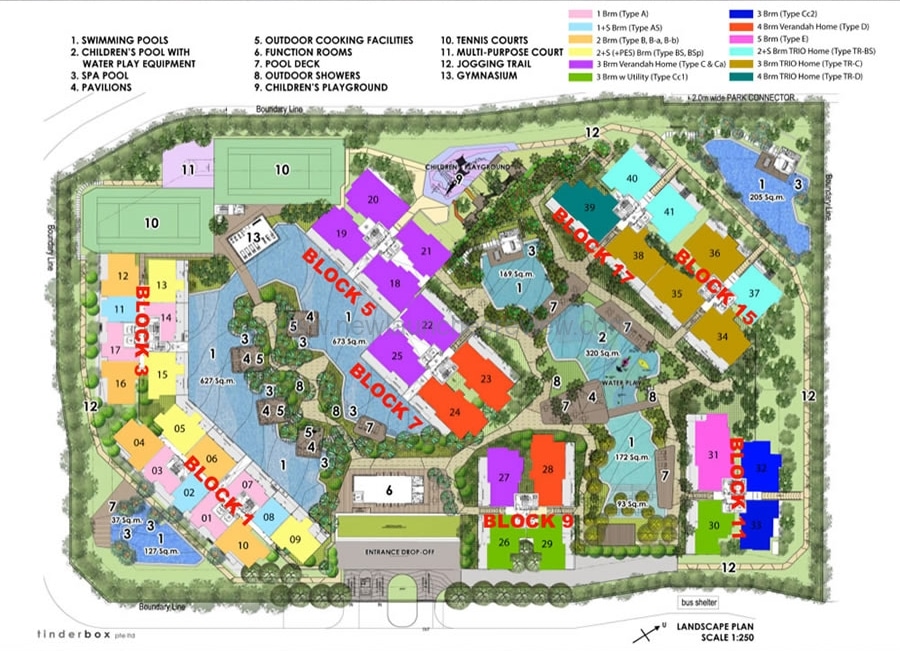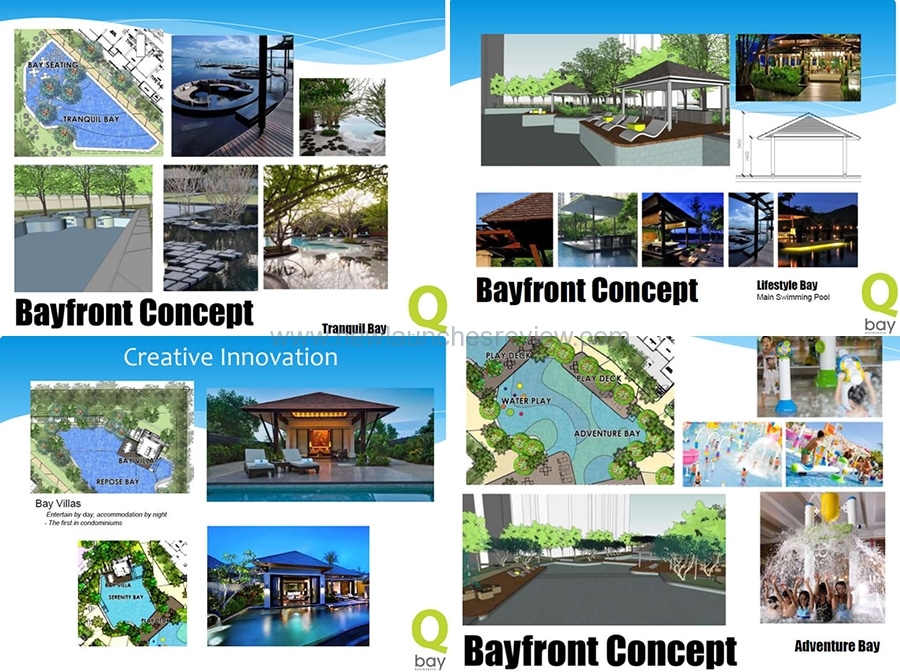 ---
Amenities Near QBay and Their Approximate Distances

Train Stations
Tampines West (D18) Due 2017 – 1.3km
Tampines (EW2) – 1.9km
Bus Stop
Opp Tropica Condominium (B75251) (Bus: 8, 15, 23, 518) – 0.2km
Tropica Condominium (B75259) (Bus: 8, 15, 23, 518) – 0.2km
Opp Springfield Sec (B75031) (Bus: 69, 513, 2N) – 0.2km
Springfield Sec (B75039)(Bus: 69, 513) – 0.3km
Supermarkets
Shop N Save – 0.8km
NTUC Fair Price – 0.9km
Sheng Siong – 1.5km
Cold Storage – 1.9km
Shopping Malls
Century Square – 1.7km
Tampines Mall – 1.8km
Tampines 1 – 1.9km
Preschool
PCF – 1.0km
Cavenur Kindergarten – 1.3km
Cherie Hearts – 1.3km
Natura Stars – 1.5km
Mavis Kindergarten – 1.6km
PCF Tampines West – 1.7km
Primary School
Poi Ching Primary School – 1.2km
Junyuan Primary School – 1.4km
East View Primary School – 1.4km
Tampines Primary School – 1.6km
Secondary School
Springfield Secondary School – 0.3km
Junyuan Secondary School – 0.7km
St Hilda's Secondary School – 1.0km
Tampines Secondary School – 1.6km
Junior College
Tampines JC – 3.2km
Tertiary
Temasek Polytechnic – 0.6km
Singapore University of Technology & Design (2014) – 3.9km
International School
UWCSEA – 1.2km
Japanese School (Pri) – 4.2km
Food Centre
Tampines Round Market & Food Centre – 1.9km
Tampines North Food Centre – 2.4km
Lifestyle
Bedok Reservior – 0.9km
Tampines Central Park – 1.0km
Tampines Stadium – 1.4km
Tampines Park – 1.5km
SAFRA Tampines – 1.5km
Tampines Avenue 4 Park – 1.9km

---
Highlights of QBay
1. Unblocked View – It is not surrounded by high-rise buildings offers unblocked greenery views.
2. Tranquility – It lies the the quiet enclave of the forested areas of Tampines which offers peaceful and serenity living.
3. Quality Lifestyle – There are many recreational centres nearby which provide fun and leisure activities.
4. Reasonably Priced – It is suitable for prudent investors or home upgraders.
5. Wide Selection of Unit Type – It offers many different unit configurations which appeal to a wider crowd.
---
QBay Factsheet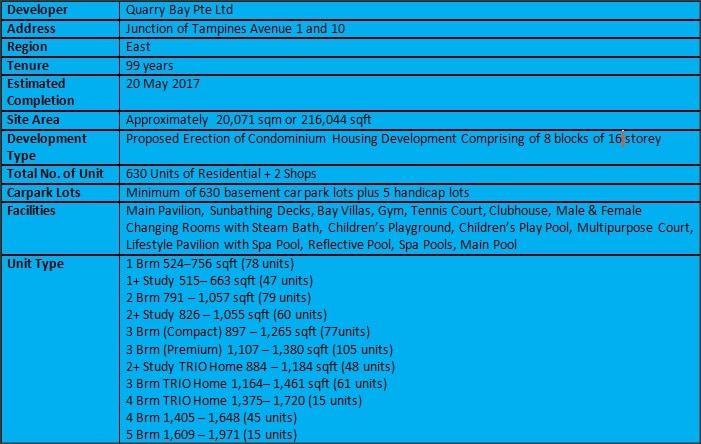 Want to be a proud owner of a unit in QBay?
Simply fill up the form below and we will get in touch with you shortly.
Things to Note When Buying a Property:
1. Stamp Duty
2. Loan to Value Limit
3. Total Debt Servicing Ratio
4. Comparison on Mortgage Rate
Thank you for your interest in QBay!