Parc Komo is an upcoming residential development located in Changi area, East Region of Singapore. Its site is situated at the junction of Upper Changi Road North and Jalan Mariam. It is just next to Springbrook Terrace which is located just across Jalan Mariam. The site of Parc Komo previously belonged to Changi Garden. Mainboard listed developer, Chip Eng Seng, has successfully acquired the site during a collective sale tender in 2017. The tender was won through its subsidiary, CEL Real Estate Development. The total site area of Parc Komo is approximately 200,093 square feet and with a gross plot ratio of 1.4. The tenure of Parc Komo belongs to freehold. Parc Komo's site was the only residential land sold within its 2.8km radius since 2013. Other developments that are within Parc Komo's vicinity include Avila Gardens, Estella Gardens, Ballota Park, The Gale, Dahila Park, Hedges Park Condominium, The Inflora, Parc Olympia, Palm Isles, Azalea Park Condominium, Carissa Park and also Ferraria Park Condominium.
---
---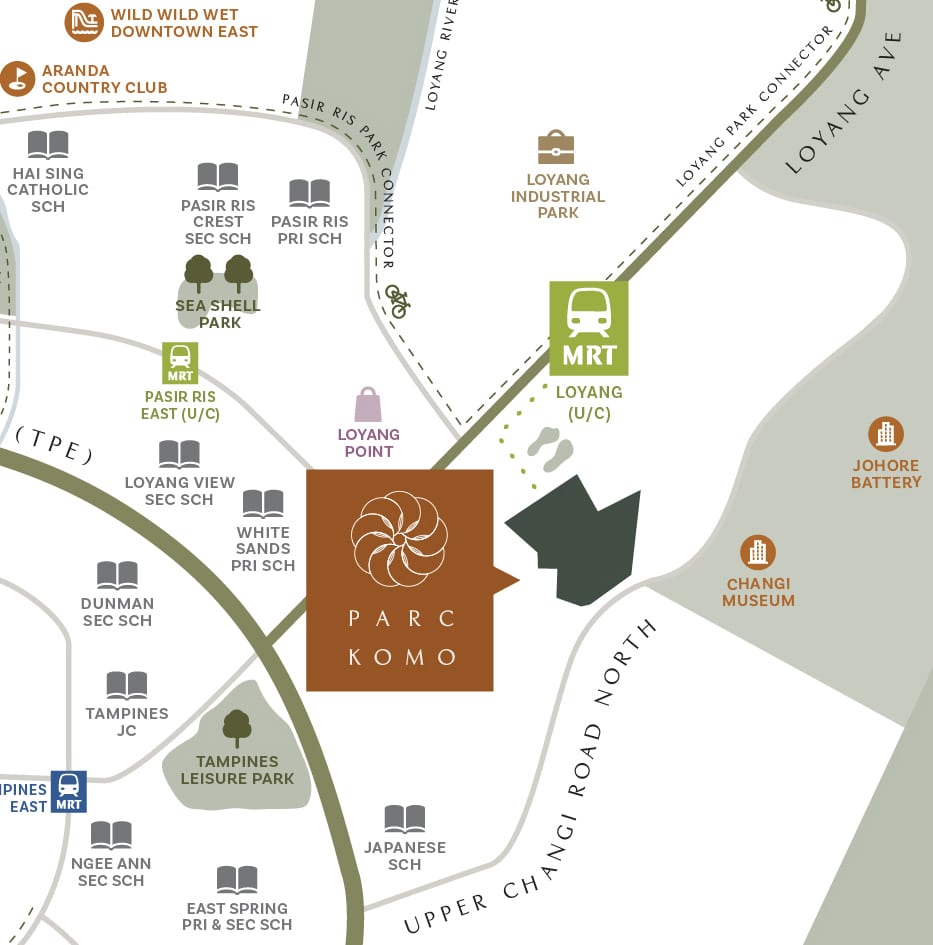 ---
Parc Komo Site Plan and Facilities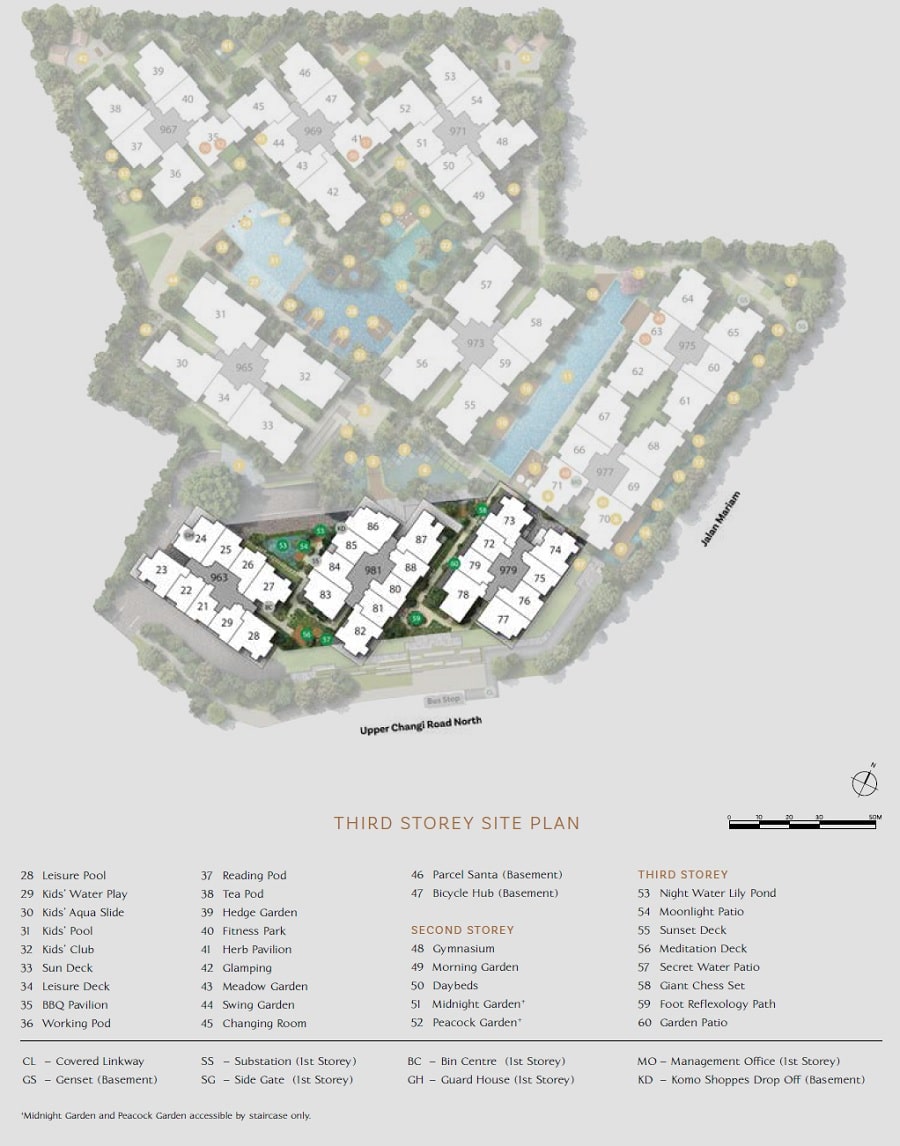 ---
Amenities Near Parc Komo and Their Approximate Distances
Train Stations
Loyang (CR2) Cross Island Line Due 2029 – 1.1km
Tampines East MRT (DT33) – 1.8km
Bus Stop
Opp Changi Women's Prison (Bus: 2, 5) – 0.1km
Changi Women's Prison (Bus: 2, 4, 5) – 0.2km
Supermarkets
Fairprice (955 Upper Changi Road) – 0.2km
Giant (Loyang Point) – 0.9km
Sheng Siong (Loyang Point) – 0.9km
Shopping Malls
Loyang Point – 0.9km
Tampines Mart – 1.3km
Preschool
White Lodge Kindergarten (Upper East Coast) – 0.5km
Brainy Bunch International Montessori (Pasir Ris) – 0.8km
Changi Baptist Church Kindergarten – 0.8km
Bethesda (Pasir Ris) Kindergarten – 1.0km
Creative Twinkles Preschool – 1.1km
PCF SPARKLETOTS PRESCHOOL @ TAMPINES-CHANGKAT Blk 358 – 1.2km
Al – Istighfar Mosque Kindergarten – 1.3km
Prodigy Preschool – 1.3km
Al – Amin Pre-School – 1.3km
PCF SPARKLETOTS PRESCHOOL @ PASIR RIS EAST Blk 216 – 1.3km
Primary School
White Sands Primary School – 1.1km
East Spring Primary School – 1.3km
Pasir Ris Primary School – 1.5km
Casuarina Primary School – 1.9km
Loyang Primary School – 1.9km
Secondary School
East Spring Secondary School – 1.1km
Greenview Secondary School – 1.2km
Loyang Secondary School – 1.4km
Dunman Secondary School – 1.5km
Ngee Ann Secondary School – 1.6km
Pasir Ris Crest Secondary School – 1.7km
Junior College
Tampines Junior College – 1.6km
Tertiary
Singapore University of Technology And Design – 2.4km
International School
The Japanese Primary School (Changi Campus) – 0.9km
Food Centre
Pasir Ris Central Hawker Centre – 2.4km
Lifestyle
SIA Group Sports Club – 1.9km
---
Highlights of Parc Komo
Transport Network
Parc Komo is approximately 1.8km away from the upcoming Tampines East MRT Station which had begun its operations in October 2017. The MRT Station is operating the Downtown MRT Line which can bring future residents of Parc Komo seamlessly to the Downtown MRT Station which is located in the Central Business District (CBD) without the hassle of transiting to other MRT service lines. It is also just 1 MRT Station away from Tampines MRT Interchange Station where the MRT East West Line is readily available. There are also bus services in front of Parc Komo which can also bring its future residents directly to Pasir Ris Town Central where the Pasir Ris MRT Station is also located. For drivers,
---
Parc Komo Factsheet
Want to be a proud owner of a unit in Parc Komo?
Simply fill up the form below and we will get in touch with you shortly.
Things to Note When Buying a Property:
1. Stamp Duty
2. Loan to Value Limit
3. Total Debt Servicing Ratio
4. Comparison on Mortgage Rate
Thank you for your interest in Parc Komo!