One Tree Hill Collection is a high end landed housing that is located at One Tree Hill, Core Central Region of Singapore. It is located in one of most exclusive residential region in Singapore, i.e. Orchard Road. New Condo's site is opposite of One Tree Hill Mansions and Paterson Court. It is where the former One Tree Gardens once resided. The development comprised of a 3 levels high private residential block and had a total of seven apartments and six marionettes. The unit sizes there were ranging between 1916 square feet and 4682 square feet.
This land plot was put up for collective sale in January 2017 and had drawn considerable amount of interests not just from traditional real estate developers but also property contractor cum developers as well  given its considerable land size and also close proximity to the Orchard area. It was zoned for for landed redevelopment under the Masterplan for 2014.
---
---

---
One Tree Hill Collection Site Plan and Facilities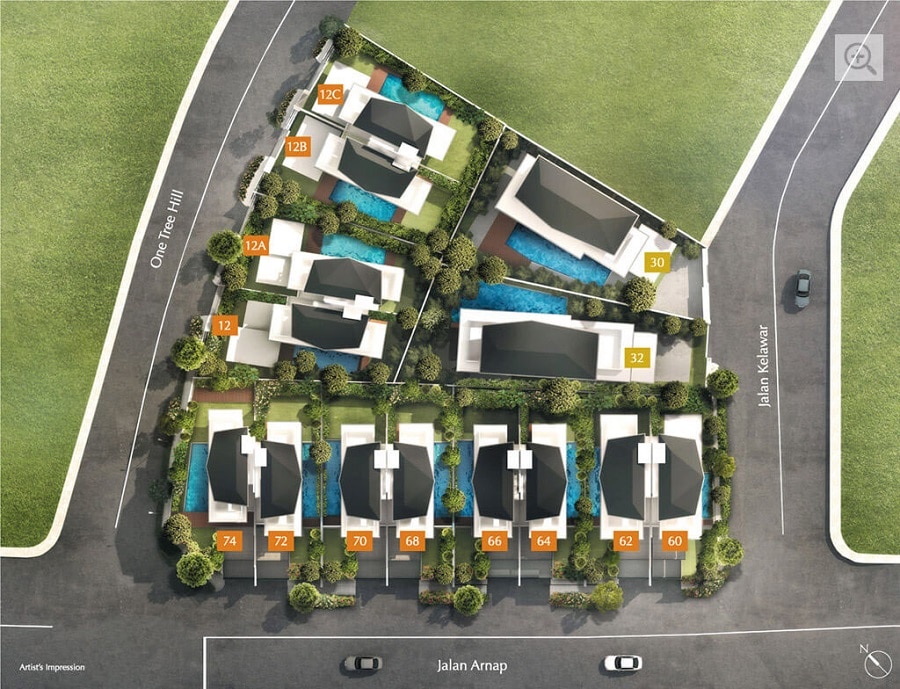 ---
Amenities Near One Tree Hill Collection and Their Approximate Distances



Train Stations
Orchard Boulevard MRT (TE13) Thomson-East Coast Line Due 2021 – 0.3km
Bus Stop
Bef One Tree Hill (Bus: 75) – 0.1km
Aft One Tree Hill (Bus: 75) – 0.1km
Supermarkets
Tanglin Market Place – 0.5km
Cold Storage Specialty Tanglin Shopping Centre – 0.6km
Fairprice (Valley Point) – 0.9km
Giant (Redhill Close) – 1.7km
Shopping Malls
Tanglin Mall – 0.5km
Tanglin Place – 0.5km
Tudor Court Shopping Gallery – 0.5km
Tanglin Shopping Centre – 0.6km
Forum The Shopping Mall – 0.7km
Wheelock Place – 0.7km
Far East Shopping Centre – 0.7km
Liat Towers – 0.7km
Delfi Orchard – 0.8km
ION Orchard – 0.8km
Preschool
Gracefields Kindergarten – 0.2km
Little Hands Montessori Kindergarten – 0.4km
Little Raindrops Montessori Pre-School – 0.4km
Kay Poh Road Baptist Kindergarten – 0.6km
Wee Care Kindergarten – 0.6m
JHS Montessori Kindergarten – 0.9km
Etonhouse International Pre-School – 1.0km
PCF SPARKLETOTS PRESCHOOL @ KRETA AYER-KIM SENG Blk 79 – 1.1km
White Lodge Kindergarten (Phoenix Park) – 1.3km
St. James' Church Kindergarten – 1.6km
Primary School
Alexandra Primary School – 1.1km
River Valley Primary School – 1.3km
Zhangde Primary School – 1.8km
Anglo-Chinese School (Junior) – 2.0km
Secondary School
Crescent Girl's Secondary School – 1.3km
Gan Eng Seng Secondary School – 1.3km
Queenstown Secondary School – 1.6km
Henderson Secondary School – 1.9km
Junior College
Catholic Junior College – 2.8km
Tertiary
The University of Chicago Booth School of Business – 2.0km
International School
ISS International School (Elementary & Middle) – 0.5km
Norwegian Supplementary School – 0.7km
Finnish Supplementatry School – 0.7km
EtonHouse International School – 1.0km
Swedish Supplementary School – 1.3km
Chatsworth International School Orchard Campus – 1.4km
Food Centre
Zeo Road Riverside Food Centre – 1.1km
Beo Crescent Market – 1.4km
Blk 22A Havelock Road Food Centre – 1.5km
Blk 79 Redhill Lane Market Centre – 1.7km
Blk 85 85 Redhill Lane Food Centre – 1.7km
Blk 115 Bukit Merah View Market and Food Centre – 1.8km
Tiong Bahru Market – 1.9km
Newton Food Centre – 2.0km
Lifestyle
The French Chamber of Commerce in Singapore – 0.7km
The American Club – 1.1km
Tanglin Golf Course Country Club – 1.1km
Tanglin Club – 1.3km
The Pines Club – 1.5km
Stardus Clubhouse – 1.8km
---
Highlights of One Tree Hill Collection
Transport Network
One Tree Hill Collection is approximately 300 m or 3 to 4 minutes' walk away to the Orchard Boulevard MRT Station which operates the MRT Thomson East Coast Line. This MRT service line is a mid-capacity MRT service line that is totally underground. The MRT service Line will be approximately 43 km long and will be serving 32 MRT Station. It is one of the longest unmanned mass rapid transit service lines in the world. The line operates along the combined east-west and north-south corridors of the island.
Its route starts from the Woodlands North MRT Station which is also the terminus for the upcoming Johor-Singapore Rapid Transit System. It then pass through the Woodlands MRT Interchange Station which will interchange with the MRT North South Line. After Woodlands Town, the line travels in a generally south ward direction along the boundaries of the Central Water Catchment passing through the residential area of Springleaf, Lentor and Mayflower. Its then continues parallel to Upper Thomson and goes into the popular residential estates of the Ang Mo Kio as well as the Bishan areas. The line continues to the direction of south towards the Stevens and Napier areas located in Bukit Timah before pass through the Central Areas of Orchard and Great World.
---
Want to be a proud owner of a unit in One Tree Hill Collection?
Simply fill up the form below and we will get in touch with you shortly.
Things to Note When Buying a Property:
1. Stamp Duty
2. Loan to Value Limit
3. Total Debt Servicing Ratio
4. Comparison on Mortgage Rate
Thank you for your interest in One Tree Hill Collection!