Mayfair Modern in District 21 at Bukit Timah is a 99-year leasehold condo, Western Region of the island. . Built over the site of the Former Mayfair Gardens, the property was acquired by Oxley Holdings through its subsidiary Citrine Property Ltd following a successful bid with the Mayfair Modern Price hitting S$311 million. The company will need to spend extra $52 million top up the 99 years lease. This is expected to translate to a land price worth $1,244 psf per plot ratio.
---
---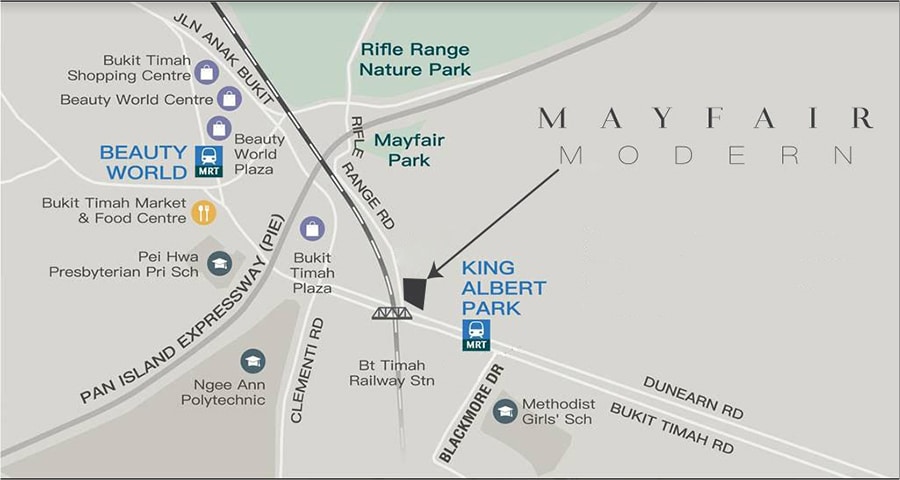 ---
Mayfair Modern Site Plan and Facilities

Mayfair Modern comes with full-fledged facilities to suit its deluxe clientele. Relax on the spa beds and spa seats, or swim laps at your own leisure in the 50m pool. Lounge around on the pool deck while you watch the little ones playing in the Kids' Pool. If you would rather engage in land-bound activities, your children can enjoy the Playground while you take a stroll along the Pavilion 1 – the Pool House – or Pavilion 2 – the Forest Pavilion. Experience nature around, and nature within. Be close to nature along the Boardwalk – Botanical Walk, the Lily Pond, and Herb Garden. Some may enjoy relaxation at the Chess Garden, Heritage Tree Garden, and Outdoor Tea Garden, while those who enjoy keeping in their best shape can do so in their own home through the use of the Fitness Corner and Boardwalk – Jogging Trail. In the evenings, bond with family over a Western grill at the BBQ Pavilion, or take a walk in the night air along the Boardwalk – Lantern Walk. The Mayfair Modern compound promises everything you deserve in order to live in luxury, not to mention the land of Bukit Timah that lies beyond its walls.
---
Amenities Near Mayfair Modern and Their Approximate Distances
Train Stations
King Albert Park (DT6) – 0.4km
Bus Stop
Opp KAP (Bus:74,77,66,67,174,170,171,154,157,151,852,970,961,961C) – 0.2km
KAP (Bus: 154,157,170,170A,171,151,174,970,961,961C,852,66,67,74,77) – 0.2km
Supermarkets
Cold Storage (Sime Darby Centre) – 0.3km
Fairprice (Bukit Timah Plaza) – 0.4km
Giant (Beauty World Centre) – 0.8km
Shopping Malls
KAP Mall – 0.3km
Bukit Timah Plaza – 0.4km
Beauty World Plaza – 0.8km
Beauty World Centre – 0.8km
Bukit Timah Shopping Centre – 0.9km
Grand Stand – 1.4km
Guthrie House – 1.7km
Preschool
Little Ones Kindergarten (Bukit Timah) – 0.3km
Nurturing Roots Montessori Preschool – 0.4km
Glory Kindergarten – 0.7km
Arise Kindergarten – 1.0km
Creative Thinkers Kindergarten – 1.1km
Montessori Children's House Kindergarten – 1.2km
Kizroo Kindergarten – 1.3km
Swallows And Amazons Kindergarten – 1.3km
United Educare Preschool – 1.6km
The Little House Montessori Kindergarten – 1.8km
Primary School
Methodist Girls' Primary School – 0.6km
Pei Hwa Presbyterian Primary School – 0.6km
Bukit Timah Primary School – 1.7km
Secondary School
Methodists Girls' Secondary School – 0.6km
Junior College
National Junior College – 2.6km
Tertiary
Ngee Ann Polytechnic – 0.8km
Singapore University of Social Sciences – 1.1km
International School
Dimensions International School (Bukit Timah Campus) – 1.0km
Swiss School in Singapore – 1.1km
Hollandse School – 1.3km
Etonhouse Pre-School (Upper Bukit Timah) – 1.3km
Singapore Korean International School – 1.4km
German European School (Main Campus) – 1.4km
German European School (Primary School Campus) – 1.9km
Food Centre
Bukit Timah Market and Food Centre – 0.7km
Lifestyle
Singapore Gun Club – 0.7km
Swiss Club Singapore – 1.2km
The British Club – 1.5km
Archery Club – 1.8km
CHAMPIONS GOLF COURSE & DRIVING RANGE – 1.8km
Bukit Timah Saddle Club – 1.8km
---
Highlights
Location
Situated in the prime land of Bukit Timah, do not let the mention of District 21 fool you. This place is possibly the best living location in Singapore for a number of reasons. Right next to prime District 11, live amongst the elite and enjoy a good view of the rail corridor, Bukit Timah Nature Reserve and the landed houses around the area, all while maintaining close proximity to the Downtown line and the plentiful supply of eateries and malls nearby. Experience great connectivity by living just a 5 minutes' walk away from the King Albert Park MRT station on the Downtown line. Residents can now reach the Downtown core in less than 30 minutes. Direct buses to places like Orchard and Marina Bay are also available from the bus stop opposite King Albert Park station, a mere few minutes' walk from Mayfair Modern. For those who drive, Mayfair Modern is extremely convenient, being located right next to the BKE and PIE, offering connection to basically anywhere in the island. The estate is also well connected with major roads, the Bukit Timah Road, Dunearn Road and Clementi Road.
---
Factsheet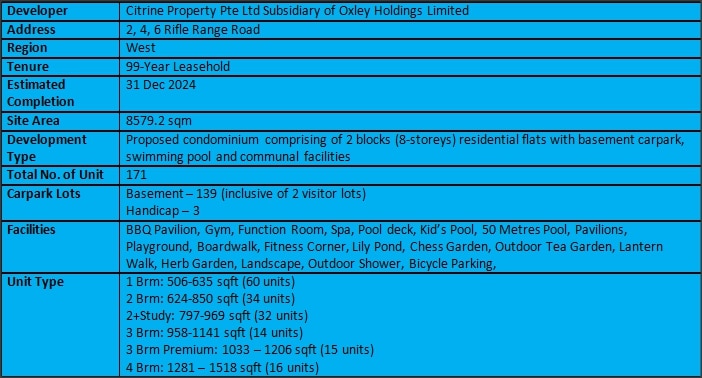 Want to be a proud owner of a unit in Mayfair Modern ?
Simply fill up the form below and we will get in touch with you shortly.
Things to Note When Buying a Property:
1. Stamp Duty
2. Loan to Value Limit
3. Total Debt Servicing Ratio
4. Comparison on Mortgage Rate
Thank you for your interest in Mayfair Modern !