Living by The Park is a cluster housing project situated in the north region of Singapore. It is just opposite of Sembawang Park which is along 2 – 16 Wak Hassan Drive. Living by The Park is a boutique project which consists a total of 8 semi detached houses. Each of these units will be 3 storeys tall and completed with a basement and an attic. Each unit will also comes with a lap pool. This project is expected to be completed by 2013. The built up areas for units at this development is from 3942 square feet to 4238 square feet. The generous sizing of these units promises this development's future residents spacious and luxurious living. Its site is also enclave in the peaceful landed residential area also provide tranquility for its future residents.
Living by The Park is about 2.4 km away Sembawang Town Centre, which host the nearest train station, Sembawang (NS11) and th Fe Sembawang Bus Interchange. Its future residents can make use of the North South Line services available at the train station or the ample bus services at the bus interchange to commute to downtown Singapore and various parts of the island, for work or leisure. For drivers, it takes about roughly 33 minutes from Living by the Park to Orchard and the City.
There are 3 shopping malls that are within 3 km Living by the Park which residents can get access to various retail and dining outlets, namely the Canberra Shopping Centre, the Sun Plaza and the Sembawang Shopping Centre. Living By The Park's future residents can take a short drive down to the Chong Pang City where they can access amenities such as supermarket, local eating outlets, retail shops, food centre and wet market. For school going kids, Living By The Park is close to Wellington Primary School, Endeavour Primary School, Sembawang Primary School, Canberra Primary School, Canberra Secondary School and Sembawang Secondary School.
Living by The Park will be ideal for those who enjoys tranquility and serenity. It is enclave in the quiet surroundings facing a Park in front and low rise landed housings behind. It offers lush greenery for those who likes to the nature. For those who wish to relax their minds, they can also take a stroll down to the nearby Sembawang Jetty to smell the freshness of the sea while listening to the calming sea breeze. There are also many leisure activities that are offered in Sembawang Park both for the young and old.
Living by The Park also promised luxurious and modern design not just the exterior but also the interior. Living by the Park might be a good choice for anyone who wishes to own a landed property. Though a lack of closeness to much amenities, Living by The Park is much reasonably priced as compared to its counterparts in the East Region. Much to that, the area also offered a much more quiet environment as compared to the congested Eastern side.
---
---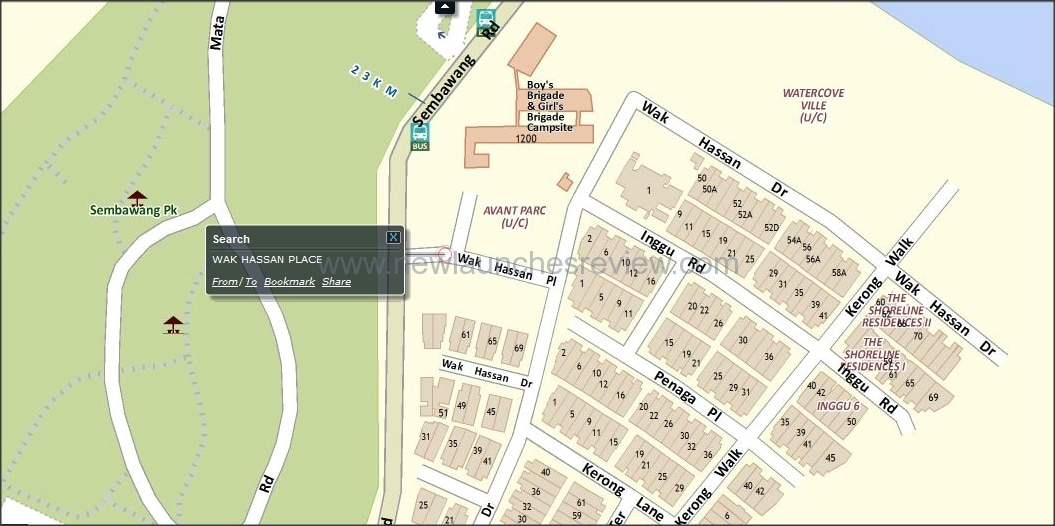 ---
Living By The Park Site Plan and Facilities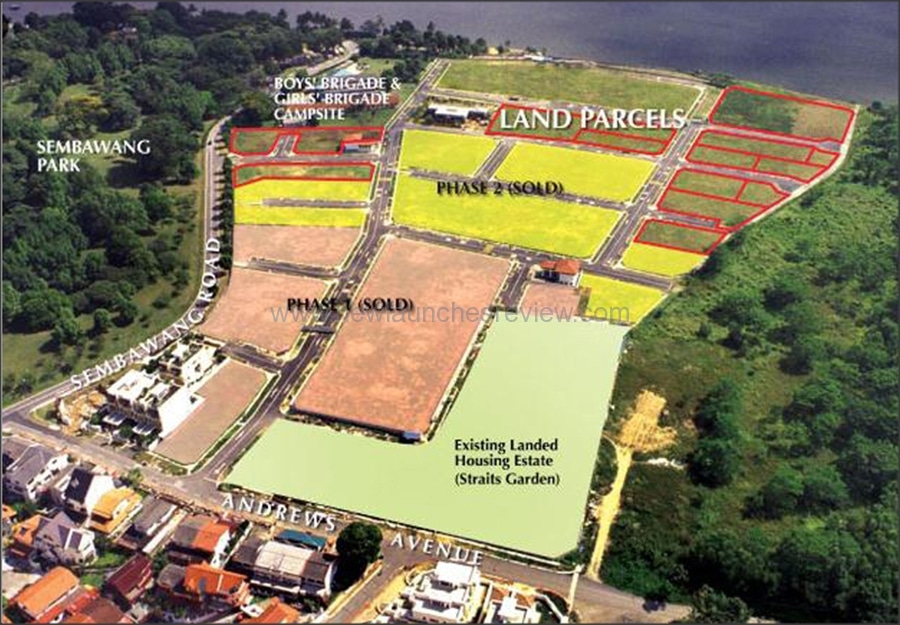 ---
Amenities Near Living By The Park and Their Approximate Distances

Train Stations
Sembawang (NS11) – 2.4km
Bus Stop
Sembawang Park (B58091) (Bus: 882) – 0.1km
Sembawang Park (B58099) (Bus: 882) – 0.1km
Aft Andrews Avenue (B58089) (Bus: 882) – 0.2km
Opp Jalan Janggus (B58081) (Bus: 882) – 0.3km
Supermarkets
Ntuc Fairprice – 2.1km
Sheng Siong – 2.9km
Shopping Malls
Canberra Shopping Centre – 2.3km
Sun Plaza – 2.5km
Sembawang Shopping Centre – 2.5km
Preschool
Little Treasures Kindergarten – 5.0km
Primary School
Wellington Primary School – 2.0km
Endeavour Primary School – 2.4km
Sembawang Primary School – 2.5km
Canberra Primary School – 2.7km
Secondary School
Canberra Secondary School – 2.8km
Sembawang Secondary School – 2.9km
Junior College
Yishun JC – 4.0km
Tertiary
Republic Polytechnic – 6.1km
International School
Singapore American School – 8.0km
Food Centre
Sembawang Seafood Paradise – 0.7km
Chong Pang Market & Food Centre – 4.5km
Lifestyle
Sembawang Park – 0.6km
Bottle Tree Village – 0.7km
Eagle Club – 1.1km
SAF Yacht Club – 2.3km
Singapore Orchid Country Club – 5.5km
---
Highlights of Living by The Park
1. Spectacular Views – Surrounded by lush greenery and nice sea views.

2. Serenity – It is nestled in the quiet environment of Wak Hassan Place which is suitable for those who enjoys quiet and peaceful living.

3. Quality Finishing – Luxurious and Modern finishing.

4. Reasonably Priced – Suitable for those who wish to own a landed property without paying sky rocketed price.

5. Exclusive Development – Boutique project consists of only 8 units.
---
Living By The Park Factsheet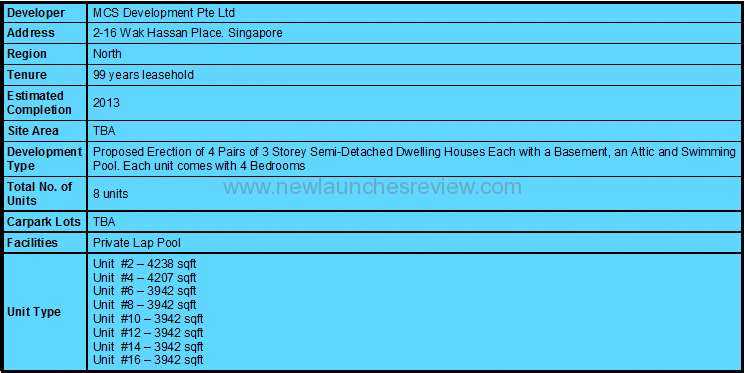 Want to be a proud owner of a unit in Living By The Park?
Simply fill up the form below and we will get in touch with you shortly.
Things to Note When Buying a Property:
1. Eligibility to Buy Landed Property
2. Stamp Duty
3. Loan to Value Limit
4. Total Debt Servicing Ratio
5. Comparison on Mortgage Rate
Thank you for your interest in Living By The Park!