Leville iSuites is an boutique apartment in the Eastern part of the island. It is located along Ceylon Road which is adjoined to Mountbatten Road. The site is in between Ceylon Crest and Spring @ Katong. The expected completion will be end of 2016. Once completed, it will be home to 42 households. It is a low rise development which will be 5 storeys high.
The 2 nearest train stations to Leville iSuites will be Eunos (EW7) and Dakota (CC8). Enuos Station which serves the East West Line is about 1.6 km away whereas Dakota Circle Line Station is roughly 1.7 km away. The estimated driving time to reach the CBD and Orchard will be approximately 9 minutes. Leville iSuites is also close to ECP which allows drivers to access to other of the island.
Leville iSuites is close to a number of esteemed schools. Most of them are just with in 1 km radius. It offers plenty of retail and dining options with more than 7 shopping malls situated within 1 km of it. Many of them are just within walking distance. There are also 4 main Food Centres that are just less than 1.5 km away. In terms of recreation, residents can always head down to the nearby East Coast Park which offers lots of activities for the individuals and the whole family. East Coast Park is just 1.5 km away from Leville iSuites.
In terms of rental, the demands are likely to come from those who are working in the City, Changi Business Parks, Changi & Loyang Industrial and Logistic Hubs. The value of projects that are near Leville iSuites are likely to see a steady increase but as its area is predominantly a prestige residential area, it is the prices are likely to have a cushion.
---
---

---
Leville iSuites Site Plan and Facilities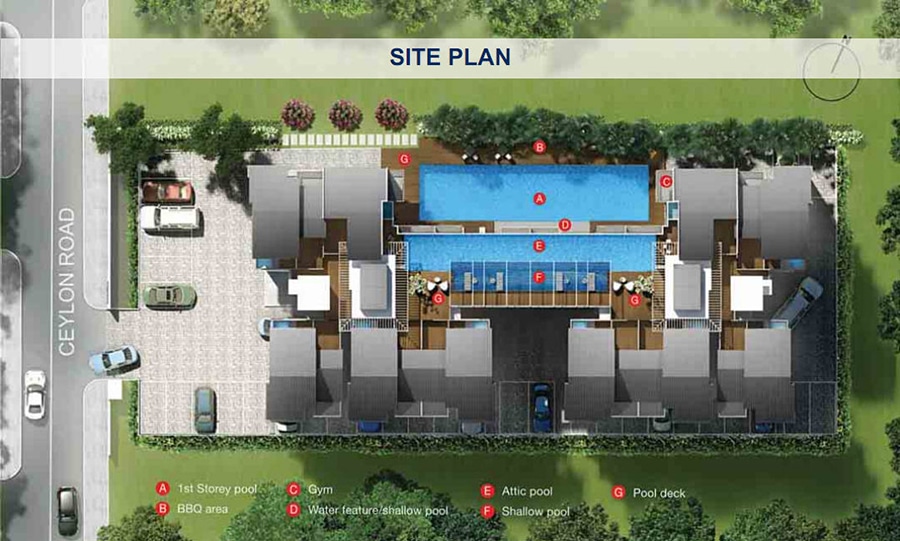 ---
Amenities Near Leville iSuites and Their Approximate Distances



Train Stations
Eunos (EW7) – 1.6km
Dakota (CC8) – 1.7km
Bus Stop
Opp Roxy Sq (Bus: 10, 10e, 12, 14, 14e, 32, 40) – 0.1km
Roxy Sq (Bus: 10, 10e, 12, 14, 14e, 32, 40) – 0.1km
Katong Mall (Bus: 16) – 0.2km
Supermarkets
Shop N Save – 0.5km
Giant – 0.5km
Cold Storage – 0.5km
NTUC – 0.6km
Sheng Siong – 1.3km
Shopping Malls
Katong Plaza – 0.2km
I12 Katong – 0.2km
Katong Village – 0.2km
Paramount Shopping Centre – 0.2km
Roxy Square – 0.2km
Katong Shopping Centre – 0.3km
Parkway Parade – 0.5km
Preschool
Sri Sathya Sai Kindergarten – 0.1km
Two By Two Schoolhouse – 0.1km
Seeds D' Learning – 0.2km
St Hilda's Church Kindergarten – 0.2km
Tung Ling Kindergarten – 0.4km
Kinderschool – 0.4km
Holy Family Kindergarten – 0.4km
Children Vineyard's Kindergarten – 0.7km
PCF Joo Chiat – 0.9km
Primary School
Tanjong Katong – 0.3km
Haig Girls' School – 0.7km
CHIJ (Katong) – 0.8km
Tao Nan – 0.9km
Ngee Ann – 1.6km
Kong Hwa – 1.8km
Secondary School
Tg Katong – 0.8km
Tg Katong Girls' – 0.8km
Northlight – 1.2km
Chung Cheng Main – 1.4km
CHIJ Katong Convent – 1.6km
St Patrick's – 1.6km
Boardrick – 1.9km
Junior College
Victoria JC – 1.8km
Tertiary
Singapore Management University – 5.5km
Temasek Polytechnic – 5.5km
International School
Chatsworth International – 0.6km
Canadian International School – 0.6km
Food Centre
Marine Parade Market & Food Centre – 0.4km
Duman Food Centre – 0.5km
Haig Rd Market & Food Centre – 1.2km
Geylang Serai Food Centre – 1.4km
---
Highlights of Leville iSuites
1. Peaceful Surroundings – It is situated in the quiet residential enclave which offers quiet environment.
2. Prestige District – Katong has been known as 1 of the prestige suburban district.
3. Close to Esteemed Schools – Many of them are just within 1 km from Leville iSuites.
4. Closeness to Amenities – More than 7 shopping malls nearby and most are wthin walking distance
5. Well Connected – Just minutes' drive to City area and serve by the major ECP.
---
Leville iSuites Factsheet
Want to be a proud owner of a unit in Leville iSuites?
Simply fill up the form below and we will get in touch with you shortly.
Thank you for your interest in Leville iSuites!