La Fiesta is located in North East Region, along Sengkang Square. It will be a huge project with 13 blocks comprising of more than 800 units. The estimated completion will be December 2017. This 99 year leasehold residential development has a unit mix of 1 to 2 bedroom standard, 3 bedroom compact, 3 bedroom dual key, 4 bedroom standard, 4 bedroom dual key and 5 bedroom standard. The sizes range from the smallest unit of 431 sq feet (1 bedroom) to the biggest unit of 1,765 sq ft (5 bedroom).
La Fiesta is just a mere 200m away from Sengkang MRT/LRT Interchange station. The Interchange connects North-East Line with LRT. It is also next to Sengkang Bus Interchange. Those living there will enjoy the ease of commuting with the complete transport network that it has to offer. It will take about a 18 minutes' train ride to the City area.
As for investors, they need not worry about rental demands. There will be 2 main industrial developments that will be upcoming near to it. They are the Paya Lebar Industrial Park which comprises of 15 hectares of land and the Seletar Aerospace Park. When they are completed, it will drives up the rental demand for La Fiesta. The potential for return is also high for La Fiesta given that it is near to the train station. The land parcel besides it is also designated for high-rise residential development. This new project is likely will boost the overall price there.
Compass Point is also next to the Bus Interchange. There are plenty of choices when it comes to dining and retail when living in this development as there are 5 other shopping malls within 2km of La Fiesta. This development's future residents can have the choice of Compass Point, Rivervale Plaza, Rivervale Mall, Hougang Green Shopping Mall and Punggol Plaza. Kopitiam Square is walking distance to La Fiesta which future residents of La Fiesta can have a simple meal there.
La Fiesta is close to many schools. In fact, there are more than 20 schools within 2km radius of it. It will be a good location for anyone who wishes to nestle their family in Sengkang. There are 16 local primary schools which are within the 2 km radius from La Fiesta. There are Seng Kang Primary, Nan Chiau Primary, Compassvale Primary, North Vista Primary, Palm View Primary, Springdale Primary, Anchor Green Primary, North Spring Primary, Rivervale Primary, Punggol Primary, Punggol Green Primary, Mee Toh Primary, Yio Chu Kang Primary, Edgefield Primary, Chij Our Lady Of The Nativity and Montfort Junior School. There are also many Secondary school nearby La Fiesta, these include Sengkang Secondary, Nan Chiau Secondary, Compassvale Secondary, Edgefield Secondary, Montfort Secondary, Hougang Secondary and Greendale Secondary. Even the fourth university, SUTD is just 10 minutes' drive away from La Fiesta.
La Fiesta is also closed to main leisure parks in Sengkang where there are many fun and relaxation activities that are been offered. Sengkang Riverside Park is 1.2 km nearby La Fiesta where the residents can use the Park facilities.
---
---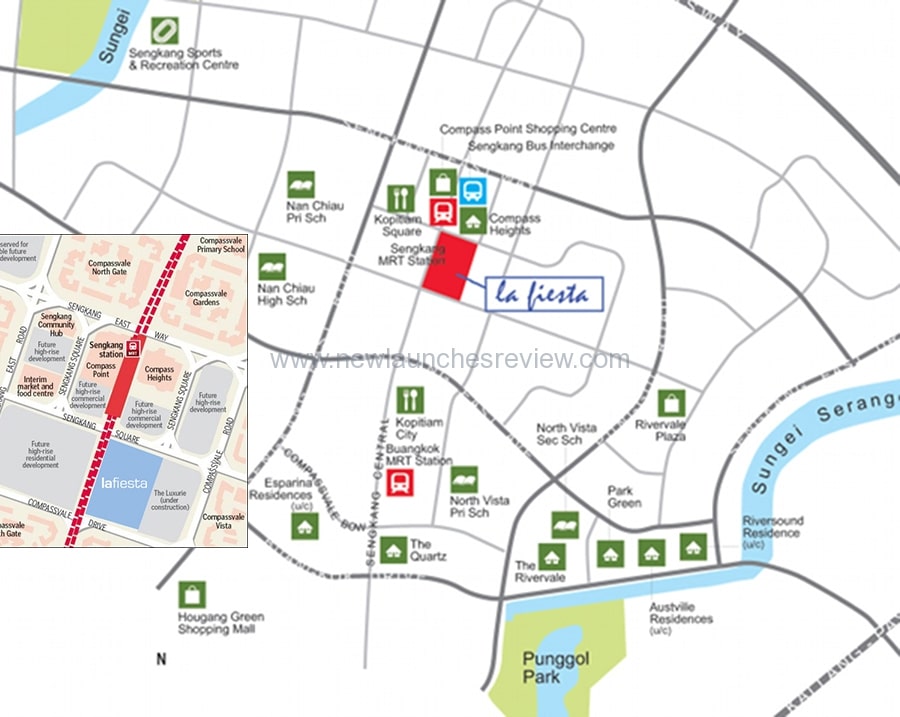 ---
La Fiesta Facilities and Site Plan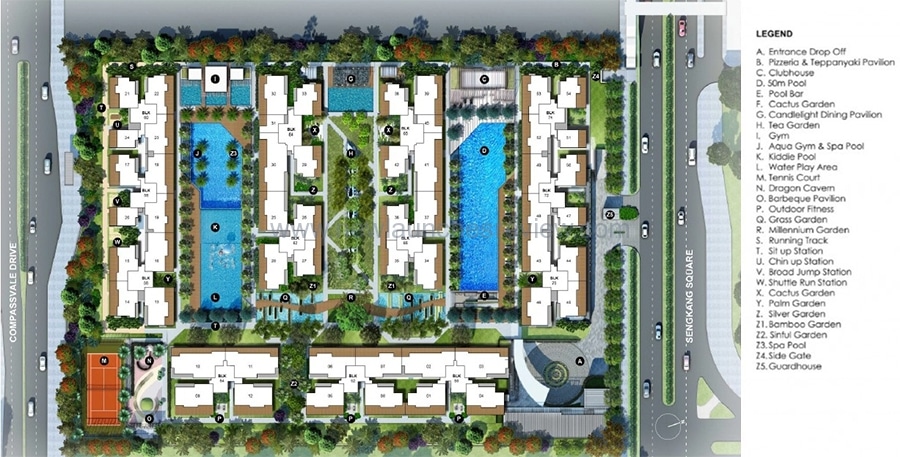 ---
Amenities Near La Fiesta and Their Approximate Distances

Train Stations
Sengkang (NE16) – 0.2km
Renjong (SW8) – 0.6km
Ranggung (SE5) – 0.7km
Bus Stop
Opp Blk 204 CP (Bus: 85, 372, NR6) – 0.1km
Blk 204 CP (Bus: 372, 85) – 0.1km
Opp Blk 223D (Bus: 27, 80, 86, 87, 89, 89e) – 0.1km
Blk 223D (Bus: 27, 80, 86, 87, 89, 89e, 372) – 0.2km
Blk 204C (Bus: 43) – 0.2km
Blk 201C (Bus: 43) – 0.2km
Supermarkets
Cold Storage – 0.3km
Ntuc Fairprice – 0.7km
Shop N save – 0.8km
Sheng Siong – 2.0km
Shopping Malls
Compass Point – 0.2km
Rivervale Plaza – 0.9km
Rivervale Mall – 1.1km
Hougang Green Shopping Mall – 1.4km
Punggol Plaza – 2.0km
Preschool
PCF Care Services – 0.4km
PCF Care Services – 0.6km
St Anne's Church Kindergarten – 0.7km
Primary School
Seng Kang – 0.5km
Nan Chiau – 0.6km
Compassvale – 0.6km
North Vista – 0.7km
Palm View – 0.8km
Springdale – 0.9km
Anchor Green – 0.9km
North Spring – 1.0km
Rivervale – 1.1km
Punggol – 1.3km
Punggol Green – 1.4km
Mee Toh – 1.6km
Yio Chu Kang – 1.7km
Edgefield – 1.8km
Chij Our Lady Of The Nativity – 1.8km
Montfort Junior School – 1.9km
Secondary School
Sengkang – 0.5km
Nan Chiau – 0.6km
Compassvale – 0.9km
Edgefield – 1.5km
Montfort – 1.9km
Hougang – 2.0km
Greendale – 2.0km
Junior College
Serangoon JC – 2.8km
Meridian JC – 4.9km
Tertiary
Nanyang Polytechnic – 5.3km
SUTD (Changi) – 9.2km
International School
Lycee Francais De Singapour – 3.7km
DPS International School – 4.1km
Food Centre
Kopitiam Square – 0.2km
Lifestyle
Sengkang Riverside Park – 1.2km
Punggol Park – 1.6km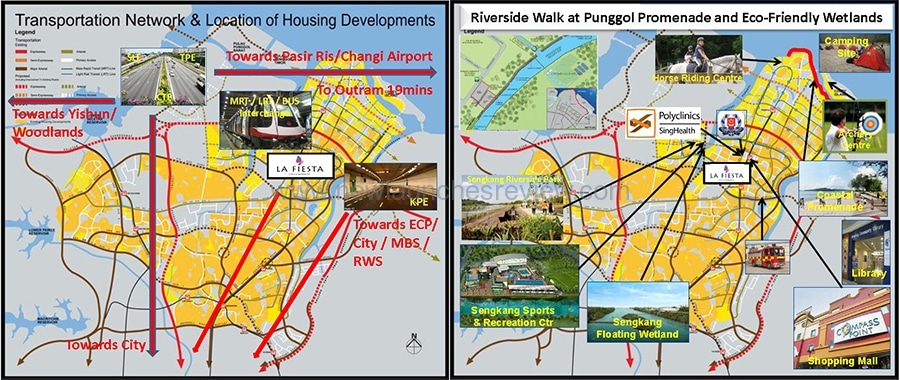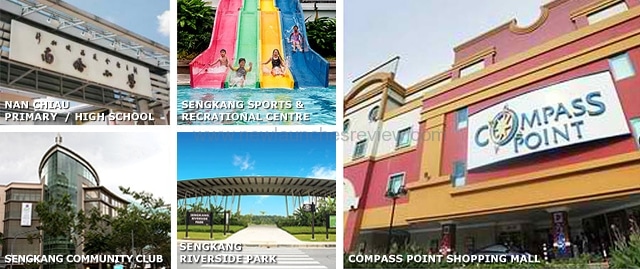 ---
Highlights of La Fiesta
1. Excellent Location – It is just close to 1 but 3 train stations and also the Bus Interchange.

2. Closeness to Amenities – Supermarkets, 4 shopping malls, dining and retail outlets and even the park is within 1km from it.
3. Plenty of Schools – There more than 10 schools within the 1km radius of it.

4. Ease of Commuting – The transport network is excellent, those living in this development will have not problem commuting to various parts of island.

5. Potential Future Return – Projects that is near the train station will always command a higher premium especially in the resale market.

---
La Fiesta Factsheet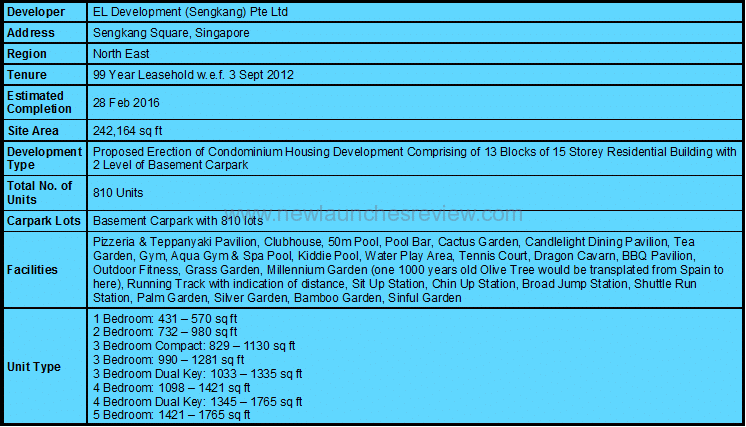 Want to be a proud owner of a unit in La Fiesta?
Simply fill up the form below and we will get in touch with you shortly.
Things to Note When Buying a Property:
1. Stamp Duty
2. Loan to Value Limit
3. Total Debt Servicing Ratio
4. Comparison on Mortgage Rate
Thank you for your interest in La Fiesta!