KAP Residences is a mixed commercial and residential development located in the West Region of Singapore. It is located on the site at the junction of Bukit Timah Road and Jalan Anak Bukit. Its site is beside King Albert Lodge where the former King Albert Park McDonald was. The site area is more than 60,000 square feet. KAP Residences There will be a total of 249 units in KAP Residences which 142 are residential units and 107 is commercial units. The commercial units at KAP Residences will comprise of 66 retail shops, 30 food & beverage outlets and 1 supermarket. The size from for KAP Residences' commercial units will range from 172 square feet to 4607 square feet. The residential units will have unit types from 1 bedroom + study to 5 bedroom penthouse.
KAP Residences is about 400 m away from the upcoming KAP Downtown Line Station which is slated to complete in 2015. It will take around 10 minutes to drive to Orchard Shopping District and 17 minutes' drive to the Financial District. KAP Residences is also next to the Pan Island Expressway (PIE) which connects drivers to all parts of the island.
KAP Residences is close to local schools such as Pei Hwa Presbyterian, Methodist Girls' School, Nanyang Primary School, Bukit Timah Primary School. KAP Residences is also near to tertiary education facilities such as the Ngee Ann Polytechnic and the SIM University. There are also international schools that are close to it such as Swiss School, Hollandse School and German European School. Retails and dining is just down the residences.
Future residents will find lots of conveniences living at KAP Residences as the retail, dining, and entertainment facilities are just right at their doorsteps. For more options, the Bukit Timah Plaza, Beauty World Centre, Beauty World Plaza, Bukit Timah Shopping Centre and The Grandstand are just within its vicinity. For local delights, KAP Residences' future residents will find many famous local cooked food stalls the Bukit Timah Market and Food Centre is just round the corner which is about 500 m away. There are also 94 market stalls available at Bukit Timah Market and Food Centre which KAP Residences' future residents can get their wet and dry market produce and also their basic necessities.
For golf lovers, KAP Residences is just a short drive away from Green Fairways Golf Course, a 9 hole public course which is located near to Holland Village. There is also a 60 bay golf range at Green Fairways itself for golfers to practice their driving skills. KAP Residences' future residents can also take up gun shooting at the nearby Singapore Gun Club. KAP Residences' future residents can take a short drive down to the Bukit Batok Nature Park when in need for a moment of peace and serenity whilst enjoying the lush greenery and also the scenic pond located at the park.
In terms of rental, KAP Residences is likely to able to command a premium as compared the rest of its peers situated in the same vicinity. This is due to the fact as dining and retail outlets are just right downstairs. The upcoming KAP Train Station is also likely to give its value a boost.
---
---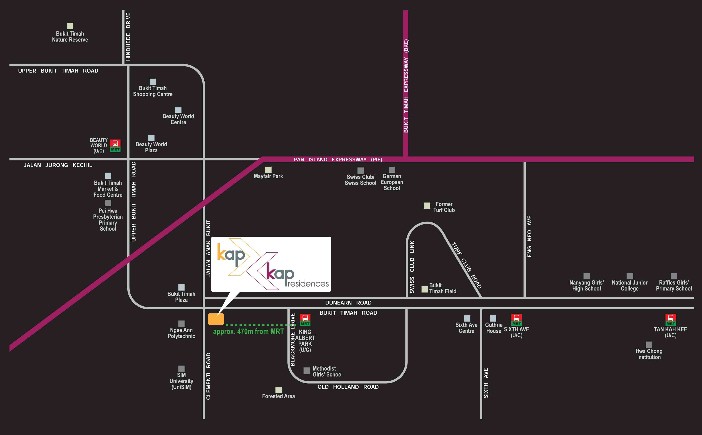 ---
KAP Residences Site Plan and Facilities

---
Amenities Near KAP Residences and Their Approximate Distances

Train Stations
King Albert Park MRT Downtown Line Due 2015 – 0.4km
Bus Stop
King Albert Park (Bus: 66, 67, 74, 77, 151, 154, 157, 170, 171, 174, 563, 852, 961, 970) – 0.1km
Aft King Albert Park (Bus: 52, 61, 74, 75, 151, 154, 184) – 0.1km
Opp Bukit Timah Plaza (Bus: 52, 61, 66, 67, 75, 77, 157, 170, 171, 173, 174, 852, 961C, 970 – 0.3km
Supermarkets
Shop N Save – 0.7km
Giant – 1.5km
Cold Storage – 1.8km
Shopping Malls
Bukit Timah Plaza – 0.2km
Beauty World Centre – 0.7km
Beauty World Plaza – 0.7km
Bukit Timah Shopping Centre – 0.8km
The Grandstand – 1.5km
Preschool
Nurturing Roots Montessori Preschool – 0.3km
Glory Kindergarten – 0.5km
PCF Bukit Timah Blk 12 – 0.8km
Creative Thinkers Kindergarten – 1.0km
Montessori Children's House Kindergarten – 1.3km
The Little House (Montessori) Kindergarten – 1.5km
Swallows And Amazons Kindergarten – 1.5km
Primary School
Pei Hwa Presbyterian School – 0.4km
Methodist Girls' School – 0.5km
Nanyang Primary School – 1.1km
Bukit Timah Primary School – 1.5km
Secondary School
Nanyang Girls' High School – 2.6km
Junior College
Hwa Chong Junior College – 2.9km
National Junior College – 2.9km
Tertiary
Ngee Ann Polytechnic – 0.7km
UniSIM – 0.9km
International School
Swiss School – 1.4km
Hollandse School – 1.5km
German European School – 1.8km
Food Centre
Bukit Timah Market & Food Centre – 0.5km
Lifestyle
Singapore Gun Club – 0.9km
Swiss Club – 1.4km
The British Club – 1.7km
Green Fairways Golf Course – 2.1km
Bukit Batok Nature Park – 2.2km
---
Highlights of KAP Residences

1. Rare – There are not many mixed development that is freehold especially in district 21.
2. Closeness to Amenities – Many eateries and shopping malls are just within walking distance from this development.
3. Well Connected – The PIE is just right next door which connects to various parts of the island.
4. Affordable Quantum – Good for home upgraders and investors.
5. Potential Capital Appreciation – The boost for this development value will come from the future King Albert Park Train Station.
---
KAP Residences Factsheet
Want to be a proud owner of a unit in KAP Residences?
Simply fill up the form below and we will get in touch with you shortly.
Things to Note When Buying a Property:
1. Stamp Duty
2. Loan to Value Limit
3. Total Debt Servicing Ratio
4. Comparison on Mortgage Rate
Thank you for your interest in KAP Residences!