Jade Residences is located in the cross junction of Lorong Lew Lian and Lew Lian Vale. Its site was previously home to Jade Towers. It is scheduled to complete in 2017. This project will comprised 4 blocks and each will be 5 storey high. Upon completion Jade Residences will host a total of 171 residential units with 2 shop units. The freehold development has a unit mix of 2 to 4 bedroom standard, 3 bedroom dual key and 2 to 4 bedroom penthouses units. The sizes of these units range from the smallest of 527 sq ft for a 1 bedroom and the biggest size of 1,927 sq ft for a 4 room penthouses unit.
There are 2 train stations near Jade Residences. Serangoon Interchange, which is the interchange for North East Line and Circle Line, is about 500 m away. Another station will be Bartley Circle Line Station which is also 500 m away. It will take roughly around 10 minutes' train ride to reach the City and Orchard. For drivers, Jade Residences is easily connected to (Central Expressway) CTE which interconnects to Pan Island Expressway (PIE) and Kallang Paya Lebar Expressway (KPE). It will take around 6 minutes' and 9 minutes' drive to reach both Orchard and the CBD respectively.
Jade Residences is situated in the private residential enclave which offers serenity and tranquility. Much of the rental demand is likely to come from those working at Lorong Chuan, Tai Seng and Kallang Industrial Areas. The price of Jade Residences is also likely to see a steady increase with the rise of housing demands in District 19. Developments in nearby Potong Pasir are also likely to contribute to the rise.
There are also many dining and retail outlets that are offered at NEX Shopping Centre. Residents can also choose to get to Junction 8 which is 2 train stations away or Heartland Mall which is 1.4 km away. Upper Serangoon Shopping Centre and Heartland Mall are the other alternative for Jade Residences. There are varieties of choice for dinning, shopping and entertainment in all these malls. Jade Residences is about 2 km away from the famous Serangoon Gardens Market and Chomp Chomp Food Centre. Kovan Hougang Market and food centre is within walking distance from Jade Residences.
There are close to 8 primary schools that are within 2 km of Jade Residences which many of of them are reputable. These primary schools include Maris Stella, Paya Lebar Methodists, Yangzheng, Cedar, Zhonghua, Xinghua, St Gabriel's and CHIJ Lady of Good Counsel. There are also many reputable secondary nearby Jade Residences which include St Gabriel's, Paya Lebar Methodist Girls', Maris Stella High, Zhonghua, Bartley and Yuying. Nanyang Junior College is only 1.4 km away from Jade Residences.
There are also a number of recreation activities which can be found within 2km away. For those who love sports, Singapore National Wushu Association, Serangoon Stadium and PUB Recreational Club may be the choice for them. Future residents of Jade Residences can visit Serangoon Community Park for a relaxing stroll, jog or cycle at the Park which is only 1.1 km away.
---
---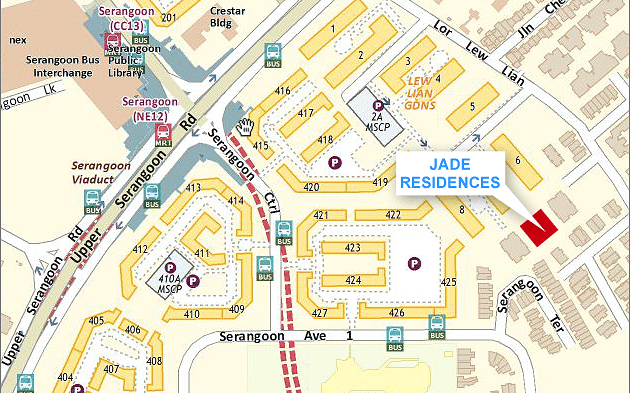 ---
Jade Residences Site Plan and Facilities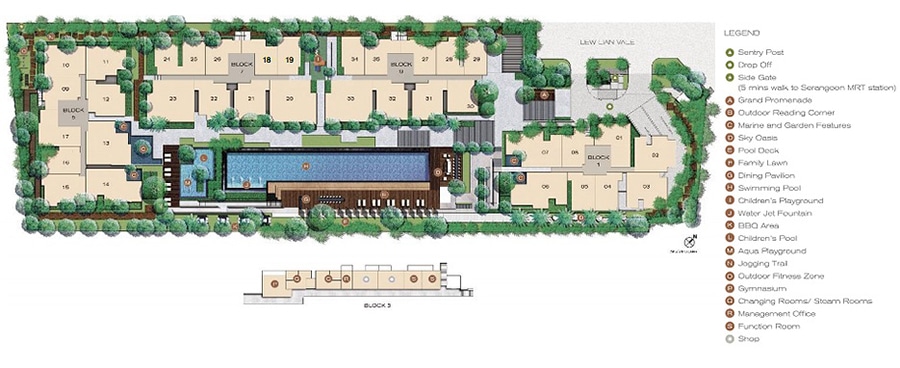 ---
Amenities Near Jade Residences and Their Approximate Distances



Train Stations
Serangoon (NE12/CC13) – 0.5km
Bartley (CC12) – 0.7km
Bus Stop
Blk 426 (Bus: 158) – 0.2km
Saint Gabriel's Secondary School (Bus: 158) – 0.3km
How Sun Park (Bus: 22, 24, 43, 58, 62, 70, 70M, 76, 80) – 0.3km
Opp Kancanrama Budd Temple (Bus: 22, 24, 43, 58, 62, 70, 70M, 76, 80) – 0.3km
Supermarkets
Cold Storage – 0.5km
NTUC – 0.5km
Shop N Save – 0.9km
Sheng Siong – 3.1km
Shopping Malls
NEX – 0.6km
Upper Serangoon Shopping Centre – 0.6km
ICB Shopping Centre – 0.6km
Heartland Mall – 1.4km
Preschool
Kinderland – 0.5km
Ramakrishna Mission – 0.5km
Paya Lebar Methodist Church – 0.5km
CS Montessori – 0.6km
Bethesda Kindergarten – 0.7km
PCF – 0.8km
Bethany Kindergarten – 0.8km
TBPC Kindergarten – 1.0km
Bethel Kindergarten – 1.0km
Lumiere Montessori – 1.0km
Primary School
Maris Stella – 0.7km
Paya Lebar Methodists – 0.8km
Yangzheng – 1.1km
Cedar – 1.5km
Zhonghua – 1.6km
Xinghua – 1.7km
St Gabriel's – 1.8km
CHIJ Lady of Good Counsel – 1.9km
Secondary School
St Gabriel's – 0.4km
Paya Lebar Methodist Girls' – 0.8km
Maris Stella High – 0.8km
Zhonghua – 1.0km
Bartley – 1.1km
Yuying – 1.6km
Junior College
Nanyang JC – 1.4km
Serangoon JC – 2.1km
Tertiary
Nanyang Polytechnic – 4.8km
International School
DPS International – 0.9km
Australian International School – 2.2km
Food Centre
Kovan Hougang Market & Food Centre – 1.4km
Serangoon Garden Market & Food Centre – 2.0km
Chomp Chomp Food Centre – 2.1km
Lifestyle
Singapore National Wushu Association – 0.9km
Serangoon Stadium – 0.9km
Serangoon Community Park – 1.1km
PUB Recreational Club – 1.4km
Serangoon Gardens Country Club – 2.2km

---
Highlights of Jade Residences
1. Serenity – It offers tranquility and peaceful environment as it is nestled in a quiet surroundings.
2. Near to Esteem Schools – It is good for families living as schools are the least worrying items on the parents' lists.
3. Easy Access – Less than 10 minutes' drive to reach the CBD and Orchard. It is also well connected to various Expressways.
4. Affordable Quantum – Good for prudent investors and home buyers.
5. Potential Return – Steady increase due to higher housing demand in District 19 and future development of Potong Pasir
---
Jade Residences Factsheet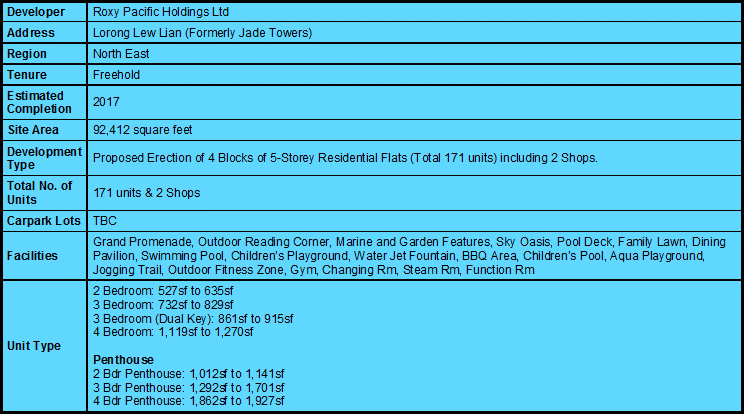 Want to be a proud owner of a unit in Jade Residences?
Simply fill up the form below and we will get in touch with you shortly.
Things to Note When Buying a Property:
1. Stamp Duty
2. Loan to Value Limit
3. Total Debt Servicing Ratio
4. Comparison on Mortgage Rate
Thank you for your interest in Jade Residences!