Hillview Peak is a project in the West Region. It sits in a plot of land along Hillview Link. It is situated next to The Hillier. The total site area at Hillview Peak is approximately 136,148 square feet. This 99 years leasehold development is slated to be completed in end November 2016. Upon completion, Hillview Peak will have 3 residential blocks with 1 at 26 storeys high and the other 2 at 12 storeys high. The total number of units available at Hillview Peak is 512 units. These units will make up of 1 bedroom unit type to 4 bedroom unit type and also penthouses. The smallest unit available at Hillview Peak is 517 square feet and the largest will be 2530 square feet.
Hillview Peak is about 300m away from the upcoming Hillview Downtown Line Station which will open in 2015. This station will effectively improve the transportation network in the area. For drivers, it can be connected to parts of island via the Bukit Timah Expressway (BKE) and the Pan Island Expressway (PIE). When it is completed, there will be a newly constructed road about 400m long which connects to the junction of Upper Bukit Timah Road and Dairy Farm Road.
The Hillier, which will complete earlier than Hillview Peak, is a mixed project that will include a shopping mall. This allows the ease of getting daily needs for those living in Hillview Peak. Residents of Hillview Peak can also access to dining and retail outlets at the Rail Mall and the Junction 10 for dining and retail options.
There are also a few good schools that are along Upper Bukit Timah Road. Schools that are nearby Hillview Peak include CHIJ Our Lady Queen Of Peace. Bukit Panjang Primary School, Lianhua Primary School. Zhenghua Primary School, Dazhong Primary School, Assumption English School, Chestnut Drive Secondary School, Fajar Secondary School. Most of these schools very close with the upcoming Downtown Line stations which gives easy access. The German European School is also close vicinity to Hillview Peak.
Families can also have their weekend activities at the nearby the Bukit Timah Nature Reserve and the Bukit Batok Nature Park. These parks provide allows Hillview Peaks' future resident a getaway from the bustling town. Residents will be able to enjoy the quiet setting and pockets of greenery offer there.
Hillview Peak is also suitable for those who enjoy tranquility as it is lies in the private residential enclave and is far away for the bustling main roads. The only building that is next to it will only be The Hillier as the greenery next to it is under term under "Special Use" by URA. Buyers can rest assure there will not be any future construction next to it. The Hillier had a success take up rate of 100% since it was launched last year. Transacted price is also going higher in these recent times. This is very promising for projects in around that area. Analysts have also predicted that demands will soar for projects in Hillview area.
---
---
---
Hillview Peak Site Plan and Facilities


---
Amenities Near Hillview Peak and Their Approximate Distances

Train Stations
Hillview (DT3) due 2015 – 0.4km
Bukit Gombak (NS3) – 1.5km
Bus Stop
Opp Glendale Pk Condo (Bus: 177) – 0.1km
Bef Glendale Pk Condo (Bus: 177) – 0.1km
Glendale Pk Condo (Bus: 176, 963, 970) – 0.3km
Supermarkets
Cold Storage – 0.6km
Shop N Save – 1.8km
NTUC Fair Price – 1.9km
Sheng Siong – 2.0km
Shopping Malls
Rail Mall – 0.9km
Junction 10 – 1.8km
West Mall – 2.3km
Lot One – 3.1km
Preschool
White Lodge – 0.5km
St Joseph Church Kindergarten – 1.1km
PCF Bukit Batok – 1.3km
Canossian Convent Kindergarten – 1.6km
Primary School
CHIJ Our Lady Queen Of Peace – 0.4km
Bukit Panjang Primary School – 1.2km
Lianhua Primary School – 1.6km
Zhenghua Primary School – 1.8km
Dazhong Primary School – 1.9km
Secondary School
Assumption English School – 0.5km
Chestnut Drive Secondary School – 0.8km
Fajar Secondary School – 1.1km
Greenridge Secondary School – 2.2km
Junior College
Pioneer JC – 2.5km
Tertiary
Ngee Ann Polytechnic – 3.8km
International School
German European School – 2.0km
Food Centre
Blk 156 Bukit Batok Food Centre – 2.6km
Bukit Timah Market and Food Centre – 2.8km
Lifestyle
Bukit Batok Town Park – 0.9km
Dairy Farm Nature Park – 1.0km
Bukit Gombak Stadium – 1.3km
Bukit Batok Nature Park – 1.6km
Home TeamNS – Bukit Batok Club – 1.8km
Bukit Batok Golf Range – 1.9km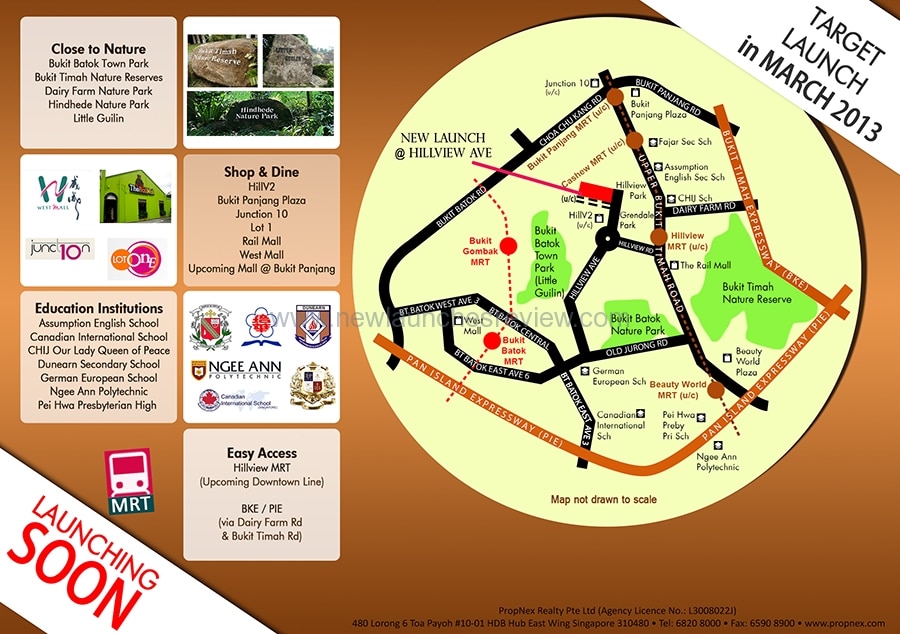 ---
Highlights of Hillview Peak

1. Next Property Hotspot – The Hillier, which is beside Hillview Peak, is fully sold since its launch last year. Analysts predicts that projects around Hillview area will reap more interest in the near future.
2. Quiet Surroundings – It is set in the quiet area of Hillview and is near to Bukit Timah Nature Reserve, Bukit Batok Nature Park and Little Guilin.
3. Spacious Living Area – It is built with high ceiling with 3.6m giving its units spacious areas.
4. Ease of Commuting in the Future – Commuting from this development will be a brisk upon completion of Hillview Downtown Line Station in 2015.
5. Potential High Return – Upon coming nearby Train Station is likely to drive the value of this development up. There is also positive outlooks from analysts.

---
Hillview Peak Factsheet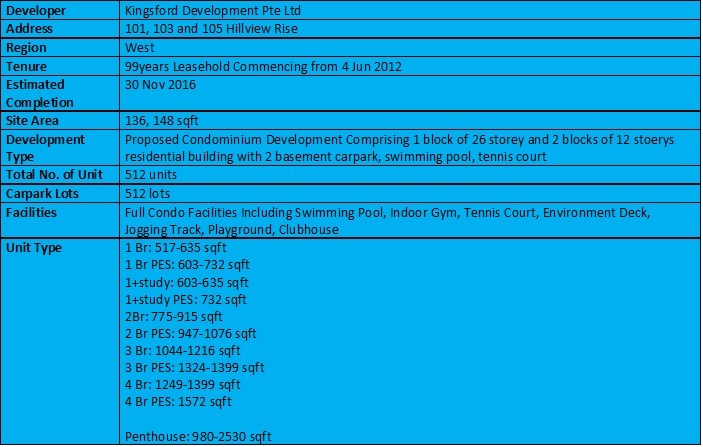 Want to be a proud owner of a unit in Hillview Peak?
Simply fill up the form below and we will get in touch with you shortly.
Things to Note When Buying a Property:
1. Stamp Duty
2. Loan to Value Limit
3. Total Debt Servicing Ratio
4. Comparison on Mortgage Rate
Thank you for your interest in Hillview Peak!