Hillock Green is an upcoming private residential development that is located in the upcoming Lentor Hills estate, District 28. This area is under the Yio Chu estate and is situated in the North East Region of the island. The Lentor Hills neighbourhood will be a brand new residential estate that sit near and upcoming MRT station and will be planning around a hillock that exist currently. There is plan to include a park that will segment these private residential plot.
The new neighbourhood will also have seamless cycling and pedestrian connectivity as well as new parks that connect from the MRT station to the Teacher Estate. There will also be commercial in plan to serve the residents here. The estate is envisioned to be a pedestrian-friendly and sustainable residential estate amongst lush greenery. The site of Hillock Green is close to many established education facilities located in the vicinity.
Pending Approval for Sale
---
---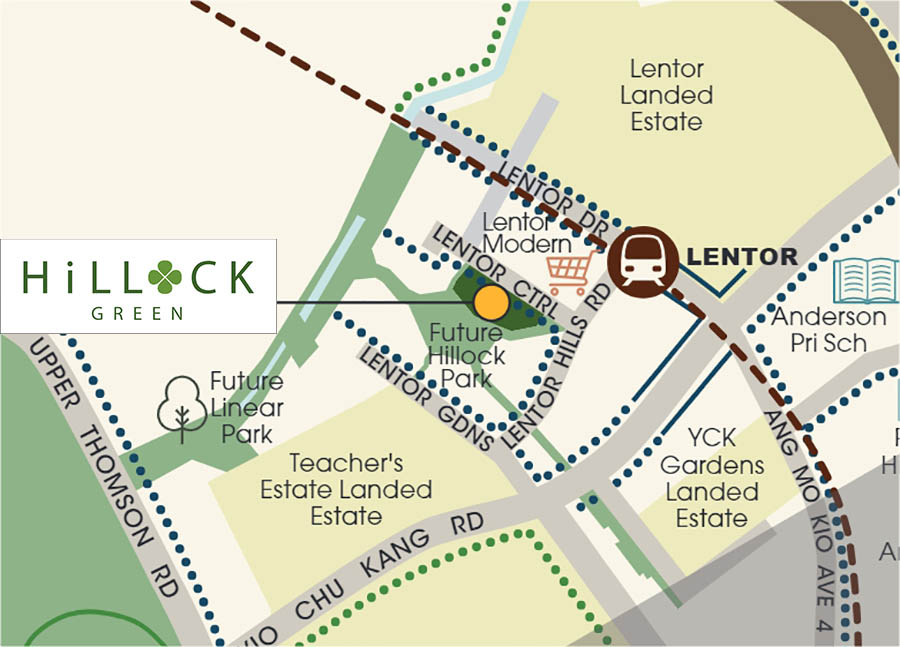 ---
Hillock Green Site Plan and Facilities

---
Amenities Near Hillock Green and Their Approximate Distances
Train Station
Lentor MRT (TE5) Thomson-East Coast Line Due 2020 – 0.2km
Bus Stop
Aft Lentor St (Bus: 825) – 0.2km
Aft Lentor Gr (Bus: 825) – 0.3km
Supermarkets
Giant (Ang Mo Kio 161) – 1.4km
Fairprice (Ang Mo Kio 712) – 2.1km
Shopping Mall
Ang Mo Kio Hub – 2.4km
Preschool
My Montessori Preschool @ Bullion – 0.8km
PCF Yio Chu Kang Blk 611 – 0.8km
Agape Montessori House Kindergarten – 0.8km
Primary School
Anderson Primary School – 0.8km
CHIJ Saint Nicholas Girls' Primary School – 1.3km
Secondary School
Presbyterian High School – 1.0km
Yio Chu Kang Secondary School – 1.2km
CHIJ Saint Nicholas Girls' Secondary School – 1.3km
Mayflower Primary School – 1.4km
Junior College
Anderson Serangoon Junior College – 1.6km
Tertiary
Nanyang Polytechnic – 1.8km
International School
Lycee Francais De Singapour – 4.0km
Food Centre
Ang Mo Kio Avenue 4 Block 628 Market And Food Centre – 0.9km
Ang Mo Kio Avenue 4 Block 162 Market & Food Centre – 1.4km
Sembawang Hill Food Centre – 1.5km
Lifestyle
Yio Chu Kang Stadium – 1.4km
The Grassroots Club – 1.4km
---
Highlights of Hillock Green
Transport Network
Hillock Green is approximately 200 m away or a mere 2 to 3 minutes' walk away from the upcoming Lentor MRT Station. This new fully undergrounded MRT station sits in the northern part of the Ang Mo Kio residential estate and is beneath the Lentor Drive. This MRT station aims to be serving the residents from the nearby estate such the Teacher's Estate and the Lentor Estate and the upcoming Lentor Hills.
The government announced the construction of this Lentor MRT Station in August 2021 and it belongs to phrase 2 of the upcoming MRT Thomson Line as 1 of the 22 MRT Station. With the merger of the MRT Eastern Regional Line and the MRT Thomson Line, this MRT Station has become of the MRT station that serves the MRT Thomson East Coast Line. The Lentor MRT Station is scheduled to be completed in August 2021 which will be ahead of Hillock Green's completion to serve its future residents. This MRT Station is planned to be 5 entrances and the Entrance 1 that is situated near to the junction of Lentor Central and Lentor Hills Road will be the one nearest the development.
---
Hillock Green Factsheet
Want to be a proud owner of a unit in Hillock Green?
Simply fill up the form below and we will get in touch with you shortly.
Things to Note When Buying a Property:
1. Stamp Duty
2. Loan to Value Limit
3. Total Debt Servicing Ratio
4. Comparison on Mortgage Rate
Thank you for your interest in Hillock Green!