Echelon is located next to Viking Road in the Central Region. It is the latest project after Metropolitan and Ascentia Sky to be located in Redhill. It is also next to Delta Sports Complex. The plot is situated next door to the prime River Valley district. It is scheduled to complete end Nov 2016. The 99 years leashold has a unit mix of 1 bedroom with size of 452 sq ft, 2 bedroom with size of 732 sq ft, 3 bedroom compact with a size of 861, 3 bedroom standard with size of 1,001 to 1,130 sq ft, 3 bedroom premium with size of 1,292 to 1,313, 3 bedroom suite with size of 1,346 (w/o Loft) to 1,475 (w/Loft), 4 bedroom with size of 1,442 (w/o Loft) to 1,572 (w/Loft) and Penthouses of 4,047 to 4,080 sq ft.
Echelon is just 200 m away from Redhill Train Station (EW18) which makes commuting easy. Commuters can expect to arrive in the CBD area just 8 minutes' of train ride. Orchard is also reachable within 10 minutes by train. It will take roughly about 6 minutes to reach the City and Orchard shopping belt by driving. To get to various parts of the island, drivers can also use the nearby Ayer Rajah Expressway (AYE) and Central Expressway (CTE). As such, Echelon has a comprehensive transport network.
For investors, there will be forseen high demand for rental for Echelon. In fact, many projects located in Tiong Bahru, Queenstown and Redhill areas have increasingly becoming some of the more attractive areas. These locations are near to the City but the asking rents are not as high as the sky rocketed prime areas which pose more attractions.
Furthermore, given that in these areas, projects are usually scarce as most of the lands are dedicated to public housing. Projects like Echelon are becoming rare in these areas and we shall see they will do well in the future resale market.
There are 5 shopping malls within 2 km of Echelon which gives plenty options to retail and eating outlets. Echelon future residents can visit Tiong Bahru Plaza, Ikea Alexandra, Anchorpoint, Great World City or Queensway shopping centre for their shopping, dinning and entertainment. Echelon is also close to the famous Redhill Food Centre and Tiong Bahru Food Centre where you can indulge local delights.
For parents, there are a reasonable number of schools from preschool up to secondary level. The primary school which are within the 2 km radius include Gan Eng Seng, Zhangde, Queenstown Primary, Radin Mas, Blangah Rise and River Valley Primary. Echelon future residents can also find secondary schools which are within 2 km radius, they are at least 8 of them. These include Crescent Girl's, Henderson Secondary, Gan Eng Seng, Queenstown Secondary, Bukit Merah Secondary and CHIJ Saint Theresa's Convent
Many leisure activities can also be found in the various Clubs, Parks and Sports Complex located nearby. Delta Sports Complex, SAFRA Mt Faber, Queens Town Club and Queenstown Stadium are some of the choice for Echelon future residents for sports activities. There are total of 3 parks nearby Echelon, future residents of Echelon can visit the Tiong Bahru Park, Henderson Park and Telok Blangah Hill Park for leisure activities.
---
---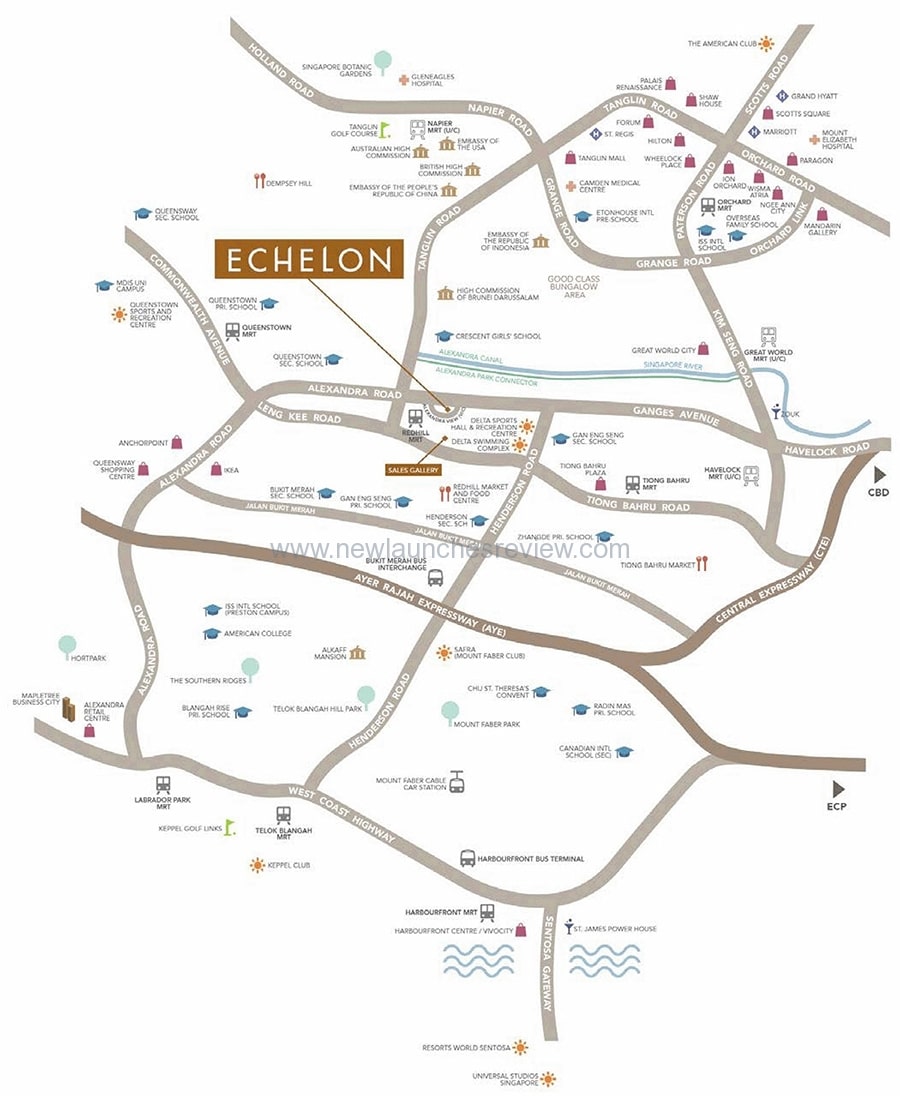 ---
Echelon Site Plan and Facilities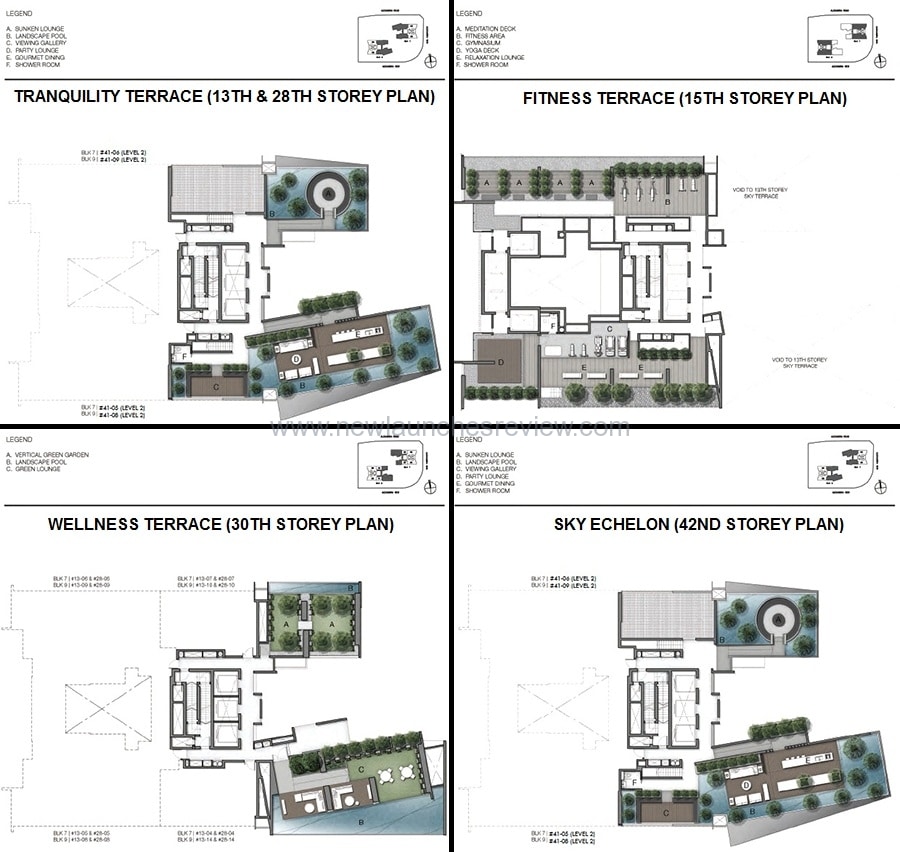 ---
Amenities Near Echelon and Their Approximate Distances

Train Stations
Redhill MRT (EW18) – 0.2km
Bus Stop
Opp Tanglin View (B10271) (Bus: 51, 139, 186, 970) – 0.1km
Tanglin View (B10279) (Bus: 51, 139, 186, 970) – 0.1km
Redhill Station (B10209)(Bus: 32, 33, 64, 132, 145, NR5) – 0.2km
Opp Redhill Station (B10201)(Bus: 32, 33, 64, 132, 145, NR5) – 0.2km
Supermarkets
Shop N Save – 0.3km
Ntuc Fairprice – 0.8km
Cold Storage – 1.0km
Sheng Siong – 2.7km
Shopping Malls
Tiong Bahru Plaza – 1.0km
IKEA Alexandra – 1.4km
Anchorpoint – 1.4km
Great World City – 1.5km
Queensway Shopping Centre – 1.7km
Preschool
Cambridge – 0.4km
PCF – 0.4km
Bright Kids Schools House – 0.5km
Eager Beaver – 0.9km
White Lodge – 0.9km
Kay Poh Rd Baptist Kindergarten – 1.4km
Eton House – 1.5km
Little Raindrops Montessori – 1.7km
St James Church Kindergarten – 1.8km
Primary School
Gan Eng Seng – 0.6km
Zhangde – 1.1km
Queenstown – 1.4km
Radin Mas – 1.8km
Blangah Rise – 1.9km
River Valley – 2.0km
Secondary School
Crescent Girl's – 0.4km
Henderson – 0.5km
Gan Eng Seng – 0.6km
Queenstown – 0.7km
Bukit Merah – 0.8km
CHIJ Saint Theresa's Convent – 1.6km
Junior College
Anglo Chinese – 4.0km
Tertiary
Singapore Polytechnic – 5.0km
International School
Global Indian International School – 1.9km
ISS International (Preston) – 1.9km
ISS International (Elementary) – 1.9km
Overseas Family School – 1.9km
Finnish Supplementary School – 1.9km
Food Centre
Redhill Market & Food Centre – 0.2km
Tiong Bahru Food Centre – 1.6km
Lifestyle
Delta Sports Complex – 0.2km
Tiong Bahru Park – 0.7km
Henderson Park – 0.7km
SAFRA Mt Faber – 1.4km
Telok Blangah Hill Park – 1.6km
Queens Town Club – 1.7km
Queenstown Stadium – 1.9km
---
Highlights of Echelon
1. Location – It is just next to the the Train Station and next to prime district of River Valley.
2. Close to Amenities – Getting daily needs, shopping and dining is never a problem when living in Echelon.
3. Convenience – it is located on the city fringe and takes only minutes to travel to the CBD and Orchard whether by commuting or driving. It is also easy to travel around to parts of the island with the complete transport network and major highways.
4. Close to Schools – There are a reasonable number of schools that are within 2 km from it.
5. Strong Rental Demand and Return – There is a limit supply of private housing especially in a matured town like Redhill. Tenants are switching their preferences to projects that is next to the train station and yet on the city fringe. There is a strong potential in rental demand. With projects becoming rare in Redhill area, this development is expect to fetch a high value in the resale market.
---
Echelon Factsheet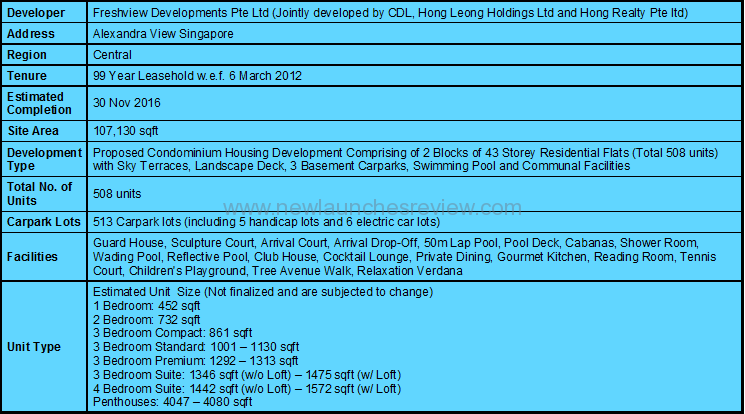 Want to be a proud owner of a unit in Echelon?
Simply fill up the form below and we will get in touch with you shortly.
Things to Note When Buying a Property:
1. Stamp Duty
2. Loan to Value Limit
3. Total Debt Servicing Ratio
4. Comparison on Mortgage Rate
Thank you for your interest in Echelon!