Dunearn 386 is an upcoming residential development that is located in the upscale Bukit Timah Estate, Core Central Region of the island. Its site is bounded by Shelford Road and Dunearn Road and is very close the Adam Road, where the Farrer Flyover is located. Dunearn 386 is in between Kuan Yin San Temple and Shelford Green. The enclave of Dunearn 386 hosts some of the premium residential developments in Singapore.
---
---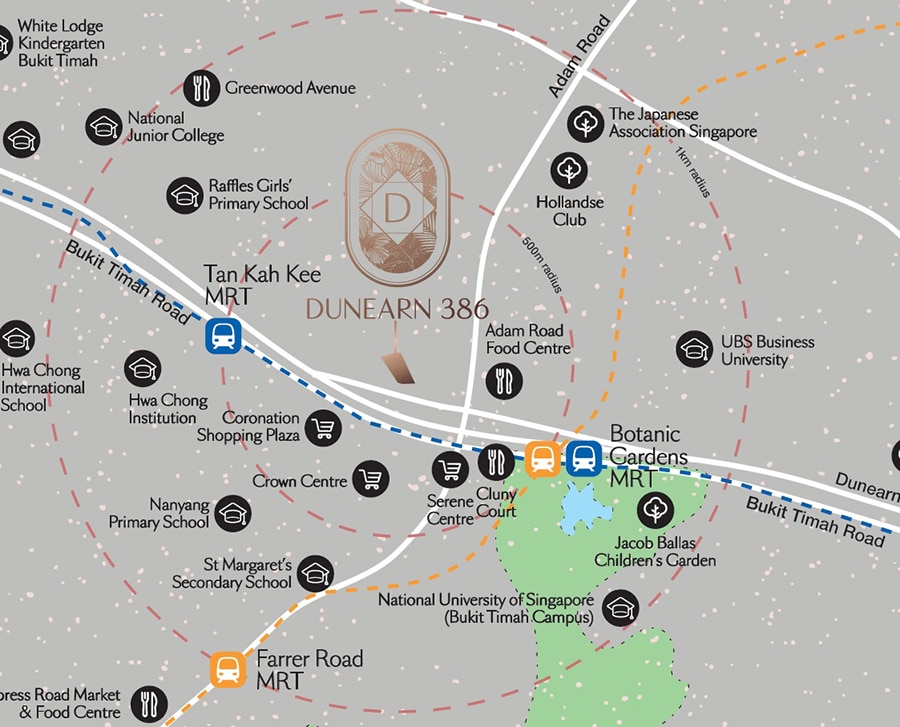 ---
Dunearn 386 Site Plan and Facilities

---
Amenities Near Dunearn 386 and Their Approximate Distances
Train Stations
Botanic Gardens (CC19/DT9) – 0.5km
Bus Stop
Bef Crown Ctr (Bus: 852,961,961C,66,66B,67,74,170,170A,171,174,154,156,157,151) – 0.2km
Opp Coronation Plaza (Bus: 151,174,170,171,154,156,157,852,961,961C,66,66B,67,74) – 0.2km
Supermarkets
Fairprice (Coronation Plaza) – 0.2km
Cold Storage (Alocassia) – 1.8km
Giant (Grand Stand) – 2.5km
Shopping Malls
Coronation Shopping Plaza – 0.2km
Serene Centre – 0.3km
Guthrie House – 1.9km
Preschool
Bibinogs Preschool – 0.2km
Pibos Garden Preschool – 0.3km
Little Oaks Montessori Kindergarten – 0.5km
Nanyang Kindergarten – 0.7km
Cherrybrook Kindergarten – 0.9km
White Lodge Kindergarten (Bukit Timah) – 1.4km
Sunshine Kindergarten (Watten) – 1.7km
Buttercups Montessori Kindergarten – 1.7km
Maris Stella Kindergarten – 1.8km
Primary School
Nanyang Primary School – 0.6km
Raffles Girls' Primary School – 0.9km
Singapore Chinese Girls' Primary School – 1.8km
Secondary School
Saint Margaret's Secondary School – 0.6km
Hwa Chong Institution – 0.7km
Nanyang Girls' High School – 1.3km
Singapore Chinese Girls' Secondary School – 1.8km
Saint Joseph's Institution – 1.9km
Junior College
Hwa Chong Institution – 0.7km
National Junior College – 1.1km
Tertiary
National University of Singapore (Bukit Timah Campus) – 0.8km
International School
Etonhouse Preschool – 1.2km
Food Centre
Adam Food Centre – 0.3km
Blk 7 Empress Road Market and Food Centre – 1.2km
Lifestyle
Hollandse Club – 0.8km
Japanese Association of Singapore – 0.8km
Raffles Town Club – 1.5km
SIME Golf Course – 1.8km
Singapore Island Country Club (Bukit Location) – 1.9km
---
Highlights of Dunearn 386
Transport Network
Dunearn 386 is approximately 500 m from both Tan Kah Kee MRT Station and also the Botanic Gardens MRT Interchange Station. The Botanic Gardens MRT Interchange operates both the Downtown MRT Line and also the MRT Circle Line. The Downtown MRT Line can connect future residents of Dunearn 386 directly down to the Downtown MRT Station that is located in the Central Business District. It also can bring future residents seamlessly to the Expo MRT Interchange Station where they could easily transit to the MRT East West Line and hence straight to the Changi Airport MRT Station.
---
Dunearn 386 Factsheet
Want to be a proud owner of a unit in Dunearn 386?
Simply fill up the form below and we will get in touch with you shortly.
Things to Note When Buying a Property:
1. Stamp Duty
2. Loan to Value Limit
3. Total Debt Servicing Ratio
4. Comparison on Mortgage Rate
Thank you for your interest in Dunearn 386!