Devonshire 12 is an exclusive residential development located at 12 Devonshire Road, Core Central Region of the island. This freehold development has a total plot size of approximately 4,474 square feet and is surrounded by Killiney 118, Tai Wah Building, Devonshire Building and the upcoming Devonshire 8. Expected to be completed by end of September 2015, Devonshire 12 will be consisting of 1 block of 20 residential units at the maximum of 6 storeys high. The unit types available at Devonshire 12 consists of 1 bedroom + study units, 2 bedroom + study units and a 3 bedroom units. The bulk of the units at Devonshire 12 are 1 bedroom + 1 study type. Size for these units are ranging from 441 square feet to 1,033 square feet. Common facilities at Devonshire 12 include swimming pool, pool deck and BBQ pit.
The Somerset North South Line Station is just a stone throw away. Devonshire 12's future residents will just need to take 3 stops to reach Raffles Place MRT Station. For accessing to a more complete train services, Devonshire 12's future residents can travel down to the Dhoby Ghaut Train Station which is just 1 train station away where the Circle Line and the North East Line is readily available. For drivers, a mere 4 minutes' drive is all that needs to take to reach the Central Business District area. Devonshire 12 is also closely linked to many major arterial roads such as Orchard Boulevard, Orchard Road and River Valley Road. The nearby Central Expressway (CTE) will also link Devonshire 12's residents to various parts of the island, making driving a pleasant experience.
Devonshire 12's resident can take a short walk to Orchard Shopping Belt which they are able to find a huge variety of shopping, dining and entertainment facilities. The shopping malls which are just a stone's throw away are TripleOne Somerset, 313 Somerset, Orchard Central, Orchard Plaza, Orchard Point, Centrepoint, *Scape, Cathay Cineleisure, Ngee Ann City and The Heeren. Devonshire 12's future residents will get to access to the departmental stores, food courts, supermarkets, eating establishments and also a wide array of retail shops offering services and goods that cater to the essential needs of the residents.
There are also a number of major Food Centres nearby such as Zion Riverside Food Centre, Tiong Bahru Market, People's Park Complex Food Centre, Newton Food Centre and Hong Lim Market and Food Centre, which residents can indulge in famous local food.
In terms of leisure and recreation, Devonshire 12's residents can make use of the many facilities available at renowned recreation clubs such as The Tanglin Club, The American Club, Singapore Cricket Club and Singapore Recreation Club. Future residents can also take a slow walk to the nearby Fort Canning Park which is approximately 800 m away from the development. They can stroll, jog or practice Taichi there improving their health and overall wellness. Devonshire 12's future residents can also enjoy the serenity and lush greenery at the peaceful spots of the park.
---
---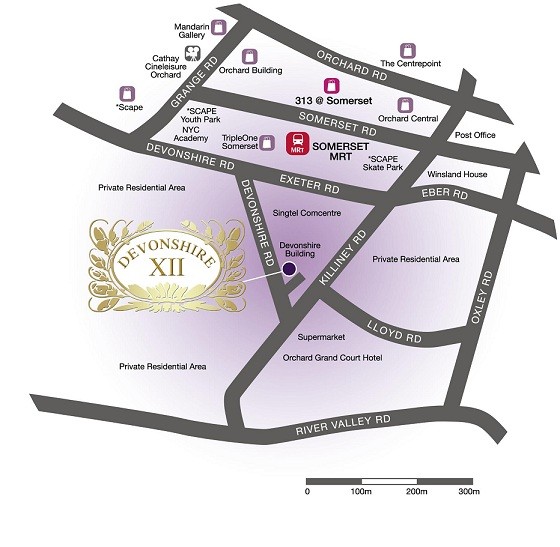 ---
Devonshire 12 Site Plan and Facilities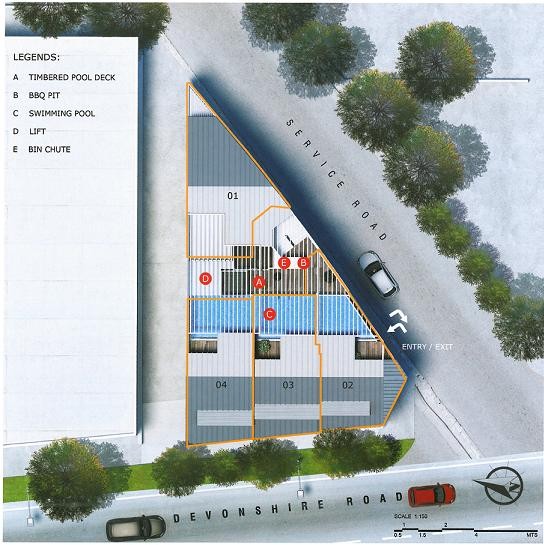 ---
Amenities Near Devonshire 12 and Their Approximate Distances



Train Stations
Somerset (NS23) – 0.3km
Bus Stop
Airview Tower (Bus: 32, 54, 139, 195, 530, NR6, NR7) – 0.3km
The Morningside (Bus: 32, 54, 139, 195, 530, NR6, NR7) – 0.3km
Somerset Stn (Bus: 7, 14, 14E, 16, 36, 65 77, 106, 111, 123, 124, 128, 143, 162, 162M, 167, 171, 174, 174E, 175, 190, 700, 700A, 971E, NR1, NR2, NR3, NR5, NR6, NR7, NR8) – 1.3km
Supermarkets
NTUC – 0.1km
Cold Storage – 0.5km
Sheng Siong – 1.3km
Giant – 2.4km
Shopping Malls
TripleOne Somerset – 0.3km
313 Somerset – 0.4km
Orchard Central – 0.4km
Orchard Plaza – 0.4km
Orchard Point – 0.4km
Centrepoint – 0.4km
*Scape – 0.5km
Cathay Cineleisure – 0.5km
Ngee Ann City – 0.6km
The Heeren – 0.6km
Preschool
Kay Poh Road Baptist Kindergarten – 1.0km
Little Hands Montessori Kindergarten – 1.1km
Chinese Kindergarten – 1.3km
PCF Kreta Ayer-Kim Seng Blk 79 – 1.3km
JHS Montessori Kindergarten – 1.4km
Y W C A Kindergarten – 1.4km
Arts Kidz Pre-school – 1.7km
PCF Tanjong Pagar-Tiong Bahru Blk 6 – 2.0km
Wee Care @ The Polliwogs Kindergarten – 2.0km
Primary School
River Valley – 0.5km
St Margaret – 1.1km
Anglo-Chinese Junior – 1.3km
Secondary School
Outram – 1.3km
Gan Eng Seng – 1.9km
Junior College
Catholic Junior College – 3.1km
Tertiary
Singapore Management University (SMU) – 1.2km
Nanyang Academy of Fine Arts – 1.5km
International School
Swedish Supplementary School – 0.3km
Chatsworth International School Orchard Campus – 0.5km
Finnish Supplementary School – 0.7km
Overseas Family School – 0.8km
ISS International School – 1.0km
Eton House International School – 1.5km
Insworld Institute – 1.7km
Food Centre
Zion Riverside Food Centre – 1.0km
People's Park Complex Food Center – 1.5km
Newton Food Centre – 1.6km
Tiong Bahru Market – 1.6km
Beo Crescent Market – 1.6km
Hong Lim Market & Food Centre – 1.6km
Chinatown Complex Market and Food Centre – 1.8km
Lifestyle
Stardus Clubhouse – 0.4km
Fort Canning Park – 0.8km
The Legends – 0.8km
Home TeamNS – UE Square Club House – 0.9km
The American Club – 1.3km
Tanglin Club – 1.5km
Pearl's Hill City Park – 1.5km
PA Staff Club – 1.5km
Hong Lim Park – 1.6km
Singapore Cricket Club – 1.8km
Singapore Recreation Club – 1.9km
Home TeamNS – Smith Street Club House – 1.9km
War Memorial Park – 1.9km
Tiong Bahru Park – 2.0km
Esplanade Park – 2.0km
---
Highlights of Devonshire 12
1. Location – Devonshire 12 is minutes' walk to Somerset Train Station.
2. Conveniences – Lots of amenities located at Orchard Road which is just a stroll away.
3. Prestige Location – Devonshire 12 lies in the Prime Orchard Residential Area.
4. Tranquility – Enjoy the quiet surrounding in the private residential area.
5. Affordable Quantum – Great for investors and upgraders.
---
Devonshire 12 Factsheet
Want to be a proud owner of a unit in Devonshire 12?
Simply fill up the form below and we will get in touch with you shortly.
Things to Note When Buying a Property:
1. Stamp Duty
2. Loan to Value Limit
3. Total Debt Servicing Ratio
4. Comparison on Mortgage Rate
Thank you for your interest in Devonshire 12!