Dalvey Haus is an upcoming residential development that is located in the prestigious Nassim Planning Area, district 10 of Singapore, which is the Core Central Region. Nassim is a subzone of Tanglin Planning Area and is a leafy and expensive district in the west of Orchard Road. It is located within the White House Park Good Class Bungalow Area (GCBA) and is in the junction of Dalvey Road and Stevens Road. The development is also next to the Metropolitan YMCA Singapore (MYMCA) which just sits across Stevens Road. Future residents can enjoy the conveniences of the amenities located in nearby bustling city area and do not need to compromise with the serenity and tranquility.
---
---
---
Dalvey Haus Site Plan and Facilities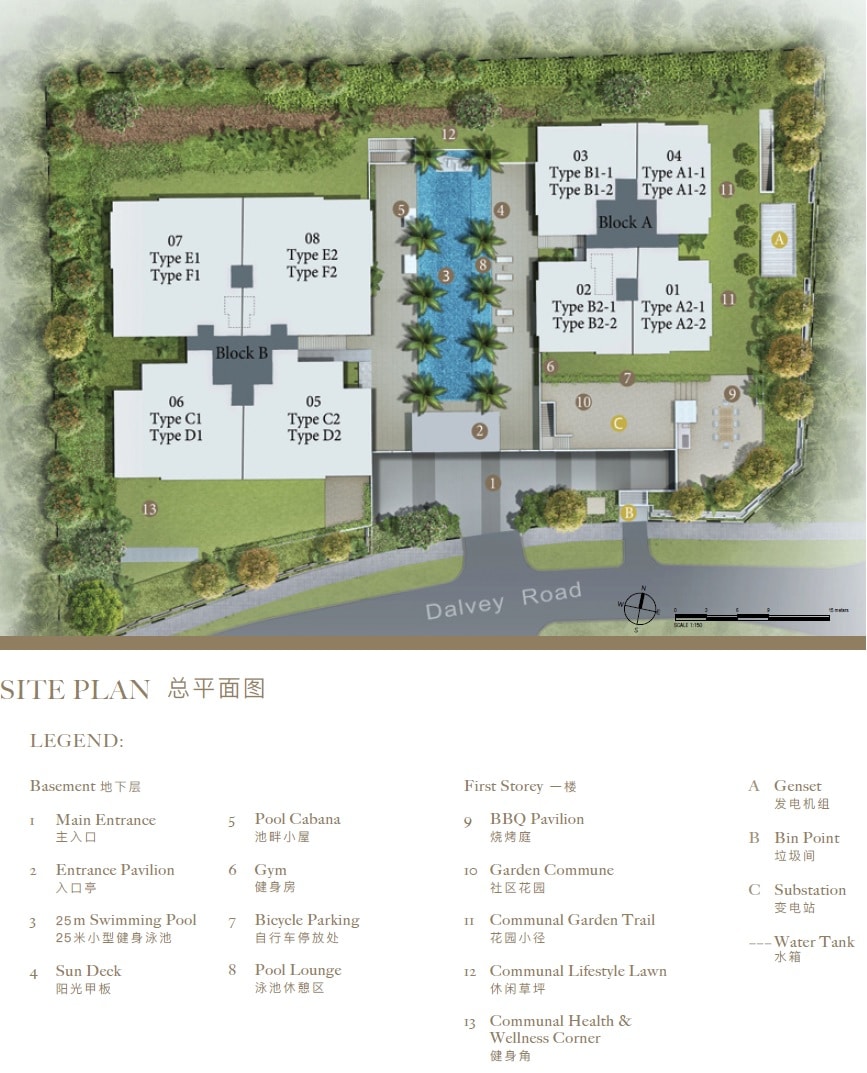 ---
Amenities Near Dalvey Haus and Their Approximate Distances
Train Stations
Stevens MRT (DT10/TE11) – 0.4km
Bus Stop
Opp Met YMCA (Bus: 972, NR2, 190, NR3, 132, 105) – 0.1km
Bef Met YMCA (Bus: 105, 132, 190, 190A, 972, 972A) – 0.1km
Supermarkets
Cold Storage (Alocassia) – 0.3km
Fairprice (Scotts Square) – 1.5km
Shopping Malls
Claymore Connect – 1.0km
Delfi Orchard – 1.1km
Balmoral Plaza – 1.1km
Tanglin Shopping Centre – 1.1km
Palais Renaissance – 1.2km
Forum The Shopping Mall – 1.2km
Tanglin Place – 1.2km
Tudor Court Shopping Gallery – 1.3km
T Galleria – 1.3km
Tanglin Mall – 1.3km
Preschool
Barker Road Methodist Church Kindergarten – 1.0km
Wee Care Kindergarten – 1.2km
Far Eastern Kindergarten – 1.4km
Little Woods Montessori Preschool – 1.5km
Pibos Garden Preschool – 1.5km
Little Oaks Montessori Kindergarten – 1.6km
Little Hands Montessori Kindergarten – 1.7km
Little Raindrops Montessori Pre-School – 1.7km
Newton Kindergarten – 1.7km
MFC Kindergarten (Newton) – 1.8km
Primary School
Singapore Chinese Girls' Primary School – 0.6km
Anglo Chinese Primary School – 1.1km
Anglo Chinese Junior School – 1.9km
Secondary School
Singapore Chinese Girls' Secondary School – 0.6km
Saint Joseph's Institution – 0.9km
Anglo Chinese Secondary School (Barker Road) – 1.2km
Saint Margaret's Secondary School – 1.8km
Junior College
Catholic Junior College – 1.4km
Tertiary
National University of Singapore (Bukit Timah Campus) – 0.9km
International School
Chinese International School – 0.7km
Etonhouse Pre-School (Claymore) – 1.0km
ISS International School (Elementary and Middle School Campus) – 1.7km
Norwegian Supplementary School – 1.8km
Finnish Supplementary School – 1.8km
Food Centre
Adam Food Centre – 1.5km
Newton Food Centre – 1.6km
Lifestyle
The Pines Club – 0.5km
Raffles Town Club – 0.6km
Tanglin Club – 1.1km
The American Club – 1.2km
The French Chamber of Commerce in Singapore – 1.4km
Singapore Polo Club – 1.4km
Tanglin Golf Course Country Club – 1.5km
Hollandse Club – 1.8km
Japanese Association of Singapore – 1.9km
---
Highlights of Dalvey Haus
Transport Network
Dalvey Haus is approximately 350 m away from Stevens MRT Interchange Station. This interchange station currently operates the MRT Downtown Line. Future residents just need to travel 1 station toward the direction of Bukit Panjang MRT Station to arrive at the Botanic Gardens MRT Interchange Station which also operates the MRT Circle Line. 1 MRT Station from Stevens MRT Station, in the direction of Promenade MRT Interchange Station, will be the Newton MRT Interchange Station where the MRT North South Line is readily available.
---
Dalvey Haus Factsheet
Want to be a proud owner of a unit in Dalvey Haus?
Simply fill up the form below and we will get in touch with you shortly.
Things to Note When Buying a Property:
1. Stamp Duty
2. Loan to Value Limit
3. Total Debt Servicing Ratio
4. Comparison on Mortgage Rate
Thank you for your interest in Dalvey Haus!