Daisy Suites is located at 35 Daisy Road which is adjoining to the main Braddell Road. This freehold development is situated in the North East Region of the island. It is next to the upcoming Scenic @ Braddell and also close to The Maison condominium. Daisy Suites is an boutique project that consists of a total of 25 units. It is slated to complete in end of 2017. The total site area is approximately 13,620 square feet. The unit type available at Daisy Suites are 2 bedroom unit, 3 bedroom unit, 3 bedroom + study penthouse unit and 4 bedroom + study penthouse unit. The available sizing from these units start from 592 square feet up to 1281 square feet.
Daisy Suites is about 800 m away from the nearest Woodleigh Train Station which is 1 t rain station away from the Serangoon MRT Interchange. Daisy Suites' future will be able to transit to the Circle Line Service available over there. Future residents can also make use of the comprehensive public bus services available at the Serangoon Bus Terminal which is just next to Serangoon MRT Interchange to commute to various parts of the island. Traveling to the City area will take only commuters about 8 minutes' train ride from Woodleigh Train Station. For drivers, it will take about 13 minutes' of driving to get to both the Orchard Road and the Central Business District from Daisy Suites using the nearby Central Expressway (CTE). This expressway also interlinks to the Pan Island Expressway (PIE) and the Kallang Paya Lebar Expressway (KPE) which can get Daisy Suites' future residents to majority locations of the island.
It is located 900 m away from the nearest NEX Shopping Mall where there are lots of dining, entertainment, leisure and retail options. It is also about 5 minutes' drive away from the famous Serangoon Garden Market and Chomp Chomp Food Centre where lots of local delights can be found. In terms of your children's education needs, Daisy Suites has plenty of esteemed school nearby. There is close to 20 primary and secondary schools that are within 2 km from Daisy Suites.
Back at Daisy Suites, the main highlights of the project is the high ceiling of 3.6 m structured for each individual unit. This gives a spacious living area. Daisy Suites also promised upscale and quality finishing. The main highlight of this project is the private pool for every single unit although there is also a common pool available. This makes Daisy Suites itself very different from the rest of the small scale projects.
When it comes to investments, projects that are located in or very near Potong Pasir is currently very prospective as Potong Pasir is ranked 5th in analysts' pick in suburban areas. Another factor to consider is the upcoming development of the former Bidadari Cemetery plot. It will be home to more than 11,000 households when developed. This will surge more amenities in the vicinity which will be within reach of Daisy Suites. This helps in pushing up the future price Daisy Suites.
---
---
---
Daisy Suites Facilities and Site Plan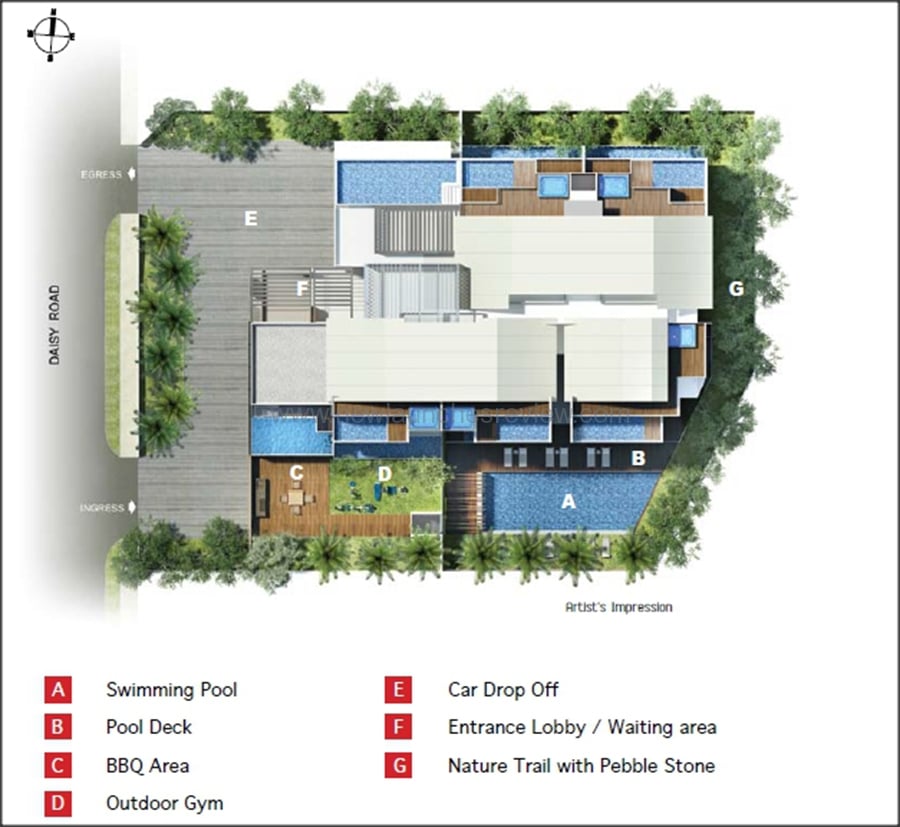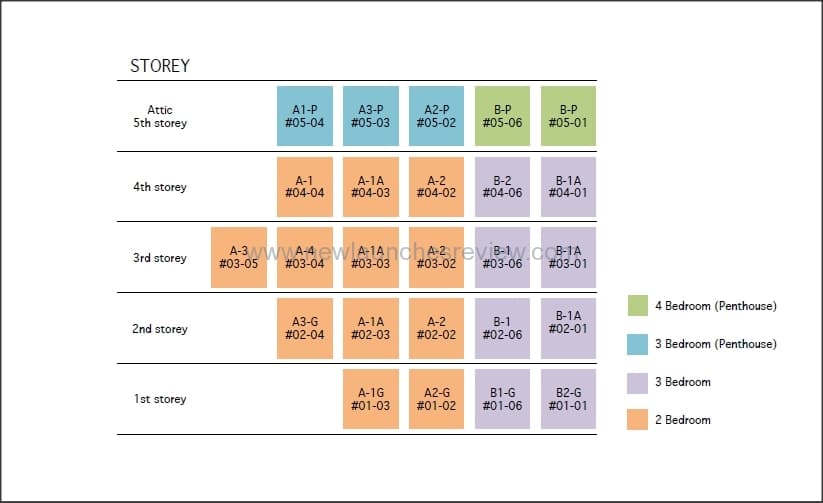 ---
Amenities Near Daisy Suites and Their Approximate Distances

Train Stations
Woodleigh (NE11) – 0.8km
Serangoon (CC13/NE12) – 0.9km
Bus Stop
Opp Singapore Power Training Institute (B66081) (Bus: 23, 93, 153) – 0.1km
Singapore Power Training Institute (B66089) (Bus: 13, 28, 93, 153, 155) – 0.2km
After Sunshine Lodge (B62119) (Bus: 100, 107, 107M, 133, 135, 147, 153, 853, NR6) – 0.2km
After Sommerville Rd (B62111) (Bus: 100, 107, 107M, 133, 135, 147, 153, 853, NR6) – 0.2km
Supermarkets
NTUC Fair Price – 0.9km
Cold Storage – 0.9km
Shop N Save – 1.1km
Sheng Siong – 2.7km
Shopping Malls
NEX Shopping Mall – 1.3km
Tai Keng Shopping Centre – 1.5km
Junction 8 – 2.4km
Preschool
Lumerie Montessori House – 0.9km
Brainy Kids School House – 0.9km
SmartGro Tiny Tots – 1.1km
Ascension Kindergarten – 1.3km
Sarada Kindergarten – 1.5km
Ascension Kindergarten – 1.5km
Zion Bishan Kindergarten – 1.5km
TPBC Kindergarten – 1.6km
Modern Montessori – 1.6km
Bethesda (Bukit Arang) Kindergarten – 1.8km
Primary School
Yangzheng – 0.6km
St. Gabriel's – 1.0km
Maris Stella – 1.1km
Cedar – 1.2km
St Andrew's Junior – 1.4km
First Toa Payoh – 1.5km
Pei Chun Public – 1.6km
CHIJ Our Lady of Good Counsel – 1.7km
Kuo Chuan Presbyterian – 1.7km
Zhonghua – 1.8km
Paya Lebar Methodist Girls' – 1.9km
Secondary School
Zhonghua – 0.6km
St Gabriel's – 0.8km
Maris Stella High – 1.1km
Cedar Girls' – 1.2km
St Andrew's – 1.4km
Bartley – 1.6km
First Toa Payoh – 1.6km
Kuo Chuan Presbyterian – 1.8km
Peicai – 1.8km
Beatty – 1.9km
Paya Lebar Methodist Girls' – 2.0km
Junior College
Nanyang JC – 0.9km
St Andrew's JC – 1.4km
Tertiary
Singapore Management University – 5.5km
International School
Stamford American International School – 0.7km
Australian International School – 1.3km
Food Centre
Chomp Chomp Food Centre – 2.3km
Geylang Bahru Market & Food Centre – 2.4km
Lifestyle
PUB Recreation Club – 0.2km
Singapore Wushu Federation – 0.8km
Serangoon Stadium – 1.5km
Volkswagen Golf Centre – 1.5km
---
Highlights of Daisy Suites
1. Well Connected – It is only minutes' away from the CTE which also connects to PIE. Getting to the CBD or Orchard is just less than 10 minutes of driving.
2. Private Pool – This is one of the rare features to be found in any project. Every single unit in Daisy Suites will have their own private pool.
3. Closeness to Reputable Schools – Many esteemed schools from primary to junior college are just within 2 km from this development.
4. Spacious and Quality Living – This development promised high quality finishing with a high ceiling (3.6m) which makes every unit look spacious.
5. Potential High Return – The development of Bidadari plot will have a high impact on its value which is just opposite to the plot.
---
Daisy Suites Factsheet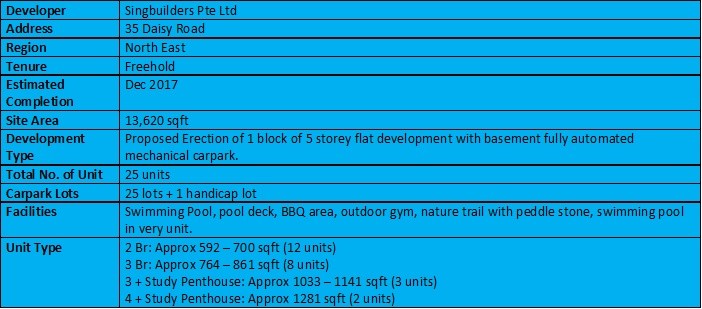 Want to be a proud owner of a unit in Daisy Suites?
Simply fill up the form below and we will get in touch with you shortly.
Things to Note When Buying a Property:
1. Stamp Duty
2. Loan to Value Limit
3. Total Debt Servicing Ratio
4. Comparison on Mortgage Rate
Thank you for your interest in Daisy Suites!