Daintree Residence is an upcoming residential development that is located along Toh Tuck Road, Western Region of the island. Its site was previously occupied by Nanyang Primary School as its temporary premises. The site of Daintree Residence is bounded by Toh Tuck Road and Lorong Kismis. This 99 years leasehold development next to the upcoming The Creek @ Bukit, another private residential development. It is also surrounded by Kismis View, High Oak Condominium and Unique Garden. This development has a total site area of approximately 18,721 square metres. With a plot ratio of 1.4, this residential development will comprise of 8 blocks of 5 storeys buildings which can is able to house 327 private apartment units. The estimated completion for this development will be around year 2022. Other nearby projects include Meadows Lodge, Nottinghill Suites, Goodluck Garden, Signature Park, Terrene at Bukit Timah and also The Beverly.
---
---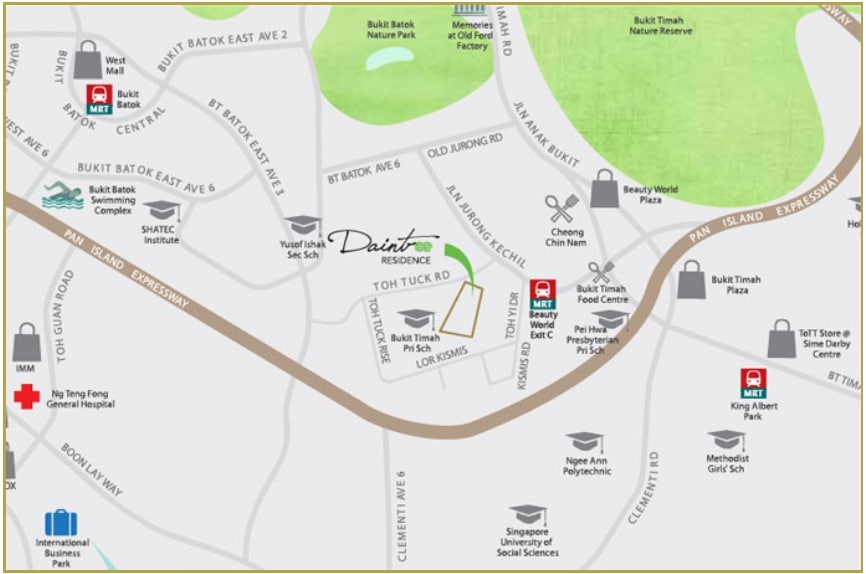 ---
Daintree Residence Site Plan and Facilities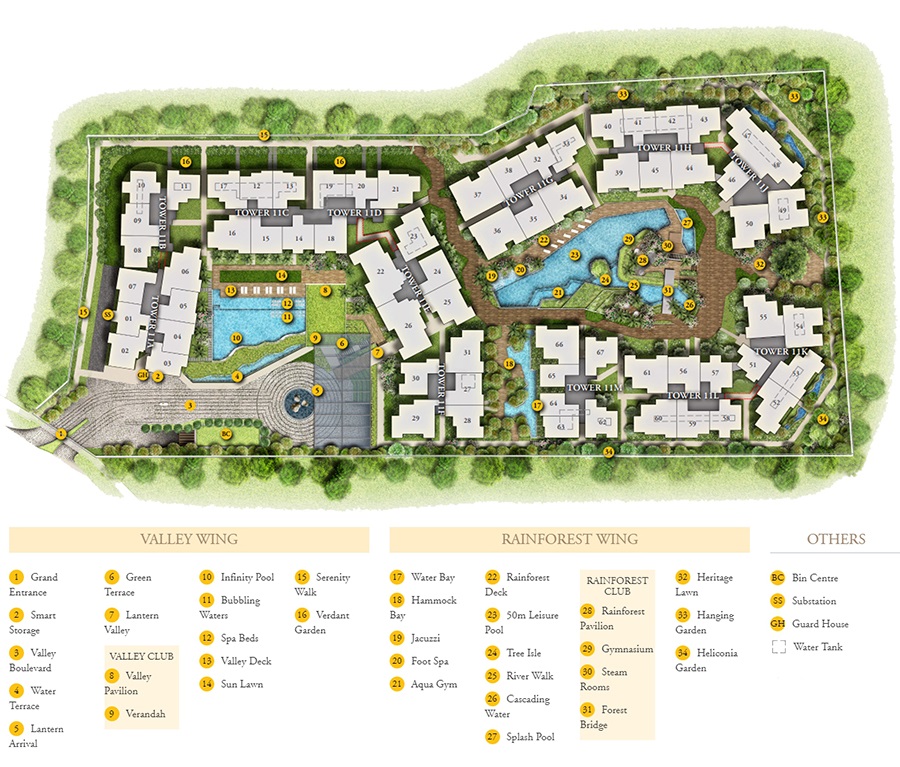 ---
Amenities Near Daintree Residence and Their Approximate Distances

Train Stations
Beauty World (DT5) – 0.6km
Bus Stop
Green Lodge Mans (Bus: 173, 77) – 0.1km
Opp Canadian Intl Sch (Bus: 77, 173) – 0.1km
Supermarkets
Giant (Beauty World Centre) – 0.8km
Fairprice (Bukit Timah Plaza) – 1.0km
Cold Storage (Clementi Arcade) – 1.8km
Sheng Siong (352 Clementi) – 2.8km
Shopping Malls
Beauty World Plaza – 0.7km
Beauty World Centre – 0.8km
Bukit Timah Shopping Centre – 0.8km
Bukit Timah Plaza – 1.0km
KAP Residences – 1.1km
Clementi Arcade – 1.8km
The Rail Mall – 2.0km
Preschool
Creative Thinkers Kindergarten – 0.3km
PCF Bukit Timah Blk 12 – 0.3km
Glory Kindergarten – 0.7km
Arise Kindergarten – 0.8km
Canossian Convent Kindergarten – 0.8km
The Little House (Montessori) Kindergarten – 1.0km
PCF Bukit Batok East Blk 289G – 1.4km
Early Years Montessori Kindergarten – 1.6km
Iman Kindergarten (Bt. Batok) – 1.6km
PCF Bukit Batok East Blk 254 – 1.7km
Primary School
Bukit Timah Primary School – 0.4km
Pei Hwa Presbyterian Primary School – 0.7km
Keming Primary School – 1.6km
Methodist Girls' School (Primary) – 1.7km
Bukit View Primary School – 1.9km
Secondary School
Yusof Ishak Secondary School – 1.1km
Methodist Girls' School (Secondary) – 1.7km
Junior College
Anglo Chinese Junior College – 4.5km
Tertiary
Ngee Ann Polytechnic – 1.0km
Singapore University of Social Sciences – 1.3km
International School
Dimensions International College (Bukit Timah Campus) – 0.7km
Food Centre
Bukit Timah Market and Food Centre – 0.7km
Lifestyle
Singapore Gun Club Range – 1.2km
Bukit Batok Nature Park – 1.2km
Bukit Timah Nature Reserve – 1.8km
---
Highlights of Daintree Residence

One of the key things here is today when looking at the market situation, potential buyers have huge opportunities and choices spoilt when it comes to selecting a particular investment. The development has many qualities that buyers cannot ignore.
---
Daintree Residence Factsheet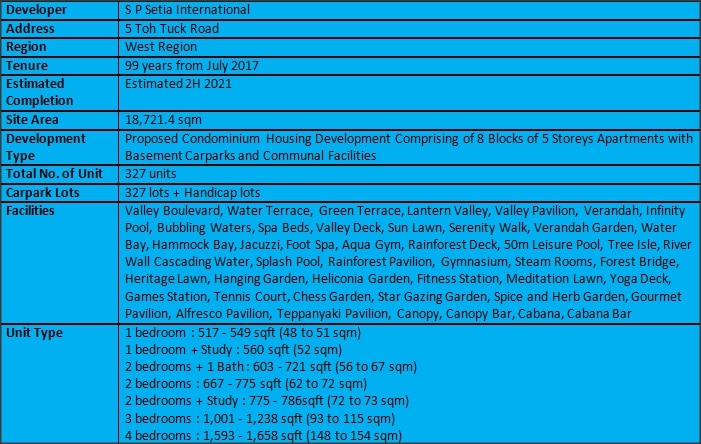 Want to be a proud owner of a unit in Daintree Residence?
Simply fill up the form below and we will get in touch with you shortly.
Things to Note When Buying a Property:
1. Stamp Duty
2. Loan to Value Limit
3. Total Debt Servicing Ratio
4. Comparison on Mortgage Rate
Thank you for your interest in Daintree Residence!