Copen Grand EC is an upcoming Executive Condominium development that is located in Tengah planning area.  This area is surrounded by Choa Chu Kang in its north east, Jurong West on its south, Bukit Batok on its east and on its north and west will be the Western Water Catchment.  This area was once a restricted zone and for only military usage and have been rezoned and set to become Singapore's newest township for Housing and Development Board (HDB) since the redevelopment of Punggol township back in the 1990s. The Jurong Innovation District will also be made up from the south west part of Tengah. The word "Tengah" in Malay literally means "central" and legend has it that the name might be taken from Sungei Tengah (Tengah River) which is located nearby.  Copen Grand EC will be the first Executive Condominium development to be launched in Tengah district.
Copen Grand EC's site is located in the junction of the the upcoming Tengah Drive and Tengah Garden Walk. It is opposite of Tengah's new Built to Order (BTO) estate, HDB Garden Vale @ Tengah which is scheduled to be completed in 2023. The site of Copen Grand EC was introduced in June 2020 by the Urban Redevelopment Authority of Singapore as one of the 3 confirmed sites for the 2nd half of 2020 Government Land Sales (GLS) programme. It was the only EC site that was launched and in fact in the recently years EC sites have becoming a rare commodity and the land bid price has been climbing up steadily. Although price has went up, it is still cheaper as compared to privatized condominiums.
The closing date for the tender was in May 2021. The winning tender price was from Taurus Properties which had submitted $400.32 million. This was a record selling price for GLS's EC land parcels. The winning bid was translated to $603 per square foot per plot ratio.  The last highest was the winning bid price for Piermont Grand EC's  land parcel which was at $583 per square foot per plot ratio way back to March 2018 when the land parcel was awarded. Taurus Properties is the joint venture between 2 real estate development giants, City Development Ltd and MCL Land.
The land parcel of Copen Grand EC has a total site area of approximately 2.2 hectares with a gross plot ratio of 2.8. Upon completion, this 99 years leasehold development will comprise of approximately 615 apartment units. Other developments that are within Copen Grand EC's vicinity include The Mayfair, Parc Oasis, The Jade, Lake Grande, Lakeshore, Lakeville and Le Quest.  Other ECs that are similar include Parc Canberra EC, Piermont Grand EC, OLA EC and Parc Central Residences EC.
The Tengah estate will be the nation's first sustainable and smart town. It will be blending smart technologies with its green features. The Tengah estate will be redevelop to provide new housings and business workspaces for the island's Western Region. This development will be complementing with other transformations in the Western area such as the up and coming Jurong Lake District and the Jurrong Innovation Zone.
The plans for the Tengah estate will be capitalizing on its unique identity as well as offering its residents new recreation and living opportunities.  The main features of the Tengah estate will be revolving around the community and nature in order to build a charming town where its future residents will be experience being home to nature.
The entire Tengah estate will be expecting to comprise 5 housing districts with a total of 42,000 new housings. Each of these districts will be designed in accordance to its unique character.  The development of the Tengah estate will be revolving its community and nature. The government has also developer a Framework of Biophlic Town with the intention to promote better well-being and health and better sense of the place as wells enhancing the quality of the residents' life. This framework will also be guiding in the development of the Tengah estate to holistically create neighbourhoods that are nature-centric so that its residents can have better connections with nature in order to enjoy the intrinsic benefits.
Residents of Tengah Estate will be also looking forward to the modes of convenient transportation around and within the town. They will be able to access to the downtown core or neighbouring estates via the up and coming planned MRT service line as well as the bus services. Many of the Tengah estate's residents will be able to just take a short walk to a MRT Station from their homes.
To support the Government's initiative toward a people-friendly and car-lite environment, the Tengah Estate will be having the nation's first town centre that will be "car-free". The roads for motor traffic will be constructed and running beneath Tengah's town centre. This will help to free up its ground level spaces. By separating the motor traffic from the pedestrian roads, the town centre's core will be friendly and safe for cycling, walking and also recreation activities.
The Tengah estate will have complete facilities and amenities at the precinct, district and town level for the conveniences of its residents. The facilities include an integrated community centre, sports hub, a town centre as well as medical facilities. The estate will also have the next-generation HDB neighbourhood hubs that provide a myriad of facilities and connections to transportation nodes and other communal amenities to cater to the daily needs of its residents.
About the Developer
City Development Ltd is one of the biggest property developers internationally.  The company's network spans in more than 100 locations across 28 countries.  This public listed real estate firm is also one of the biggest in terms of its market capitalization.  CDL's wide diversified portfolio internationally includes integrated developments, residential developments, offices, hotels, serviced apartments and also retail malls.
The company is well-known for its excellent track records and has been in this industry for more than 50 years. As of today, CDL is offering development, investment and management services. It has successfully built and completed more than 40,000 homes. The company also has ownership in over 18 million square feet of net lettable spaces worldwide.
It highly diversified land bank also helps in creating an excellent development pipeline in japan, UK, Australia, China, Singapore and many more countries.  Some of CDL's more current developments include Irwell Hill Residences, Canninghill Piers , Amber Park, Haus On Handy and Sengkang Grand Residences.
MCL Land is one of the most renowned property developers globally and has more than 50 years of track record in developing high quality housings in Malaysia and Singapore.  Its buyers will always purchase with a peace of mind as they know that the product they going to receive from this developer is not just well in design but also they can be assured of the quality.
The company's vision is to be creating values that are long term for its homeowners via areas that not just to enable them to link with their families but those who play and live within same community as well.  Some of MCL Land's projects include Leedon Green, Parc Esta and Margaret Ville.
For any further details and information Contact Us or Send Email To Us.
---
---
---
Copen Grand EC Site Plan and Facilities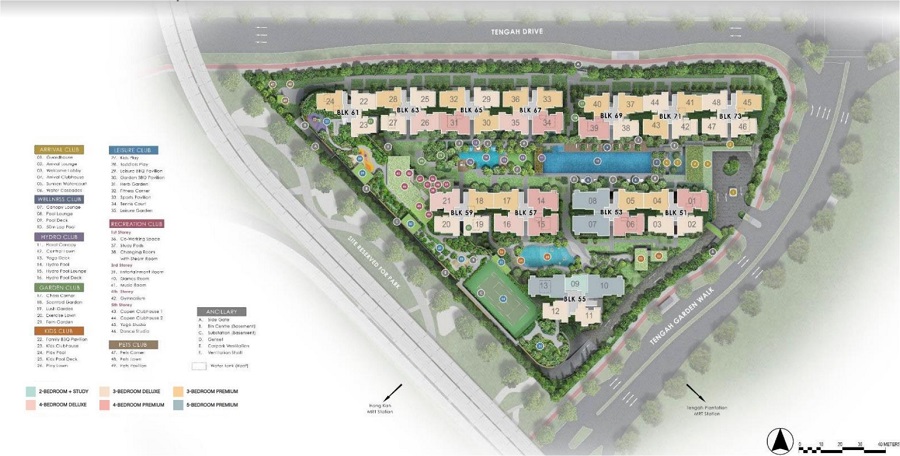 ---
Amenities Near Copen Grand EC and Their Approximate Distances



Train Station
Tengah Plantation (JE1) Jurong Region Line Due 2027 – 0.4km
Bukit Batok MRT Station (NS2) – 2.5km
Bus Stop
Bukit Batok Road-.Block 443D (Bus: 160, 180) – 1.0km
Supermarkets
Sheng Siong (440 Bukit Batok West) – 1.1km
Fairprice (345 Jurong East) – 1.7km
Shopping Mall
Le Quest – 1.2km
Bukit Batok West Shopping Centre – 2.0km
Preschool
Kinderland Kindergarten (Choa Chu Kang) – 2.0km
Hope Community Kindergarten (Choa Chu Kang) – 2.1km
PCF SPARKLETOTS PRESCHOOL @ KEAT HONG Blk 801 – 2.1km
Primary School
Jurong Primary School – 1.4km
Princess Elizabeth Primary School – 1.7km
Shuqun Primary School – 1.8km
Dazhong Primary School – 2.0km
Secondary School
Jurongville Secondary School – 1.1km
Hua Yi Secondary School – 1.4km
Fuhua Secondary School – 1.6km
Dunearn Secondary School – 1.6km
Bukit Batok Secondary School – 1.8km
Junior College
Millenia Institute – 1.4km
Tertiary
Nanyang Technological University – 5.3km
International School
Canadian International School (Lakeside Campus) – 1.8km
Food Centre
Bukit Batok Hawker Centre – 1.3km
Jurong East Avenue 1 Blk 347 Market and Food Centre – 1.8km
Lifestyle
Jurong East Sports Complex – 1.6km
Bukit Batok Golf Range – 1.9km
Jurong Lake Park – 2.0km
---
Highlights of Copen Grand EC
Transport Network
As of now, the nearest MRT station from Copen Grand EC will be the Bukit Batok MRT Station which is approximately 2.5 km away. Future residents of Copen Grand EC will be able to access to the MRT North South Line available at that station. This MRT station is just 1 MRT stop away from the Jurong East MRT Interchange Station where future residents can easily transit to the MRT East West Line available there.
The development is approximately 400 metres or 5 minutes' walk away from the upcoming Tengah Plantation MRT Station. This MRT station is scheduled to start its operations in year 2027. The construction of this station was announced in May 2018 by the Land Transport Authority (LTA) of Singapore. It will be the phrase 2 of the MRT Jurong Region Line. The phrase 2 construction will comprise of 7 train stations that runs between Pandan Reservoir and Tengah. With the completion of this MRT station, future residents of Copen Grand EC will find it a breeze commuting to various parts of the island.
---
Copen Grand EC Factsheet
Want to be a proud owner of a unit in Copen Grand EC?
Simply fill up the form below and we will get in touch with you shortly.
Things to Note When Buying a Property:
1. Stamp Duty
2. Loan to Value Limit
3. Total Debt Servicing Ratio
4. Comparison on Mortgage Rate
Thank you for your interest in Copen Grand EC!