Welcome to city living at its most spectacular. Rising to a high of 40 storeys along Beach Road, Concourse Skyline is a unique urban address that offers astute home owners spectacular views, Concourse Skyline is a residential development that is located in District 7, Core Central Region of the island. The development is located along Beach Road, one of the prime areas where high end residences and grade A offices are located. The development used to be services apartments. Despite these apartments were enjoying a high occupancy rate of around 90%, the developer, Hong Fok Corporation, decided to torn down and redeveloped into private condominium. This was because the previous serviced apartments only have 60% usage space, while the rest of the 40% was wasted corridor space. It was rebuilt at the cost of $200 million. Other developments that are located within the developments' vicinity include Duo Residences, Kallang Riverside, Southbank, Citylights, South Beach Residences, City Square Mall, City Gate, The Riverine by The Park and also the upcoming Guoco Midtown.
---
---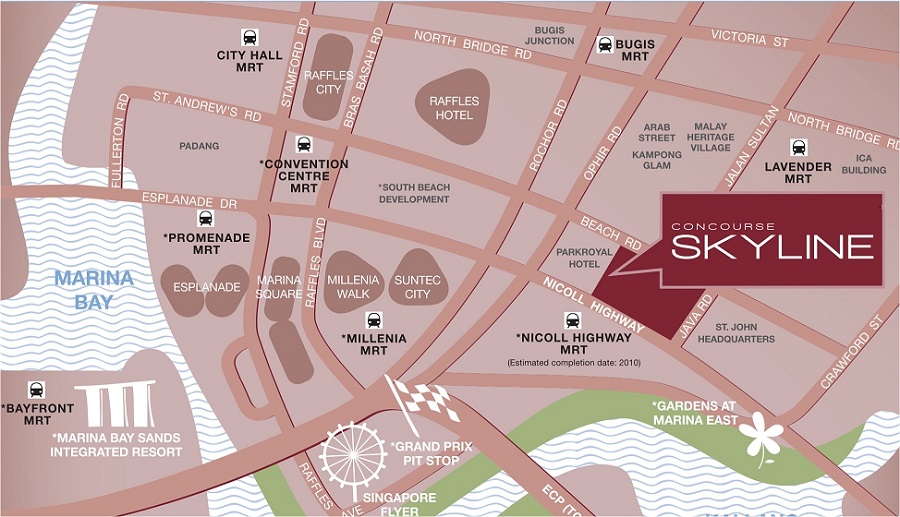 ---
Concourse Skyline Site Plan and Facilities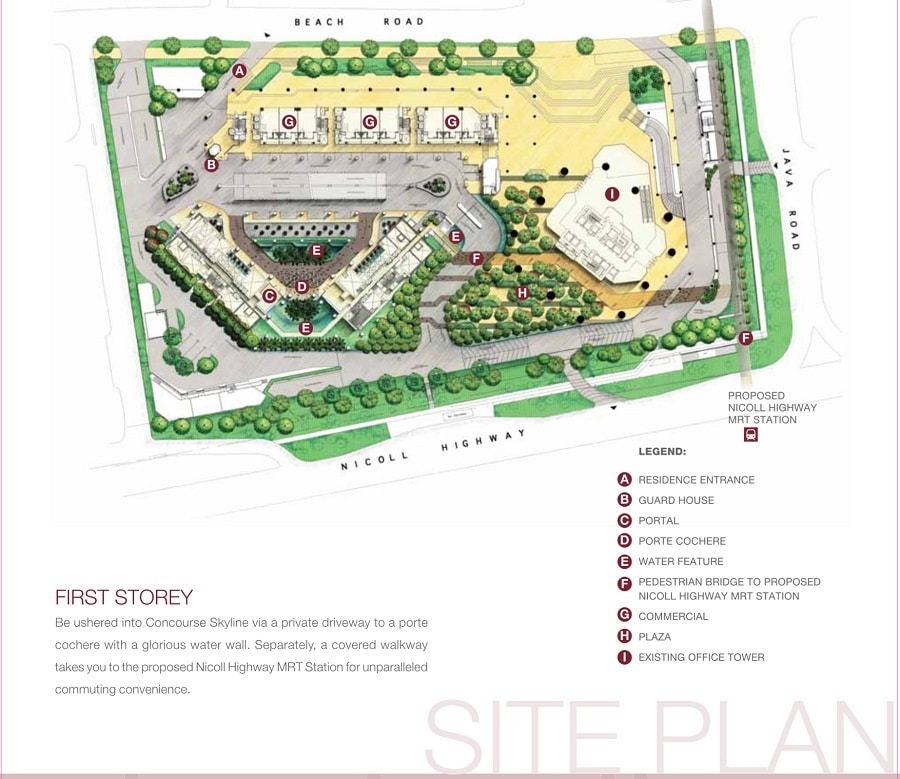 Visitors are welcomed into the development with the exclusive alley to a covered porch-like structure with a magnificent water feature. There is also another covered walkway which will lead residents to the Nicoll Highway Circle Line MRT station for unmatched traveling comfort.
The development offers a residential sanctuary within the city. As residents drive toward the sheltered porte cochere, they will be greeted by the sight and sound of a 5 storeys high waterwll. The reception lobby will also immediately draw the attention of the visitors with its sleek and fine details design.
Residents will be spoilt for choices with the number of facilities located at the pool deck level located at the 5th level of the development which include the hot spa, the wading pool, the Jacuzzi, the 50 m lap pool, the BBQ pit, the sunning deck, the main Club House, the lounge and also the enclosed gym.
Spreading across the 5th level, the number of communal facilities offers a host of activities that the residents rejuvenate. Residents can have a watery workout in the 50 m lap pool or have a dip to destress at the hot spa or Jacuzzi. They could also host event for their loved ones and friends at BBQ pit within the beautiful landscaping of the development. For children, there is also a wading pool for them to have their fun splashes.
The Sky Garden which is one the 29th storey of 298 Beach Road will captivate residents with its lushness, serenity and magnificent views of the city skylines as well as the sea. Take in the colossal Sports Hub, the landmarked Marina Bay Sands and everything in between. It will be the perfect location to organize a party to impress their guests.
---
Amenities Near Concourse Skyline and Their Approximate Distances
Train Stations
Nicoll Highway (CC5) – 0.1km
Bus Stop
The Concourse (Bus: 196, 70, 70M, 10, 14, 16) 0.07 km – 0.1km
Opp Plaza Parkroyal (Bus: 100, 107, 107M, 980, 961, 961C) – 0.2km
Supermarkets
Cold Storage (Bugis Junction) – 0.6km
Giant (Suntec City Mall) – 0.7km
Sheng Siong (New World Centre) – 0.9km
Fairprice (Kitchener Complex) – 0.9km
Shopping Malls
The Concourse – 0.1km
The Plaza – 0.1km
Golden Sultant Plaza – 0.3km
Arab Street – 0.4km
Duo Galleria – 0.4km
Golden Mile Shopping Centre – 0.5km
The Golden Landmark – 0.5km
Suntec City Mall – 0.6km
Bugis Junction – 0.6km
Bugis Village – 0.7km
Kindergarten
PCF SPARKLETOTS PRESCHOOL @ KAMPONG GLAM Blk 462 – 0.5km
PCF SPARKLETOTS PRESCHOOL @ KAMPONG GLAM Blk 806  – 0.9km
Rosemary Hall Montessori Kindergarten – 1.1km
Kampong Kapor Methodist Church Kindergarten – 1.2km
Foochow Methodist Church Kindergarten – 1.5km
Khalsa Kindergarten – 1.6km
PCF SPARKLETOTS PRESCHOOL @ KOLAM AYER Blk 12 – 1.8km
PCF SPARKLETOTS PRESCHOOL @ KOLAM AYER Blk 12 – 1.8km
MOE Kindergarten @ Farrer Park – 1.8km
PCF SPARKLETOTS PRESCHOOL @ MOULMEIN-CAIRNHILL Blk 10 – 1.9km
Primary School
Stamford Primary School – 0.7km
Saint Margaret's Primary School – 1.8km
Farer Park Primary School – 1.8km
Secondary School
School of The Arts (SOTA) – 1.5km
Junior College
Dunman High School – 2.4km
Tertiary
University of Nevada, Las Vegas -Singapore 0.9km
Nanyang Academy of Fine Arts 1.0km
Singapore Management University 1.1km
Lasalle College of The Arts 1.2km
International School
Dimensions International College (City Campus) – 2.4km
Food Centre
Golden Mile Food Centre – 0.4km
North Bridge Road Market & Food Centre – 0.7km
Albert Centre Market & Food Centre – 0.9km
Berseh Food Centre – 1.0km
Tekka Market – 1.4km
Blk 17 Upper Boon Keng Road – 2.0km
Lifestyle
People's Association HQ – 1.0km
PA Water-Venture – Kallang – 1.0km
Kallang Water Sports Centre – 1.0km
Jalan Besar Stadium – 1.1km
Singapore Recreation Club – 1.3km
Singapore Indoor Stadium – 1.3km
Marina Bay Golf Course – 1.3km
MARINA BAY GOLF COURSE & DRIVING RANGE – 1.4km
National Stadium – 1.4km
Singapore Cricket Club – 1.6km
PWD-BCA Clubhouse – 1.8km
MARINA BAY GOLF COURSE – 1.8km
Civil Service Club – Tessensohn – 1.8km
Legends – 1.9km
Singapore Khalsa Association – 1.9km
MARINA RESERVOIR – 2.0km
Singapore Chinese Recreation Club – 2.0km
---
Highlights of Concourse Skyline
Location
The development is located in a well-known area and more recently, the area was undergoing rejuvenation. With the completion of the nearby mixed development like South Beach Residences, City Gate and DUO Residences and also the makeover of the Suntec City, these have added more office, retail and residential spaces to the area. Tourists and shoppers are also begun to be attracted to this area because of its night live and the myriad amenities which have add more vibrancy here. This has actually impact quite positively on the overall property prices in this area.
---
Concourse Skyline Factsheet
Want to be a proud owner of a unit in Concourse Skyline?
Simply fill up the form below and we will get in touch with you shortly.
Things to Note When Buying a Property:
1. Stamp Duty
2. Loan to Value Limit
3. Total Debt Servicing Ratio
4. Comparison on Mortgage Rate
Thank you for your interest in Concourse Skyline!