Cape Royale is an upcoming exclusive waterfront residential development addressed at Cove Way, Core Central of Singapore. It is located in one of Singapore's most prestigious and luxurious residential estate i.e. Sentosa Cove. Cape Royale has a total plot size of approximately 231,676.8 square feet. Upon completion, this 99 years leasehold development will comprises of 302 luxurious and carefully designed residential units. Lying in Sentosa island, it is no doubt Cape Royale is in one of the most desirable residential address in the island of Singapore.
This development is sitting on the last plot of land in Sentosa Cove to be put up for residential development. Standing at 20 storeys tall, Cape Royale is set to be the tallest residential development on the island of Sentosa. This ionic development will be situated right at the marina entrance of the Sentosa Cove. Cape Royale's future residents will be able to enjoy unblocked and breath taking views of the South China Seas, the Southern Islands of Singapore and the majestic Skylines of the island's Central Business District and the Marina Bay. These overall will make Cape Royale a rare development upon its completion.
Cape Royale is a short distance away from Harbourfront Interchange Station where it residents can easily take on the North East Line and the Circle Line. Its future residents can also access to numerous public bus services with the nearby Harbourfront Bus Interchange. This provides its future residents a conduit of convenience when it comes to commuting to downtown Singapore and parts of the island. Cape Royale is just 8 minutes' drive to the Financial District and 11 minutes' drive away from the Orchard Shopping District. It is also well linked to many arterial major roads and Expressways such as West Coast Highway, Alexandra Road, the Ayer Rajah Expressway (AYE) and the East Coast Parkway (ECP). These infrastructure allows easy traveling to any point of Singapore.
For shopping, dining and entertainment facilities, Cape Royale's residents can head down to the Quayside Isle and Resorts World Sentosa which is within Sentosa Island. Vivocity, which is one of the largest shopping mall in Singapore, is just a short drive away. Its future residents can have numerous dining, shopping, leisure and entertainment options over there. There are supermarkets, cinemas, food courts, various eating establishments and countless retail shops right at Vivocity. For partying or just wine and chill, the St James Power Station, one of the largest entertainment establishments, is just next to Vivocity.
Enjoy resort living everyday when living in Cape Royale. Its future residents can enjoy the sand, the sea and the breeze and also the water sports facilities at the Sentosa Beaches. One15 Marina Club, which is just walking distance from Cape Royale, also provides recreation facilities such as marina facilities, tennis courts, Spa, dining and much more to Cape Royale's future residents. The nearby Tanjong Golf Course, Sentosa Golf Club and Serapong Golf Course makes Cape Royale a favourite development for Golf enthusiasts and they also provide pockets of greenery for its future residents.
---
---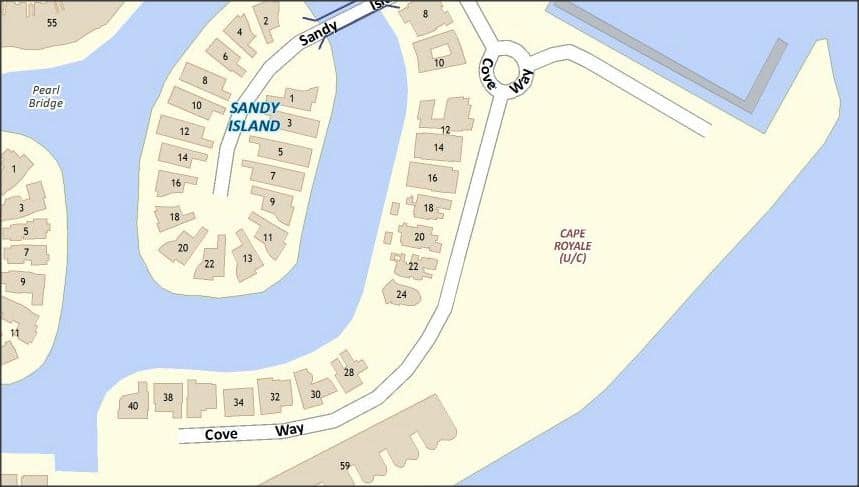 ---
Cape Royale Site Plan and Facilities

Coming Soon…
---
Amenities Near Cape Royale and Their Approximate Distances



Train Stations
Habourfront (NE1/CC29) – 3.3km
Bus Stop
VivoCity (Bus: 10, 30, 30E, 57, 61, 65, 80, 97, 97E, 100, 131, 143, 145, 166, 855, NR1, NR6, RWS8) – 3.3km
Opp VivoCity (Bus: 10, 30, 30E, 57, 61, 65, 80, 97, 97E, 100, 131, 143, 145, 166, 855, NR1, NR6) – 3.4km
Supermarkets
Cold Storage – 0.6km
Giant – 3.2km
Shopping Malls
Quayside Isle – 0.7km
Resorts World Sentosa – 2.7km
VivoCity – 3.2km
Harbourfront Centre – 3.3km
Preschool
PCF Radin Mas Blk 108 – 3.9km
The Capstone Kindergarten – 4.1km
PCF Radin Mas Blk 21 – 4.4km
PCF Telok Blangah Blk 78A – 4.9km
Nanyang Children School – 5.0km
Primary School
Radin Mas Primary School – 4.1km
Zhangde Primary School – 5.0km
Secondary School
Outram Secondary School – 5.0km
Junior College
Anglo-Chinese Junior College – 9.1km
Tertiary
Singapore Management University – 6.3km
International School
American College – 3.7km
Shelton College International – 4.2km
Food Centre
Seah Im Food Centre – 3.3km
Lifestyle
One15 Marina Club – 0.5km
Tanjong Golf Course – 1.0km
Singapore Paddle Club – 1.1km
Sentosa Golf Club – 1.2km
Serapong Golf Course – 1.4km
Tanjong Beach – 1.6km
---
Highlights of Cape Royale

1. Majestic Views – Enjoy breathtaking views of the Southern Islands, South China Sea and Skylines of Singapore City as Cape Royale bring the tallest building in Sentosa Cove.
2. Exclusive Waterfront Living – Enjoy the Sun, Sea and Breeze as Cape Royale is situated in the marina entrance to Sentosa Cove.
3. Serenity Environment – This development is situated at the tranquil surrounding by some of the most exclusive residential developments in Singapore.
4. Resort Living – Everyday feels like living in a resort as this development is near to the beaches of Sentosa and close the Resort World Singapore.
5. Rare Development – Cape Royale will be a last chance to own a piece of the premium waterfront residential unit in Sentosa.
---
Cape Royale Factsheet

Want to be a proud owner of a unit in Cape Royale?
Simply fill up the form below and we will get in touch with you shortly.
Things to Note When Buying a Property:
1. Stamp Duty
2. Loan to Value Limit
3. Total Debt Servicing Ratio
4. Comparison on Mortgage Rate
Thank you for your interest in Cape Royale!