Bellewoods EC is the latest Executive Condominium along Woodlands Avenue 6, North Region of the island. It is located at the junction of Woodlands Avenue 5 and Woodlands Avenue 6 and lies next to the upcoming Forestville EC and Twin Fountains EC. It adds to the collection of Executive Condominiums that is located along Woodlands Avenue 6 and Woodlands Avenue 5. Bellewoods EC has total site area of 21,004.3 square metres. Upon completion this 99 years leasehold Executive Condominium will comprises an estimation of 561 residential units.
Bellewoods EC is approximately 900 m away from Admiralty North South Line Train Station, which is the nearest station. The train service at Admiralty Station will seamlessly link Bellewoods EC' future residents to Woodlands Train Station and Sembawang Train Station, which both are just 1 stop away. This allows its future residents to access to a more comprehensive public bus services available at both Woodlands Bus Interchange and Sembawang Bus Interchange. For Bellewoods EC' future residents whom drive, it will take approximately 18 minutes to get to Orchard Shopping District. The downtown Central Business District is about 21 minutes' drive away. Bellewoods EC is also easily linked to main roads such as Woodlands Avenue 12 and Woodlands Avenue 7 which connects to the Seletar Expressway (SLE) and the Bukit Timah Expressway (BKE).
Bellewoods EC's future residents can easily get their daily necessities, do their shopping and dine at the nearby Vista Point, that is about 800 m away, where a variety of retails, eating outlets and a supermarket is located. For more options, they could also take a short drive down to Woodlands Civic Centre and Causeway Point. Bellewoods EC's  future residents will also have more choices when it comes to local delights as a new major food centre will be built along Woodlands Drive 71, which is next to Admiralty Train Station.
For parents who are staying in Bellewoods EC, you children's education will be the last worry on your mind as there are 10 primary schools and 7 secondary schools that are close to Bellewoods EC. Primary schools, such as Woodlands Ring Primary School, Greenwood Primary School, Woodlands Primary School, Woodgrove Primary School, Innova Primary School, Admiralty Primary School and Evergreen Primary School are within 2 km from Bellewoods. Some of the secondary schools nearby Bellewoods are Woodlands Ring Secondary School, Woodgrove Secondary School, Christ Church Secondary School, Evergreen Secondary School and Singapore Sports School. Bellewoods is also close to post secondary education facilities such as the Innova Junior College and the Republic Polytechnic. The Singapore American School is also located just a short drive away.
Bellewoods EC's future residents can enjoy the pockets of greenery and the tranquility by exploring the various parks nearby, namely Woodlands Admiral Garden, Vista Park, Mandai Tekong Park and Admiralty Park. For golf lovers, when feeling like indulging in a game, they can take a short drive down to the Sembawang Country Club which also offers a complete golf course and also a driving range for practicing.
---
---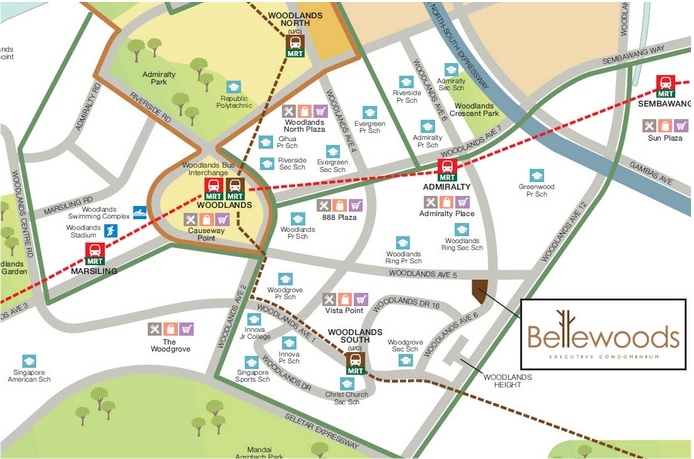 ---
Bellewoods EC Facilities And Site Plan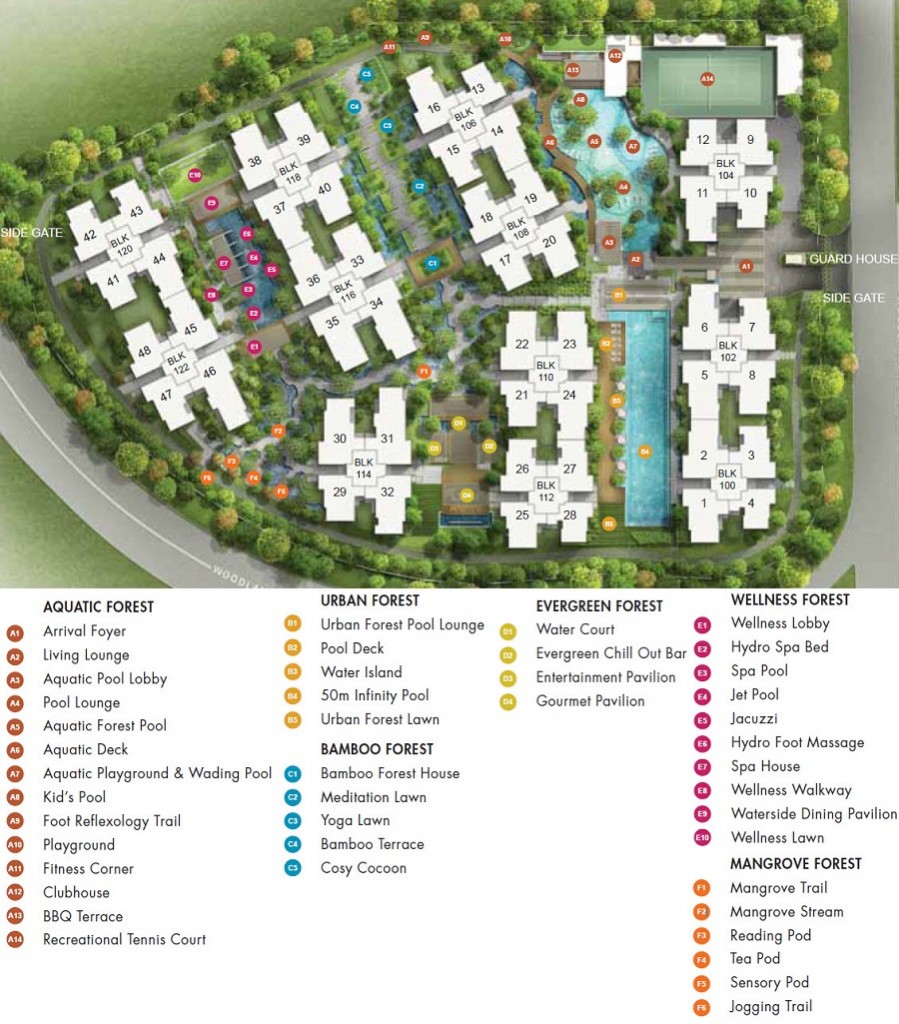 ---
Amenities Near Bellewoods EC and Their Approximate Distances



Train Stations
Admiralty (NS10) – 0.9km
Bus Stop
Opp Blk 620 (Bus: NR2, 587, 962) – 0.2km
Blk 620 (Bus: NR2, 962) – 0.2km
Supermarkets
Giant – 0.8km
NTUC – 0.9km
Cold Storage – 1.7km
Sheng Siong – 2.1km
Shopping Malls
Vista Point – 0.8km
Woodlands Civic Centre – 1.6km
Causeway Point – 1.7km
Preschool
PCF Admiralty Blk 624B – 0.3km
PCF Admiralty Blk 556-557 – 0.5km
PCF Admiralty Blk 581 – 0.6km
PCF Woodlands Blk 652 – 0.6km
PCF Woodgrove Blk 899B – 0.8km
PCF Woodlands Blk 601 – 0.8km
PCF Admiralty Blk 501 – 1.0km
PCF Woodlands Blk 853 – 1.2km
Elite Learning Kindergarten (Woodlands) – 1.3km
Evangel Kindergarten – 1.3km
Primary School
Woodlands Ring Primary School – 0.4km
Greenwood Primary School – 0.9km
Woodlands Primary School – 1.2km
Woodgrove Primary School – 1.2km
Innova Primary School – 1.2km
Admiralty Primary School – 1.2km
Evergreen Primary School – 1.5km
Si Ling Primary School – 1.7km
Riverside Primary School – 1.7km
Qihua Primary School – 1.8km
Secondary School
Woodlands Ring Secondary School – 0.4km
Woodgrove Secondary School – 0.7km
Christ Church Secondary School – 1.0km
Evergreen Secondary School – 1.3km
Singapore Sports School – 1.5km
Admiralty Secondary School – 1.6km
Riverside Secondary School – 1.7km
Junior College
Innova Junior College – 1.4km
Tertiary
Republic Polytechnic – 2.2km
International School
Singapore American School – 3.0km
Food Centre
Woodlands Food Centre (U/C) – 1.7km
Lifestyle
Woodlands Admiral Garden – 0.5km
Vista Park – 0.6km
Mandai Tekong Park – 0.8km
Mega Sports Court – 2.0km
Admiralty Park – 2.0km
Sembawang Golf Course – 2.6km
---
Highlights of
Bellewoods EC
1. Closeness to Amenities – This development is just a short walk to Vista Point where a supermarket, shops and eating outlets can be found.
2. Top Investment Pick – Woodlands is ranked 3rd by analysts for suburban buys for 2013.
3. Close to Many Schools – A child's education needs is never a problem as there are more than 15 schools nearby Bellewoods EC.
4. Quiet Surrounding – This development lies in the serene executive condominium enclave.
5. Reasonable Priced – Bellewoods EC is prefect for home upgraders.

---
Bellewoods EC Factsheet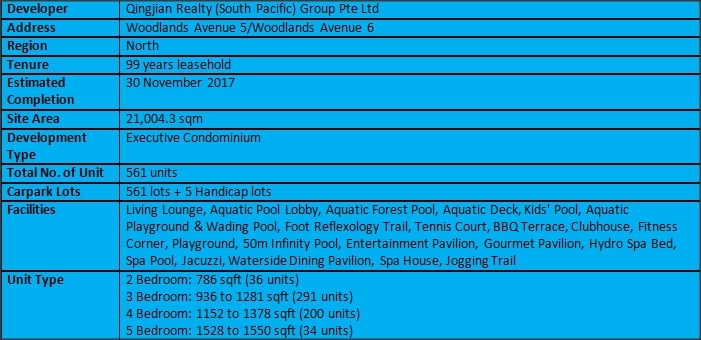 Want to be a proud owner of a unit in Bellewoods EC?
Simply fill up the form below and we will get in touch with you shortly.
Things to Note When Buying an Executive Condominium:
1. Eligibility to buy Executive Condominium
2. Executive Condominium Housing Scheme
3. Comparison on Mortgage Rate
Thank you for your interest in Bellewoods EC!