Live in the heart of life with Bedok Residences. Home is where the heart is… For a home that puts you at the heart of the pulsating urban beat, no other location offers you greater ease of accessibility, choices and excitement than Bedok Residences. Situated in the heart of the established Bedok estate, that's earmarked for redevelopment, right above the new bus interchange and just across from Bedok MRT station, get ready to live it up in the centre of unparalleled convenience and vibrance. Enjoy a lifestyle to your heart's desire. An exceptional location that connects your family to more. With Bedok Residences, we've taken integrated living to a higher level by putting you in the heart of seamless connectivity. Here from the convenience of your home, you will enjoy quick and easy access to an exciting hub of amenities, facilities, shops and restaurants. Giving you more time and ways to enjoy a fuller and richer life.
Bedok Residences is the first integrated development in the East. Rising above two levels of shopping space and the new Bedok bus interchange, Bedok Residences' integrated design is set to inject new life to the East along with government plans to revitalise the mature Bedok estate. Flaunting sleek lines that contrast strikingly with gently sweeping curves, the development offers 583 residential homes that are angled favourably in the North-South orientation and elevated well above the hustle and bustle of central living.
Shop and dine to your heart's content with retail and culinary therapy at your doorstep. It's every shopper and foodie's dream come true. With a retail mall integrated conveniently below your residence and exciting developments coming up just next door at Bedok Central, your favourite stores, cafés and restaurants are now literally at your doorstep. Whether you are stocking up on necessities, searching for a gift, hunting for the latest gadgets, updating your wardrobe or looking to discover new culinary delights, you don't have to go too far now to be spoilt for choice. And when you wish to widen your retail playground, simply head down where you can hop onto a bus, cross over to the MRT station or flag a taxi easily by the road to reach the malls of Orchard Road within minutes. Being in the heart of the East, you will also never run out of dining options with popular eateries and bars at Siglap, Katong, East Coast Lagoon and Changi just a short drive away. With so many options awaiting, feel free to start planning your shopping and dining adventures!
Enjoy unrivalled one-stop convenience and getting around is simply a breeze when your home is right above a transport hub. Appreciate the unrivalled convenience of having an efficient network of buses, taxis and the East West MRT line to take you almost anywhere from your doorstep. Heading to the city or other areas of the island by car has never been easier. Driving from your home's strategic location fronting New Upper Changi Road, you will be able to connect quickly to major expressways like the PIE, CTE, TPE and ECP. A full range of essential amenities such as schools, library, supermarkets and recreational parks at East Coast and Bedok Reservoir are within easy reach from your residence.
---
---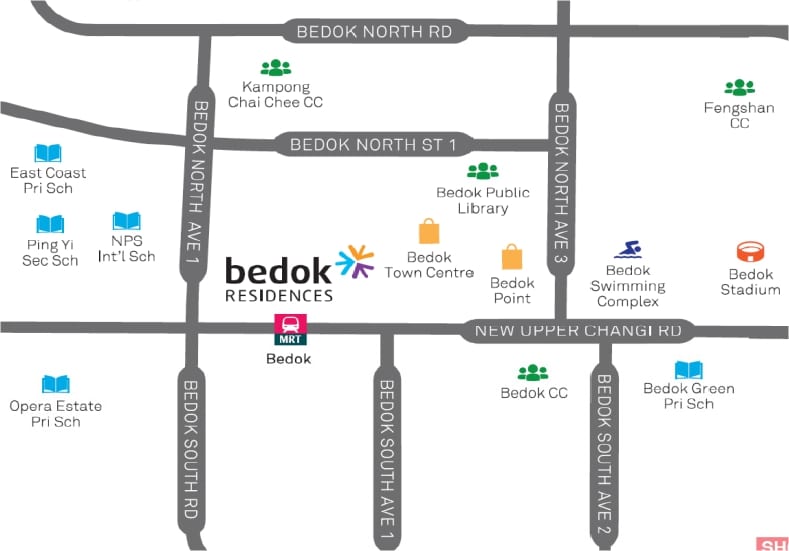 ---
Bedok Residences Site Plan and Facilities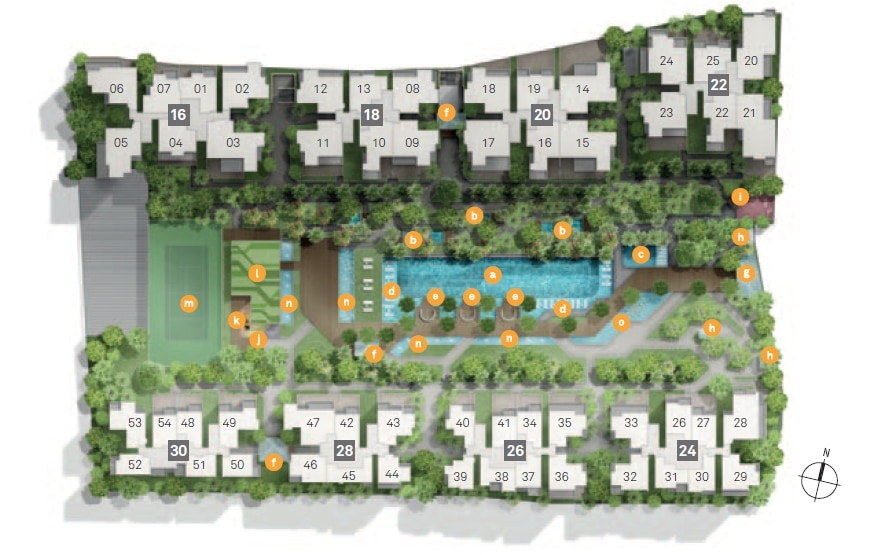 ---
Amenities Near Bedok Residences and Their Approximate Distances



Train Stations
Bedok (EW5) – 0.1km
Bus Stop
Bedok Stn (Bus: 222, 4N, 67, 24, 2, 9, 28, 31, 35, 35M) – 0.1km
Bedok Int (Bus: 222, 225G, 225W, 228, 229, 854, 854E, 401, 66, 69, 7, 9, 60, 87, 40, 26, 30, 30e, 32, 33, 35, 35M, 38, 14, 16, 17, 17A, 18, 25, 196, 197, 168) – 0.1km
Supermarkets
FairPrice (Bedok Mall) – 0.1km
Sheng Siong (209 New Upper Changi) – 0.2km
Giant(Bedok North Street 1) – 0.5km
Shopping Malls
Bedok Mall – 0.1km
Bedok Point – 0.3km
East Village – 2.1km
Preschool
Al – Ansar Mosque Kindergarten – 0.4km
YWCA Kindergarten (Bedok) – 0.5km
PCF Kampong Chai Chee Blk 409 – 0.5km
PCF Kaki Bukit Blk 519-545 – 0.6km
PCF Bedok Blk 30 – 0.8km
PCF Kaki Bukit Blk 59 – 0.9km
PCF Kampong Chai Chee Blk 135 – 0.9km
Bethesda (Bedok-Tampines) Kindergarten – 0.9km
PCF Kaki Bukit Blk 526 – 1.0km
Bedok Lutheran Church Kindergarten – 1.1km
Primary School
Fengshan Primary School – 0.7km
Opera Estate Primary School – 0.8km
Bedok Green Primary School – 1.0km
Yu Neng Primary School – 1.1km
Haig Girls' School – 1.1km
Red Swastika School – 1.2km
East Coast Primary School – 1.2km
St. Stephen's School – 1.5km
Damai Primary School – 1.7km
St. Anthony's Canossian Primary School – 1.8km
Secondary School
Ping Yi Secondary School – 1.0km
Bedok Green Secondary School – 1.3km
Damai Secondary School – 1.4km
Anglican High School – 1.5km
Bedok View Secondary School – 1.6km
Victoria School – 1.8km
St. Anthony's Canossian Secondary School – 1.8km
Junior College
Temasek Junior College – 1.0km
Tertiary
Temasek Polytechnic – 2.3km
International School
Global Indian International School (East Coast Campus) – 1.3km
Sekolah Indonesia Singapura – 1.6km
Food Centre
New Upper Changi Road Block 207 Food Centre – 0.1km
Bedok North Street 1 Block 216 Market And Food Centre – 0.5km
Bedok North Street 3 Block 538 Market And Food Centre – 0.8km
Bedok South Road Block 16 Market And Food Centre – 0.9km
Kaki Bukit 511 Market And Food Centre – 0.9km
85 Fengshan Centre – 1.3km
The Market Place @ 58 – 1.4km
Bedok Reservoir Road Block 630 Market And Food Centre – 1.9km
Lifestyle
Bedok Stadium – 1.1km
---
Highlights of Bedok Residences
Rare – Bedok Residences is one of the few integrated hub with residential, commercial and public transport all under 1 roof.
Locality – Bedok Residences is just near to Bedok MRT Station.
Family Living – There are many schools surrounding Bedok Residences.
Conveniences – Shopping Mall is right at the doorstep of Bedok Residences.
Well Connected – Bedok Residences is easily connected to any part of the island with links to major roads and Expressways.
---
Bedok Residences Factsheet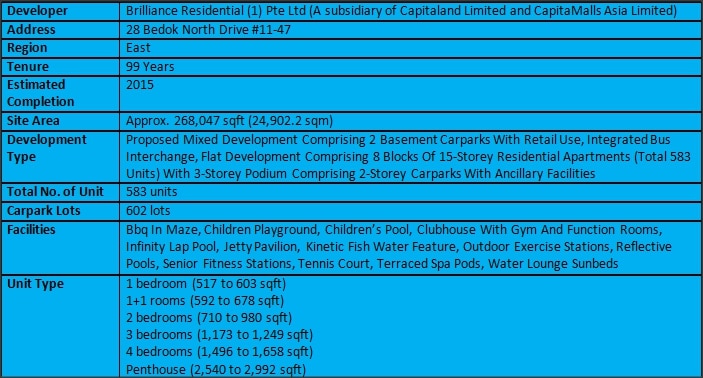 Want to be a proud owner of a unit in Bedok Residences?
Simply fill up the form below and we will get in touch with you shortly.
Things to Note When Buying a Property:
1. Stamp Duty
2. Loan to Value Limit
3. Total Debt Servicing Ratio
4. Comparison on Mortgage Rate
Thank you for your interest in Bedok Residences!