Bartley Ridge is a fairly large project that comprises more than 800 units in the Central Region. It is situated outside the Core Central Region, along Mt Vernon Road. Its site is just next to Bartley Secondary School. There will be a total of 9 blocks in this project. The size of this plot is more than 20,000 sqm. This project is due to complete no later than Oct 2018. This is a 99 years leashold development with a unit mix of 1 bedroom with size 441 to 592 sq ft, 2 bedroom with size of 721 to 764 sq ft, 2 bedroom + study with size 829 to 850 sq ft, 3 bedroom with size 969 to 1,044 sq ft, 3 bedroom + study with size 1,163 to 1,173 sq ft, 4 bedroom with size 1,302 sq ft, Dual Key with size 1,550 sq ft and Penthouses unit with size 1,378 to 2,120 sq ft.
Those living in Bartley Ridge can expect unblocked views as it is surrounded by low level buildings. The settings of Bartley Ridge can also provide a peaceful and quiet environment. It is only minutes' drive away from Orchard and the CBD. Driving to other parts of the island is also a breeze as it is well connected to various Expressways.
The plot of land of below Mt Vernon (former Bidadari Cemetery) has been cleared for residential usage. Although there are no details showing the land parcel's usage yet, there will be more amenities coming up from that land in the future. Bartley Ridge is likely to gain from this. This will likely to impact on its value.
The rental demand for Bartley Ridge is likely to come from the nearby offices and light industrial estates located near Upper Paya Lebar, Macpherson Road, Tai Seng and Ubi. Rental demand for Bartley Ridge is potentially going to be strong as there are not many options from these areas.
Bartley Circle Line Station is about 350m away from Bartley Ridge. Residents of Bartley Ridge can always head to NEX shopping mall (1 train station), Heartland Mall (2 train stations) and Junction 8 (3 train stations) for their shopping and dining needs. Bartley Ridge is within a short drive to Circuit Road Market & Food Centre and Chomp Chomp Food Centre.
There are also many good schools, ranging from preschools to Junior College, that are within 2km radius of Bartley Ridge. The school which are less than 2 km from Bartley Ridge include Maris Stella High School, Cedar Primary School, Cedar Girl's Secondary School, Bartley Secondary School and St Gabriel Secondary School. The St Andrew Junior College and Serangoon Junior College are also within a short drive from Bartley Ridge.
PUB Recreational Club is 1.8 km from Bartely Ridge. The club provides sports and social facilities. You can book the badminton hall for a badminton game with your friends and family. Singapore National Wushu Federation is 2.3 km from Bartely Ridge. Bartley Ridge's future residents who love Wushu can consider joining the club which is within the driving distance from Bartley Ridge.
---
---
---
Bartley Ridge Site Plan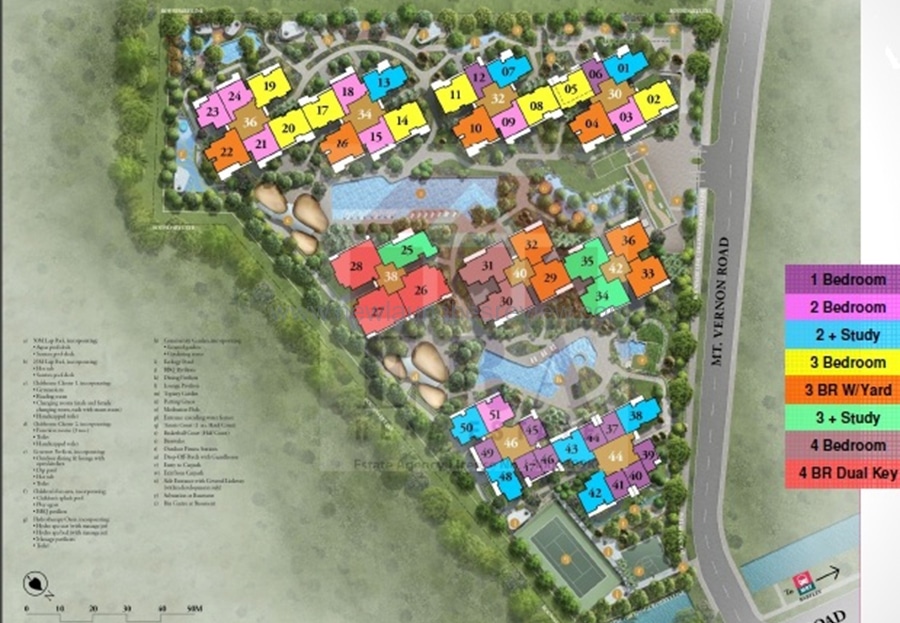 Bartley Ridge Facilities

---
Amenities Near Bartley Ridge and Their Approximate Distances

Train Stations
Bartley (CC12) – 0.3km
Woodleigh (NE11) – 1.2km
Bus Stop
Aft Upp Paya Lebar Rd 62061(Bus: 158, 28, 93) – 0.1km
Bef Upp Paya Lebar Rd 62069 (Bus: 158, 28, 93) – 0.2km
Aft Paya Lebar St 70301(Bus: 22, 24, 28, 43, 58, 62, 70, 70M, 76, 80, 93, 158) – 0.3km
Opp Paya Lebar St 70309(Bus: 22, 24, 28, 43, 58, 62, 70, 70M, 76, 80, 93, 158) – 0.4km
Supermarkets
NTUC Fair Price – 1.8km
Cold Storage – 1.8km
Shop N Save – 2.3km
Sheng Siong – 4.8km
Shopping Malls
NEX Shopping Mall – 1.8km
Heartland Mall – 4.4km
Junction 8 – 5.4km
AMK Hub – 5.9km
Preschool
Sarada Kindergarten – 0.4km
SmartGro Tiny Tots – 1.1km
Lumerie Montessori House – 2.0km
TPBC Kindergarten – 2.1km
Pap Community Foundation – 2.2km
Primary School
Maris Stella – 0.6km
Cedar – 1.3km
Canossa Convent – 2.3km
Macpherson – 2.4km
Yangzheng – 2.5km
St Gabriel – 3.3km
Secondary School
Bartley – 0.1km
Maris Stella High – 0.6km
St Gabriel – 1.1km
Cedar – 1.3km
Zhonghua – 2.5km
Paya Lebar Methodist's Girls – 2.6km
St Andrew's – 3.2km
Macpherson – 3.3km
Junior College
St Andrew JC – 3.0km
Serangoon JC – 4.5km
Tertiary
Singapore Management University – 6.9km
International School
Stamford American International School – 1.5km
Australian International School – 3.1km
Food Centre
Circuit Road Market & Food Centre – 3.0km
Chomp Chomp Food Centre – 3.9km
Lifestyle
PUB Recreational Club – 1.8km
Singapore National Wushu Federation – 2.3km
The Girls Brigade – 2.5km
Serangoon Stadium – 4.5km
---
Highlights of Bartley Ridge
1. Good Schools – There are many good schools, from preschool up to Junior College that are within this development.
2. Well Connected – It lies just on the edge outside Core Central Region which makes traveling to Orchard and the CBD area easy.
3. Unblocked Views – Most of the units are able to enjoy unblocked views as it is surrounded by low level buildings coupled with its site is an elevated terrain.
4. Strong Rental Demand – Rental demand for this development likely to come from Upper Paya Lebar, Macpherson Road, Tai Seng and Ubi where residential units are scarce.
5. Potential Return – The future of the land parcel at the foot of Mount Vernon is likely to have an impact on its value in the future.
---
Bartley Ridge Factsheet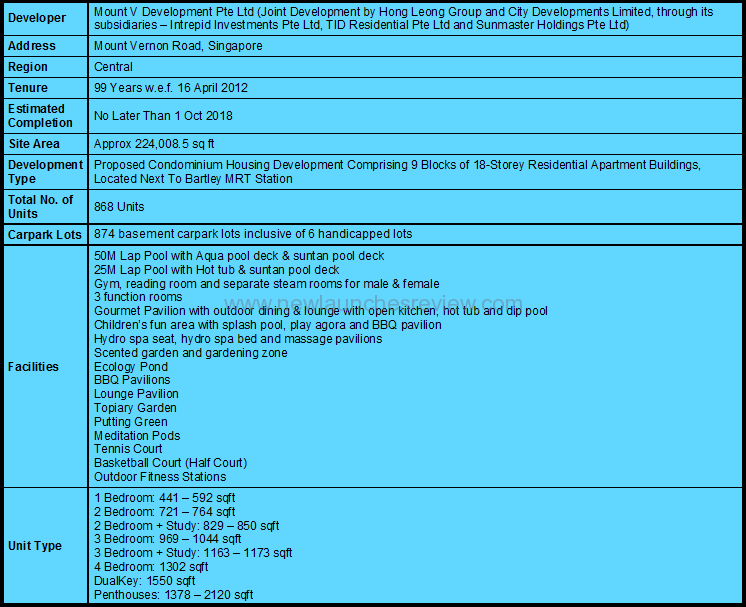 Want to be a proud owner of a unit in Bartley Ridge?
Simply fill up the form below and we will get in touch with you shortly.
Things to Note When Buying a Property:
1. Stamp Duty
2. Loan to Value Limit
3. Total Debt Servicing Ratio
4. Comparison on Mortgage Rate
Thank you for your interest in Bartley Ridge!