Avant Parc is an exclusive cluster housing project located along Wak Hassan Place and Wak Hassan Drive, far north of the island. Its site is just next to the Boy's Brigade and Girl's Brigade Campsite This 99 years leasehold development comprises of 15 exclusive units which has 6 corner terrace houses and 9 intermediate terrace houses. Each unit comes with 3 storeys and comes with a basement and an attic. Every unit at Avant Parc comes with a private lift and private car porch. The corner terrace houses will come with a private pool while the intermediate terrace houses will come with a private Jacuzzi. Avant Parc is expected to be completed at the end of 2013. Avant Parc's has a huge built up area which allows every unit to have a generous spaces. The future residents of Avant Parc's can enjoy nice sea view from the nearby Sembawang Beach. The serenity provides it future residents the rejuvenation they need away from the bustling town after a hard day's work.
Avant Parc is approximately 2.3 km away from Sembawang Train Station (which service the North South Line) and also the Sembawang Bus Interchange. This comprehensive public transport system provides Avant Parc's future residents with fast and efficient commuting to downtown Singapore and also parts of the island. Avant Parc is approximately 20 minutes' drive from Orchard Shopping area and it takes around 23 minutes of driving to get to the Shenton Way. To drive to other parts of the island, Avant Parc's residents can use either the BKE or the SLE.
Established local education facilities that are near to Avant Parc include Wellington Primary School, Endeavour Primary School, Chongfu Primary School, Sembawang Primary School, Canberra Primary School, Northoaks Primary School, Canberra Secondary School and Sembawang Secondary School. Yishun Junior College is also short drive away from Avant Parc.
In terms of getting their daily necessities, Avant Parc's residents can head to the nearby Sembawang Mart. They can do their dining, shopping and getting their groceries at Sembawang Mart as the centre offers a wide range of goods and services. Sembawang Mart has a wet market, supermarket, foodcourt and retail shops. Alternatively, Avant Parc's residents can also take a short drive down to Sun Plaza or Sembawang Shopping Centre where more dining, retail, leisure and entertainment facilities are located. The Chong Pang Market & Food Centre, a famous cluster of shophouses, supermarket and eating outlets, is also a short drive away which Avant Parc's future residents can conveniently get their daily needs such as groceries, fresh market produce and also economical and yummy local delicacies.
In term of leisure facilities, Avant Parc is within the close proximity to recreation club such as PA Water Venture Sembawang, Terror Sea Scout, Terror Club, Eagle Club and Home TeamNS @ Sembawang. These are clubs offer a leisure activities for the entire family. Avant Parc's future Residents can take a short walk to Sembawang Park which gives them a place where there are pockets of greenery are offered.
---
---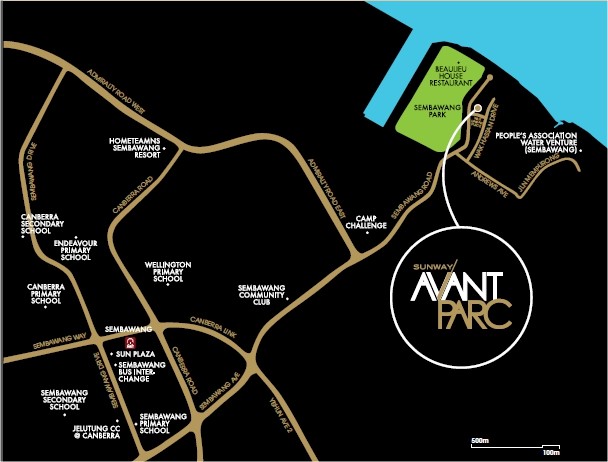 ---
Avant Parc Site Plan and Facilities

---
Amenities Near Avant Parc and Their Approximate Distances



Train Stations
Sembawang (NS11) – 2.3km
Bus Stop
Sembawang Park (Bus: 882) – 0.1km
Supermarkets
Fairprice (Sembawang Mart) – 2.3km
Giant (Sembawang Drive) – 2.4km
Cold Storage (Northpoint) – 3.3km
Shopping Malls
Sembawang Mart – 2.1km
Sun Plaza – 2.5km
Sembawang Shopping Centre – 2.5km
Preschool
PCF Sembawang Blk 507D-501D-503C – 1.9km
Zulfa Kindergarten @ Sembawang Mart – 2.1km
PCF Canberra Blk 413 – 405 – 2.4km
PCF Nee Soon East Blk 277 – 2.4km
PCF Canberra Blk 487-488 – 2.5km
PCF Chong Pang Blk 317-315 – 2.5km
Edelweiss Kindergarten Sembawang – 2.5km
Primary School
Wellington Primary School – 1.9km
Endeavour Primary School – 2.3km
Chongfu Primary School – 2.4km
Sembawang Primary School – 2.5km
Canberra Primary School – 2.7km
Northoaks Primary School – 2.7km
Secondary School
Canberra Secondary School – 2.7km
Sembawang Secondary School – 2.8km
Junior College
Yishun Junior College – 4.0km
Tertiary
Republic Polytechnic – 6.0km
International School
Singapore American School – 8.0km
Food Centre
Chong Pang Market & Food Centre – 3.5km
Lifestyle
Sembawang Park – 0.1km
PA Water Venture Sembawang – 0.6km
Bottle Tree Village – 0.7km
Terror Sea Scout – 1.0km
Terror Club – 1.1km
Eagle Club – 1.8km
---
Highlights of Avant Parc
1. Serenity – Avant Parc is located in the tranquil landed housing area.
2. Spacious Living – Avant Parc's units offer generous spaces with their huge built up areas.
3. Many Recreations – Avant Parc's is near to Sembawang Park where many recreation facilities are hosted.
4. Great Seaview – Avant Parc's residents can enjoy nice sea views at the nearby Sembawang beach.
5. Lush Greenery – Avant Parc is just next to Sembawang Park which offers pockets of greenery.
---
Avant Parc Factsheet
Want to be a proud owner of a unit in Avant Parc?
Simply fill up the form below and we will get in touch with you shortly.
Things to Note When Buying a Property:
1. Eligibility to Buy Landed Property
2. Stamp Duty
3. Loan to Value Limit
4. Total Debt Servicing Ratio
5. Comparison on Mortgage Rate
Thank you for your interest in Avant Parc!