Amber Skye is a new development situated at 8 Amber Road (former Amber Tower), East Region of the island. Its land parcel is located in the junction of Tanjong Katong Road and Amber, bounded by King's Mansion and the upcoming 16 @ Amber. Amber Skye has a total land area of 40,708 square feet. Upon completion, this freehold development will host a total of 109 residential units. The site lies in the serenity environment of the private residential enclave and offers Amber Skye's future residents a sense of tranquillity they are looking into.
---
---
---
Amber Skye Facilities and Site Plan

---
Amenities Near Amber Skye and Their Approximate Distances



Train Stations
Dakota (CC8) – 1.4km
Tanjong Katong (TE25) TEL Due 2023 – 0.1km
Bus Stop
Hse 189 (Bus: 566) – 0.2km
Opp Playground @ Big Splash (Bus: 401) – 0.3km
Supermarkets
Giant – 0.8km
Cold Storage – 0.8km
NTUC – 1.0km
Sheng Siong – 2.7km
Shopping Malls
Katong Shopping Centre – 0.6km
Paramount Shopping Centre – 0.7km
Katong Plaza – 0.8km
Roxy Square – 0.8km
Parkway Parade – 0.8km
Katong Village – 0.9km
I12 Katong – 0.9km
City Plaza – 1.8km
Preschool
Montessori For Children (Broadrick Campus) – 0.8km
Sri Sathya Sai Kindergarten – 0.8km
Two By Two Schoolhouse – 0.8km
Kinderland Kindergarten (Marine Parade) – 0.9km
Saint Hilda's Church Kindergarten – 0.9km
Tung Ling Kingdergarten – 1.1km
Seeds D' Learning House – 1.1km
EtonHouse International Research Preschool – 1.3km
Holy Family Kindergarten – 1.2km
PCF Mountbatten Blk 14 – 1.6km
Primary School
Tanjong Katong Primary School – 0.7km
Haig Girls' School – 1.4km
CHIJ (Katong) Primary School – 1.6km
Tao Nan School – 1.6km
Kong Hwa School – 1.7km
Secondary School
Tanjong Katong Girls' School – 0.8km
Tanjong Katong Secondary School – 1.0km
Chung Cheng High School (main) – 1.0km
Northlight School – 1.3km
Broadrick Secondary School – 1.4km
Dunman High School – 1.7km
Junior College
Dunman High School – 1.7km
Tertiary
Singapore Management University (SMU) – 5.4km
International School
Chatsworth International School (East Campus) – 0.4km
Canadian International School – 0.5km
Food Centre
84 Marine Parade Central Market & Food Centre – 0.9km
Dunman Food Centre – 1.2km
Old Airport Road Block 51 Market & Food Centre – 1.7km
Jalan Batu Block 4A Market & Food Centre – 1.7km
Haig Road Market & Cooked Food Centre – 1.8km
Kallang Estate Fresh Market & Food Centre – 1.8km
Lifestyle
Chinese Swimming Club – 0.2km
East Coast Park – 0.2km
Singapore Swimming Club – 1.9km
---
Highlights of Amber Skye
Transport Network
Amber Skye is conveniently located just next to the upcoming Tanjong Katong MRT Station which is due to operate in 2023. The nearest train station from Amber Skye will be Datoka Circle Line Station which is 1.4 km away. It is about 5 stations away from the city area. It will take approximately 8 minutes to drive from Amber Skype to both Orchard Shopping District and the Financial District areas. Amber Skye is easily connected to Tanjong Katong Road, Mountbatten Road and is very close to the ECP.
---
Amber Skye Factsheet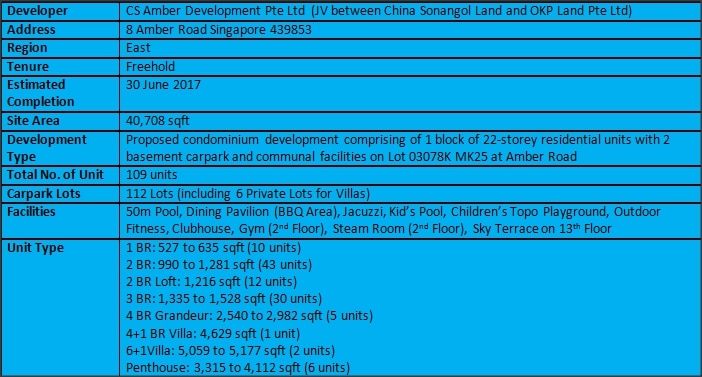 Want to be a proud owner of a unit in Amber Skye?
Simply fill up the form below and we will get in touch with you shortly.
Things to Note When Buying a Property:
1. Stamp Duty
2. Loan to Value Limit
3. Total Debt Servicing Ratio
4. Free Comparison on Mortgage Rate
Thank you for your interest in Amber Skye!