Own a piece of City – 8 Raja is a freehold condominium located at 8 Jalan Raja Udang Singapore 329217. 8 Raja epitomizes the art of living by being in the city but not out if it. Situated at the coveted Thomson Balestier enclave, the 26 well-appointed homes feature expansive windows that offer majestic views of the city. Yet, none of the hustle and bustle of urban living is felt when you come home to the distinguishable privacy of a gated estate that is 8 Raja.
Explore different point of view everyday – Increase your living enjoyment with the luxury of having three different views, right from your home. Depending on where you are at 8 Raja, you can relish in sweeping views of the cityscape, the natural respite of MachRitchie Reservoir or witness heart-warming scenes from the culturally rich area of Balestier. Designed to heighten your quality of living, the architects have ingeniously positioned 8 Raja at an advantageous angle that offers residents a kaleidoscope of perspectives from their home.
Each 3 bedroom unit at 8 Raja features a spacious balcony that offers unobstructed views. The openness of the living space is expanded as the indoors meld seamlessly into the outdoors via doors that fold and slide. And while entertaining, the integrated drink holder on the handrails of the balcony will surely be a talking point. With an experience akin to a luxury hotel, you will look forward to coming home to your master bedroom at 8 Raja. In this private sanctuary of yours, maximum comfort is assured by Mondrian-inspired windows that filter the harmful UV rays and glaring sunlight via mobile screens. The addition of Mu Dian wardrobes with clean, modern lines make everyday living quite simply – a suite sensation.
There's no place you would rather be than be in your own comfortable private space. Bathing and showering are no longer just daily rituals when your bathroom is awash with style in premium brands like Azzura and Steinberg. Awaken your senses as you indulge in an extraordinary shower experience. Or lavish yourself with a relaxing soak and make this room your retreat for quiet contemplation.
Domesticating Cuisine – Fitted with deluxe appliances by Gaggenau, the kitchen at 8 Raja is an all you can cook affair for quick bites and full course events alike. Configured in a practical U-shape, any chef would be right at home whipping up Asian or Western cuisine. With special attention to good lighting and effective ventilation, happy meals are inevitable. Every unit at 8 Raja is fitted with Gaggenau refrigerator, burner hobs, induction hob, and built-in oven, together with Bosch washer and dryer and also Mu Dian kitchen fittings.
Arrive daily to opulence and grandeur – Short of a red carpet, you receive the royal treatment coming home to 8 Raja every day. First, there is the stately 6m high entrance lobby. Then there is the subtle ambient lighting and the lush landscaping. And who can resist using the Sky Terrace with its infinity pool, Jacuzzi with jet spas, steam rooms, sky patio and Hanging Gym.
---
---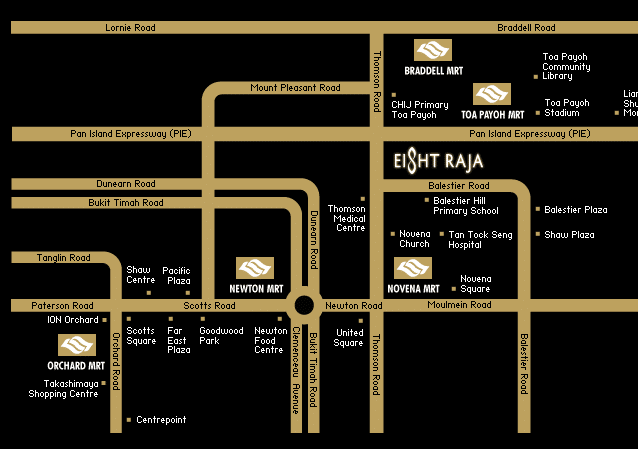 ---
8 Raja Site Plan and Facilities

---
Amenities Near 8 Raja and Their Approximate Distances



Train Stations
Toa Payoh (NS19) – 0.8km
Bus Stop
Balestier Ctr (Bus: 21, 186, 139, 139M, 145, 130, 131) – 0.1km
Aft Irrawaddy Rd (Bus: 130, 131, 139, 139M, 145, 186, 21) – 0.2km
Supermarkets
Fairprice (Square 2) – 0.8km
Cold Storage (Novena Square) – 0.8km
Giant (Kim Keat Avenue) – 1.7km
Sheng Siong (108 McNair) – 2.0km
Shopping Malls
Balestier Hill Shopping Centre – 0.3km
Zhongshan Mall Balestier – 0.4km
Square 2 – 0.8km
Novena Square – 0.9km
Shaw Plaza – 1.0km
United Square Shopping Centre – 1.2km
Preschool
Q-Dees Kindergarten @ Toa Payoh – 0.3km
PCF Toa Payoh Central Blk 157 – 0.6km
Shichida Kindergarten @ Toa Payoh – 0.8km
Toa Payoh Methodist Church Kindergarten – 0.8km
MFC Kindergarten (Newton) – 1.1km
Little Woods Montessori Preschool – 1.1km
EtonHouse Pre-School (Newton) – 1.2km
GUG The Kindergarten – 1.2km
Gracefields Kindergarten – 1.3km
Primary School
Balestier Hill Primary School – 0.3km
Chij Primary School (Toa Payoh) – 0.6km
St. Joseph's Institution Junior – 1.1km
Kheng Cheng School – 1.2km
Anglo-Chinese Primary School – 1.3km
Marymount Convent School – 1.4km
Singapore Chinese Girls' Primary School – 1.8km
Hong Wen School – 1.8km
Pei Chun Public School – 1.8km
Farrer Park Primary School – 1.9km
Secondary School
Balestier Hill Secondary School – 0.3km
Chij Secondary School (Toa Payoh) – 0.6km
Anglo-Chinese School (Barker Road) – 1.1km
Northlight School – 1.7km
Singapore Chinese Girls' School – 1.8km
Junior College
St. Andrew's Junior College – 0.9km
Catholic Junior College – 1.9km
Tertiary
Curtin University of Technology – 1.3km
International School
SJI International School – 0.8km
Global Indian International School (Balestier Campus) – 1.1km
Eton House International School (Newton) – 1.1km
Italian Supplementary School (Italian Embassy) – 1.1km
Chinese International School – 1.6km
Food Centre
Balestier Food Centre – 0.7km
Whampoa Makan Place And Market – 1.3km
Lorong 5 Toa Payoh Block 75 Food Centre – 1.5km
Pek Kio Market And Food Court Centre – 1.5km
Kim Keat Palm Market And Food Centre – 1.8km
Lorong 8 Toa Payoh Block 210 Market And Food Centre – 1.9km
Lifestyle
Celebrities Resort Club – 0.4km
Home TeamNS – Ah Hood Road Club House – 0.7km
Singapore Polo Club – 0.8km
Toa Payoh Stadium – 1.1km
SAFRA Toa Payoh – 1.3km
Ceylon Sports Club – 1.6km
Singapore Indian Association – 1.8km
Singapore Chinese Recreation Club – 1.9km
Civil Service Club – Tessensohn – 2.0km
Shitoryu Karate Association – 2.0km
Singapore Khalsa Association – 2.0km
---
Highlights of 8 Raja
Exclusivity – 8 Raja only consists of 26 untis.
Quality Finishing – 8 Raja is fitted with high end fittings and kitchen appliances.
Family Living – 8 Raja is surrounded by many schools.
Quiet Living – 8 Raja resides in the quiet private residential enclave.
Well Connected – 8 Raja is easily connected to any part of the island with links to major roads and Expressways.
---
8 Raja Factsheet
Want to be a proud owner of a unit in 8 Raja?
Simply fill up the form below and we will get in touch with you shortly.
Things to Note When Buying a Property:
1. Stamp Duty
2. Loan to Value Limit
3. Total Debt Servicing Ratio
4. Comparison on Mortgage Rate
Thank you for your interest in 8 Raja!