1 Canberra is an Executive Condominium in the North Region. It is located in the plot of land surrounded by Yishun Avenue 7, Canberra Drive and Sungei Simpang Kiri. 1 Canberra is situated in the private residential enclave where Eight Courtyards, Yishun Emrald and Yishun Saphhire are located. It is slated to complete in End 2015. By then it will house 665 households. There will be a total of 13 blocks, each with 13 storey high. The unit mix for this development consist of 3 bedroom compact (162 units), 3 bedroom standard (321 units), 3 bedroom dual key (59 units), 4 bedroom standard (48 units), 4 bedroom dual key (36 units), 4 bedroom penthouses (32 units), 4 bedroom penthouses dual key (4 units) and 5 bedroom Penthouses dual key (3 units). The sizes range from 953 to 2,739 square feet.
The nearest train station to 1 Canberra is Yishun (NS13) Station which runs the North South Line. It is roughly 1 km away. It will take around 25 minutes' train ride to the city area. For drivers, it will take around 20 minutes' to reach both the CBD and Orchard Shopping Belt. 1 Canberra can be access via SLE which links to the other major Expressways.
Rental demand is likely to come from those working in Yishun Industrial Park, the future Mandai Industrial Park and the upcoming Seletar Aerospace Park. This will also push up the current rental for those projects in the north region. The Government also has plans for north region by addiing a new Expressway, which will give residents more accessibility, and also addition of more recreation hotspots. By combining these factors, there is a likelihood that the prices of the developments in north region is likely to surge.
Residents can also head down the 3 nearby shopping malls for their retail and dining needs, which are Northpoint shopping centre, Sembawang Shopping Centre and Sun Plaza. There are many retails outlet, restaurant and cafe to choose from these malls. You can also watch a movie at Golden Village Yishun after shopping or meal. 1 Canberra is also 1 km away from the famous Chong Pang Market & Food Centre. 1 Canberra future residents can buy their vegetables, seafood, poultry or even dried food at Chong Pang wet market and there are plenty of choice of local food in the food centre.
There are a total of 12 schools (primary and secondary) within 2 km of 1 Canberra. These include Yishun Primary and Secondary, Ahmad Ibrahim Primary and Secondary, Peixin Primary, Xishan Primary, Chongfu Primary, Jiemin Primary, Wellington Primary, Yishun Town Secondary, Northland Seondary and Sembawang Secondary. Yishun Junior College is just 1.4 km away from 1 Canberra.
As for recreation purposes, there is SAFRA Yishun and Yishun Stadium which are less than 3 km away from 1 Canberra. Golf lovers can also head down to the nearby Sembawang Country Club or Orchid Country Club which are just 5 minutes' drive away. Yishun Neighbourhood Park which is just 0.3 km away from 1 Canberra is another choice for them to have a relaxing stroll after dinner, jog or even cycle at the Park.
---
---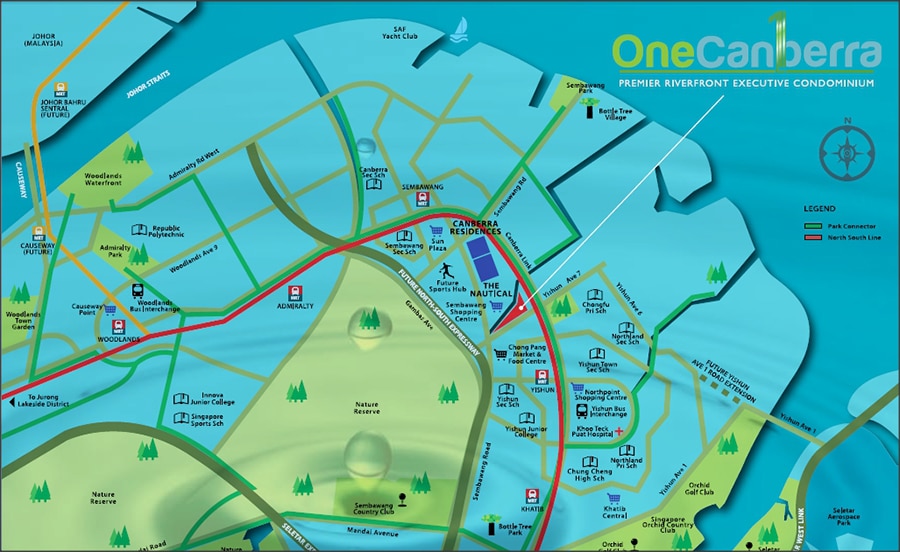 ---
1 Canberra Facilities and Site Plan

---
Amenities Near 1 Canberra and Their Approximate Distances

Train Stations
Yishun (NS13) – 1.0km
Bus Stop
Opp Blk 174 (Bus: 965) – 0.2km
Blk 174 (Bus: 965, 800, 811) – 0.2km
Opp Ahmad Ibrahim Sec Sch (Bus: 965) – 0.2km
Supermarkets
Shop N Save – 0.6km
NTUC Fair Price – 0.9km
Giant – 1.0km
Cold Storage – 1.1km
Shopping Malls
Northpoint – 1.0km
Sembawang Shopping Centre – 1.1km
Sun Plaza – 1.9km
Preschool
PCF Chong Pang – 0.3km
Masjid Darul Makmur (Kindergarten) – 0.4km
PCF (Nee Soon East) – 0.7km
Kidszone Kindergarten – 0.7km
Little Leader Kindergarten – 0.7km
Iman Kindergarten – 1.5km
Primary School
Yishun – 0.2km
Ahmad Ibrahim – 0.5km
Peixin – 0.6km
Xishan – 1.0km
Chongfu – 1.0km
Jiemin – 1.1km
Wellington – 1.9km
Secondary School
Ahmad Ibrahim – 0.1km
Yishun – 1.1km
Yishun Town – 1.1km
Northland – 1.1km
Sembawang – 1.8km
Junior College
Yishun JC – 1.4km
Tertiary
Republic Polytechnic – 5.0km
International School
Singapore American International School – 6.3km
Food Centre
Chong Pang Market & Food Centre – 1.0km
Lifestyle
Yishun Neighbourhood Park – 0.3km
Eagle Club – 1.8km
SAFRA Yishun – 1.9km
Yishun Stadium – 2.7km
Sembawang Country Club – 2.9km
---
Highlights of 1 Canberra
1. Peaceful Environment – It is situated in the private residential enclave which provides much serenity.
2. Lush Greenery – 1 Canberra is closed to Simpang Kiri Park Connector which provides lush greenery to its residents.
3. Future Development – Future government's plan to turn Yishun into a better accessible area with the upcoming North South Highway and also increase in recreation spots.
4. Reasonably Priced – 1 Canberra is good for 1st time buyers or home upgraders.
5. Potential Return – The price for 1 Canberra will likely to surge due to the future development of Mandai Industrial Park and Seletar Aerospace Park.
---
1 Canberra Factsheet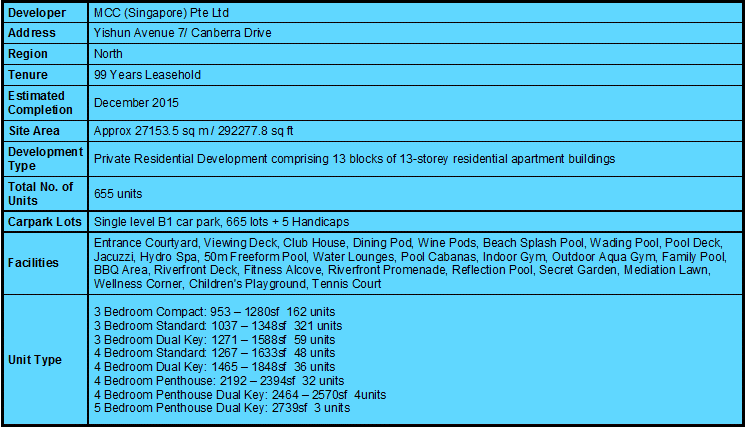 Want to be a proud owner of a unit in 1 Canberra?
Simply fill up the form below and we will get in touch with you shortly.
Things to Note When Buying an Executive Condominium:
1. Eligibility to buy Executive Condominium
2. Executive Condominium Housing Scheme
3. Comparison on Mortgage Rate
Thank you for your interest in 1 Canberra!